Glacier National Park Backpacking Trip, July/August 2005: Day 5
Added 18 September 2005
---
Pre-Hike | Red Rock Lakes NWR kayaking | Clearwater Canoe Trail kayaking | Day 1 | Day 2 | Day 3 | Day 4 | Day 5 | Day 6
---
For maps showing our route click on the following images.

| | |
| --- | --- |
| | |
| Map showing route for the entire trip. | Map showing route for Day 5. |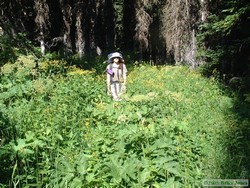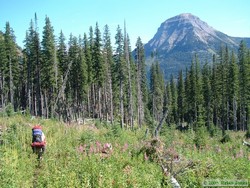 We were on the trail by about 8:30 Wednesday morning for a 12 mile hike that would take us back down to the Nyack Creek Trail junction then some distance up the mountain towards Cut Bank Pass again.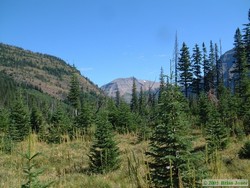 The hike was beautiful but uneventful. It was a gorgeous morning, the flowers were lovely, and we weren't terribly concerned about the hike ahead of us, so we just lived in the moment.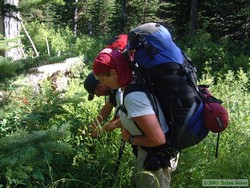 Jerry must have been feeling especially content with the world, because he was stopping at nearly every huckleberry bush for some munchies. And there were a lot of huckleberries, so we stopped alot!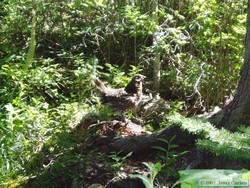 It was fun to watch the normally hard-charging Jerry stop every 10 feet for berries. We also paused for a short while to watch some game birds that Jerry and Andrea spotted along the trail. I never got a very good look at them, but from piecing the pictures Jerry and I took together, I *THINK* what we saw was a Spruce grouse (Falcipennis canadensis).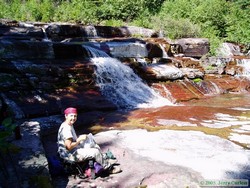 Andrea got her way on the way back down the valley, and they had lunch at the large waterfall that Shan and I had lunch at on the third day.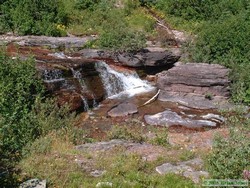 Since we got an early start and were making good time, even with all of the huckleberry stops, we decided to hike a little further on and had a very nice, leisurely lunch at the big crossing of Nyack Creek. My logic was that I wasn't going to hike through it in boots again, and we woudl have to stop to don our sandals to cross it, so we might as well make it a lunch stop. We found a really nice shady spot and simply enjoyed the creek until Jerry and Andrea arrived.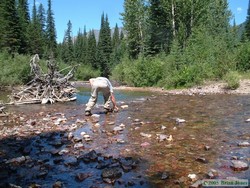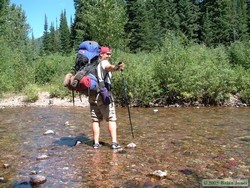 Then we stayed in our nice shady spot and enjoyed watching Jerry try to build a dry crossing across the creek.
It was a big task, and eventually he gave up and put his sandals on. They crossed and moved on just as Shan and I finished lunch and got our sandals on to continue our journey.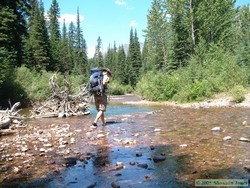 Shan isn't confident about crossing streams with her pack on, so I carried our packs across, and once on the other side we spent some time to get our feet dry and get our boots back on. By this time, we were used to Jerry and Andrea being quite a bit ahead of us, so we were in no hurry to catch up to them.
Since Thursday would take us the 3500 feet up and over Cut Bank Pass and then back down 3500 feet to Atlantic Creek, we wanted to get as far up the trail as the ground would stay flat enough to allow. We remembered a fairly flat meadow about two miles up from the trail junction, so that was our goal for the day. The meadow is not a designated camp site, but we could stay there because it is in the Nyack/Coal Creek Camping Zone, the only area of the park in which undesignated camping is allowed (though you still have to make reservations). I'm definitely glad we made the extra distance towards our goal for Thursdays hike, but we discovered that camping in undesignated sites in this part of bear country can be quite a chore.
First off, merely finding a piece of remotely flat ground large enough for a tent is a challenge that we had only moderate success at. Then we had to find food prep and food hanging areas that were the requisite distance from camp without being too far away to be convenient. Again, we met with moderate success. We did at least find a water source within a quarter mile from camp. The hardest part was hanging the food though. Since all of the trees in the area were spruce trees, finding a decent branch to hang anything from proved a very difficult task. To begin with, Spruce branches are not usually very large, so don't support much weight. But worse, they all angle down towards the ground, so even if you do find a large branch, hoisting a heavy food bag up by it makes it sag even further and your rope just slides off the end of the branch. Fortunately, we had a very smart, outdoorsy engineer in our company. With Jerry's help, we ended up tying both of our ropes together and rigging up a sort of sling between two trees. Thankfully Jerry knew how to rig the sling up, because I was not having any luck finding a good branch to hang our food, and his first location wasn't ideal either.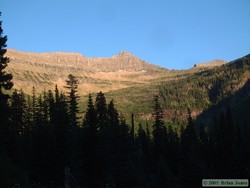 Our campsite did have the advantage of being a beautiful place to be though, with a mixed-blessing view of the mountain we had to climb the next day. It looked both beautiful and somewhat daunting in the evening light. another bright spot to our temporary neighborhood was that we had a very inquisitive welcoming committee. Soon after we arrived, as we were setting up camp, a deer wandered in to camp. It seemed quite curious about us, showing very little fear about our presence in his meadow. He even followed Jerry and Andrea when they went to get water.

---
Pre-Hike | Red Rock Lakes NWR kayaking | Clearwater Canoe Trail kayaking | Day 1 | Day 2 | Day 3 | Day 4 | Day 5 | Day 6
---
| | |
| --- | --- |
| | |
| | |