Glacier National Park Backpacking Trip, July/August 2005: Day 3
Added 18 September 2005
---
Pre-Hike | Red Rock Lakes NWR kayaking | Clearwater Canoe Trail kayaking | Day 1 | Day 2 | Day 3 | Day 4 | Day 5 | Day 6
---
For maps showing our route click on the following images.

| | |
| --- | --- |
| | |
| Map showing route for the entire trip. | Map showing route for Day 3. |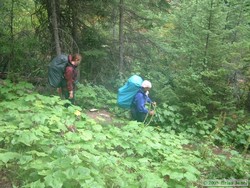 Monday morning, I was surprised when Shan said she wanted to continue on to Beaver Woman Lake. She didn't want to quit. And all of this even though there was a real threat that we would be hiking in the rain, possibly all day.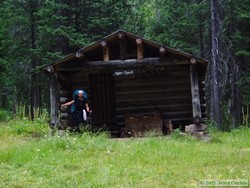 After making absolutely sure she really wanted to hike on, we got packed up more quickly and efficiently this time, sped up by the beginnings of a rain shower, and were on the trail before 9:30.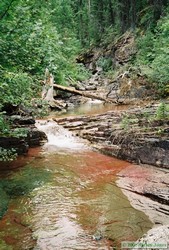 I took a chance and decided to hike without my rain gear on, but everyone else suited up.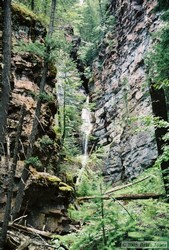 We kept up a good pace and stayed together until Pacific Falls. The rain had only lasted about 30 minutes, so at the falls, Jerry and Andrea shed their rain gear. Shan kept hers on so we hiked on ahead and we made it back to the Nyack Creek Trail Junction in a little over an hour, a rather respectable pace considering the challenge of the previous day. Jerry and Andrea caught up to us right after we got to the junction, and kept on hiking through. From the junction on, we were charting new territory again, heading south.
Thinking that we still had about 10 miles of hiking ahead of us (according to the sign at the junction), I figured it would be 6:30 or so before Shan and I made it to camp, and I thought that might be a generous assumption.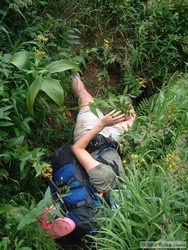 So we hiked. The trail climbed at a pretty gently rate but it was still very brushy. Shan wasn't confident about hiking through the brush, so our pace was slower than it would have otherwise been.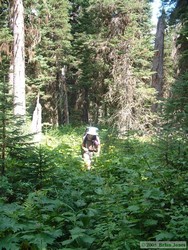 Most of the trail required putting one foot directly in front of the other because the tread was so narrow. Shan found this awkward with her pack on, so often didn't do so. As a result, she would occasionally put a foot down to discover that there was no trail beneath her foot. On one occasion, she did this and fell over backwards down an incline. I heard her yelp and rushed back to make sure she was alright. She was lying on her back with her feet higher up the trail than her head. She was like a turtle that had been flipped on it's back. After she said she was fine, I said, "Great. Then I'm going to get a picture!" So I did.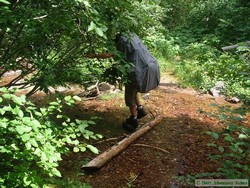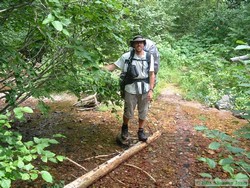 The trail crossed quite a few beautiful little mountain streams. We tried to find dry crossings at each one, but I'm not entirely sure why we even bothered. Since we weren't wearing gaiters, all of the rain water that collected on the brush along the trail poured right down our legs and into our boots. We hiked the entire day with wet feet.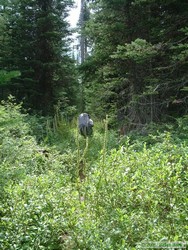 Through this section of trail, we started to see more huckleberries. Shan loved them, so was constantly picking them. I picked them as well.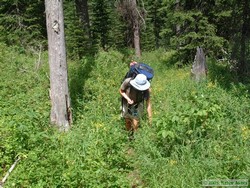 Though huckleberries seemed more tasty on the trail, I gave most of the berries I picked to Shan. I could sense that she was still really tired and at least slightly unsure of whether she had made the right decision by carrying on, so I think the berries were both a reward and a helpful distraction. I was still amazed that she had even decided to continue on. I was certain that she was going to pack it in, so to speak, after the grueling day two.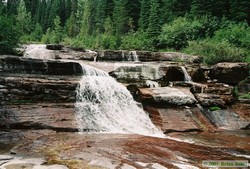 Eventually we came to Nyack Creek, which is a pretty good sized stream. At this point, it is about 40 feet wide and a little more than ankle deep.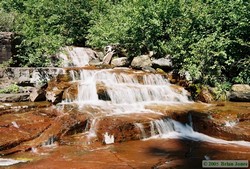 Since our feet were already completely wet from the wet vegetation, we just plunged right in to the creek to cross it, as there was no way to rock hop across it and I didn't feel like taking my already wet boots and socks off. Not long after that, the trail passed by a rather large and beautiful waterfall on a tributary creek, so we stopped there for a quick lunch. Andrea had wanted to stop for lunch here too, but Jerry wanted to keep moving. After lunch, we found that from the waterfalls on, the trail got a little bit steeper, and Shan's spirits began to drop rather dramatically. Again it was a struggle to keep her motivated, so I kept on looking at the map and noting our progress to her to show we were making good time.
I did so with a hint of fear in my own mind though. We were making better time than I expected and even though I followed our progress on the map as best I could, I kept thinking that I must have been reading the map wrong. So I just tried to keep Shan's spirits up with how far we had come versus where we had to go, all the while making sure she knew that I wasn't entirely sure exactly where we were so it wouldn't be a massive blow to her if I was wrong about our progress. I was prepared for the worst. But through this period of Shan's shaky mental state, she came to realize that she could do this and that she would be ok.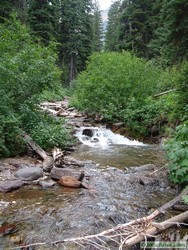 So with all of this, we had a mild celebration when at around 3:15 we came to the junction of the trail that would lead us to Martha's Basin and Beaver Woman Lake, our campsite for the next two nights. Reaching this junction meant only 1.5 more miles to camp, and although some of that distance was a fairly steep climb, it also meant that we would be in camp a full 2 hours ahead of my earlier prediction.
On the way up the steep part of the trail we found large patches of huckleberry bushes with loads of large, ripe huckleberries on them. I could hardly peel Shan away from them. And even though still couldn't quite get past not really liking huckleberries all that much, I also couldn't help but eat a few every now and again. If nothing else, they helped break up the monotony of water.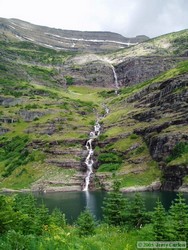 I was glad that Shan had decided to stick it out and keep on hiking, but I was especially glad when we started down that final section of trail into Beaver Woman Lake. It was awe-inspiring. There is a huge (tall) waterfall that spills down off the mountain into the basin where the lake is, and the whole scene is truly phenomenal.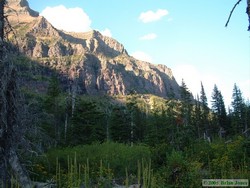 We surprised Jerry and Andrea by making it to camp by 4:15 that day. There are only two campsites at Beaver Woman Lake. One is quite small, and the other is definitely not flat. Jerry and Andrea were in the small one, and I wasn't sure if we could squeeze our tent into the remaining space there. As a group, we were supposed to confine ourselves to a single campsite, but I took a chance, found the flattest spot, and set up camp in the other campsite in hopes that no one else would come so we wouldn't have to move.
The camp was in somewhat of a strange location amidst a bunch of downed trees, but you couldn't complain about the views from the pit toilet! It was another of the open-air variety, and it had a beautiful view of the mountains and the waterfall. There were also flowers nearby, so it was neat to watch the bees buzz around collecting pollen. How often can you study nature while you're doing your business? One time I also saw a mouse or vole scurrying around in the brush collecting food. Pretty neat stuff.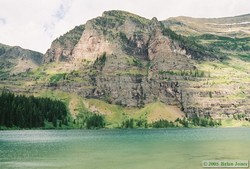 After we got the tent set up, we made the short trek over to Beaver Woman Lake to filter water. Since we were staying there two nights, we filtered enough to get us through the next two days. One of my fondest memories of the trip is sitting on the shore of Beaver Woman Lake filtering water. There was something very magical and comforting about it all, what with the waterfall, the beautiful blue lake, some ducks near the far shore, the clouds rolling overhead, and not a soul around to disturb the peace.
Occasionally throughout the evening I would think I heard people approaching, but we got lucky, and no one showed up at camp Monday night, so we didn't have to move.
---
Pre-Hike | Red Rock Lakes NWR kayaking | Clearwater Canoe Trail kayaking | Day 1 | Day 2 | Day 3 | Day 4 | Day 5 | Day 6
---
| | |
| --- | --- |
| | |
| | |