Glacier National Park Backpacking Trip, July/August 2005: Day 1
Added 18 September 2005
---
Pre-Hike | Red Rock Lakes NWR kayaking | Clearwater Canoe Trail kayaking | Day 1 | Day 2 | Day 3 | Day 4 | Day 5 | Day 6
---
For maps showing our route click on the following images.

| | |
| --- | --- |
| | |
| Map showing route for the entire trip. | Map showing route for Day 1. |
Saturday morning signaled the start of our backpacking trip. After a restful night at the Gasthaus Wendlingen B&B in Whitefish, we got up and had huckleberry pancakes. Huckleberries are definitely a Montana obsession. While there we saw just about everything made with huckleberries, including sodas, beer, shakes, soaps, jams, candies, and the list goes on. Barbra was telling us that they cost about $30-40/gallon when purchased at the market, so they aren't cheap. This is apparently because huckleberries only grow at a certain (fairly narrow) elevation range, and they cannot be cultivated, so must be picked wild. She said that any attempt to transplant a huckleberry fails, because apparently each plant depends on the nearby huckleberries in it's "family", which it communicates with through it's root system. Either that or it's all a marketing ploy to get people to spend $30-40/gallon on berries!
All of these interesting tid bits endear me to the huckleberry more than their taste does. They are rather tart, but can also be bitter-sweet. Fortunately they had regular maple syrup for the pancakes. After breakfast, we loaded up the car and headed for West Glacier, where we had planned to meet up with Jerry and Andrea. West Glacier is just outside the park, and has several gift shops, which Shan and I availed ourselves of while we waited for Jerry and Andrea, who were running late.
Our first stop after West Glacier was to the Ranger Station at Apgar so that Shan and I could watch the bear safety video that is mandatory viewing for all backpackers.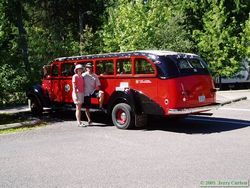 Saturday was our first backpacking day, but since we only had to hike five miles, we had time for Jerry and Andrea lead us on a mini-tour of the park via the Going to the Sun Road. We stopped briefly at Lake McDonald Lodge, which is a grand, historic lodge from the early days of the park. It is quite impressive. We milled around the lodge and took some pictures before heading out.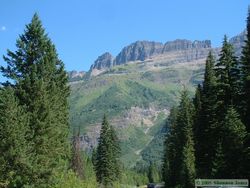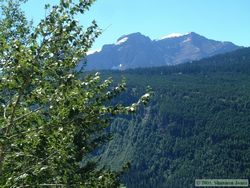 Then we drove up the Going to the Sun Road, stopping at strategic locations to enjoy the view and take pictures.

Near Logan Pass, there were some Rocky Mountain Goats (Oreamnos americanus) on the side of the road and Shan jumped out to take pictures. There was no place for me to park in the nearby pull-out, so I had to stay with the car. Jerry and Andrea had to drive on and stop at a pullout about a mile up the road. I wanted to take pictures of the goats myself, but Shan took pictures for about 15 minutes, and I didn't want to make Jerry and Andrea wait any longer, so I drove off without getting any shots with the SLR.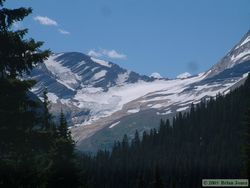 We made a couple of stops on the way back down the Going to the Sun Road, including Jackson Glacier, one of the last remaining true glaciers in Glacier National Park, itself quickly receding into oblivion. But the earth isn't warming up! Heavens no!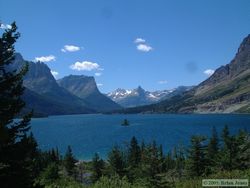 We passed by St Mary Lake and stopped to look at Wild Goose Island, a rather famous Glacier view. We stopped for a late lunch at Two Dog Flats restaurant. After lunch, we proceeded to the Cut Bank Ranger Station, where we left our car and transferred gear to Jerry and Andrea's truck. We would later exit at Cut Bank after hiking a circuitous route starting at Two Medicine Lake, our next destination.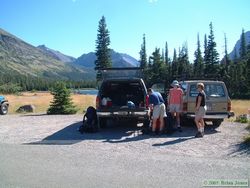 We didn't get to Two Medicine Lake until nearly five o'clock, and once there we quickly got our packs on and started heading up the trail, all the while calling out "Hail bear!" or "Hey bear!" or some other loud call to warn bears of our whereabouts. At first these calls were a fun novelty. After a while, they are often little more than a monotonous call. We never relented in making the calls, but I sure wanted to. I wanted to enjoy the quiet, and certainly didnít want to scare away any animals that were not bears, which is effectively what we were doing.
HOWEVER, within days of our departure from Glacier, a man and his daughter were severely mauled by a Grizzly bear with two cubs when they surprised her on the trail. In that light, Iíd rather yell my head off than have a bear rip it off.
We made it to our campsite at No Name Lake by 7:30 and quickly set up camp and prepared our meals for the night, while trying to fend off the biting flies and mosquitoes. On this occasion, and for the entire trip really, the others seemed to suffer from biting insects far worse than I. Whether this was due to then actually bothering me less, or due to increased tolerance of their presence on my part, I never could figure out. Perhaps I just stunk worse than everyone else.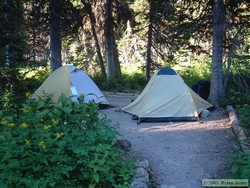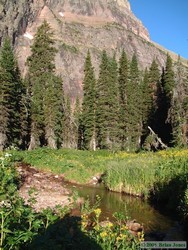 Our campsite was a bit cramped for two tents (as they all would turn out to be), but it was a nice enough spot, very near to a little creek that made a nice musical backdrop for the evening.
Perhaps some time devoted to Glacier's backcountry campgrounds is in order here. They are rather minimalist as far as campgrounds go, but rather luxurious for the back country. First off, reservations are required, so unless someone is breaking the rules, you know you'll have a spot. At the campgrounds that we stayed at, there were anywhere from 2-4 sites available to accommodate that many groups, so the four of us used only one campsite. There is a pit toilet at each campground, as well as a designated food preparation and food hanging area. These are designed to keep bears from killing people and thus keep people from having to kill bears, a nice arrangement all around. We found the tent sites to be a bit small for two tents, but we made do when we had to. The real luxury, of course, was the pit toilets. Though primitive, that feature alone made Shan pretty happy.
Day one was a great day. Mileage: 5.
---
Pre-Hike | Red Rock Lakes NWR kayaking | Clearwater Canoe Trail kayaking | Day 1 | Day 2 | Day 3 | Day 4 | Day 5 | Day 6
---
| | |
| --- | --- |
| | |
| | |