Glacier National Park Backpacking Trip, July/August 2005: Day 4
Added 18 September 2005
---
Pre-Hike | Red Rock Lakes NWR kayaking | Clearwater Canoe Trail kayaking | Day 1 | Day 2 | Day 3 | Day 4 | Day 5 | Day 6
---
For maps showing our route click on the following images.

| | |
| --- | --- |
| | |
| Map showing route for the entire trip. | Map showing route for Day 4. |
There was a light rain shower early Tuesday morning before we got up, and I feared that our day off might be a rainy one. When we got up clouds were flying by, many of them threatening rain, but the rain never materialized. The distinct and constant threat, however, kept us pretty close to camp most of the day. The problem was that we were in a low spot and we couldn't predict what was going to be overhead until about 10 minutes before it was there. The often chilly breeze also limited our activities somewhat. We both wanted to bathe in the lake, but it was a little too cold for that. We did do our laundry though, and simply hoped that the rain would hold off so they could dry before we started hiking again the next day. I intentionally left one pair of shorts unwashed just to make sure I would have a dry pair to wear if our other clothes didn't dry. It took all day, but our clothes did end up drying out.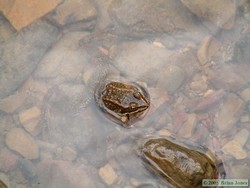 While we were doing our laundry (no soap, just rinsing them out), we saw several frogs in the lake, as well as what I think may have been leeches.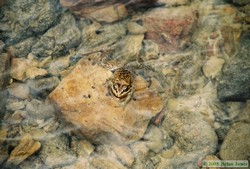 When I returned to Arizona, I contacted Stephen Corn, a zoologist with the USGS Rocky Mountain Science Center to help me identify the frogs. I thought one was a Rana pretiosa, but he said that not only had Rana pretiosa been split into two species in 1997, Rana pretiosa only applied to species west of the Cascades and that both of the frogs pictured here are the same species, Columbia Spotted Frog (Rana luteiventris), despite the enormous difference between the two. So class, there is your natural history lesson for today. There will be a quiz later. And thank you Stephen! I was really banging my head against a wall trying to verify the identity of those two little guys. Click the following link for more information about amphibians in Glacier National Park.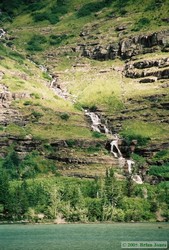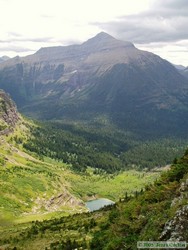 While we did our laundry and watched the frogs, we also watched Jerry climb up Mt. Pinchot, elevation 9,157, which he decided to conquer on our day off. He had a lot more ambition than I did! The following are photos that Jerry took on his excursion.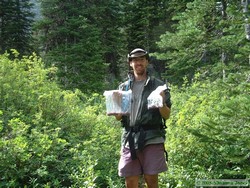 After we finished our laundry, while Jerry was climbing away, we took a short nap, then had an early lunch before setting out for a short day hike to collect huckleberries and visit Buffalo Woman Lake some 1.5 miles distant.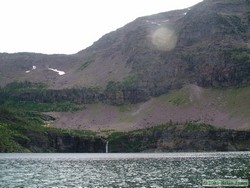 It was really windy at Buffalo Woman Lake, but it was gorgeous just the same. There was a rather large waterfall that plunged directly in to the lake on the opposite shore. I would have loved to have had my kayak to paddle over to it.

By the time we got back to camp, it was just about dinner time, but Jerry and Andrea were getting ready to head out to the small lake adjacent to Beaver Woman that the large waterfall fell directly into, so we postponed dinner to join them. Shan was hesitant to go because she wanted to get off her feet, but she was glad that she went in the end. It was a little bit of a bushwhack to get over to it, but the little lake was a beautiful azure hue, and an even more amazing site with addition of the couple hundred foot tall cascade of water spilling down into it in a series of falls. Cliche' or not, he first sight of it truly takes your breath away.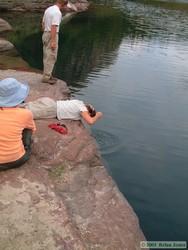 We hiked to the far shore following some moose tracks to where there were some nice, flat rock ledges right down at the edge of the lake. We all washed off at least a little bit in the ice cold waters. I toyed, very briefly, with the idea of taking the plunge and diving in to the lake, but thoughts of reaching advanced stages of hypothermia within several seconds kicked my higher brain functions in and I stuck with the more benign but still bracing sponge bath. After cleaning up a bit we lingered at the falls a while, really not wanting to leave, but getting hungry. We returned to camp slowly, enjoying the waning evening.

When we got back to camp we had a very nice dinner before retiring to bed as the late summer sun finished lighting the day. It wasn't until later that we realized that something weird happened at dinner. We were visited by some other-worldly entity. We know it had sideburns, but we weren't able to decide if it was Elvis Presley or Abe Lincoln. The pink shoes are a hint of Elvis but the hat is more Lincoln-like . . . I'll leave it up to you to decide. . .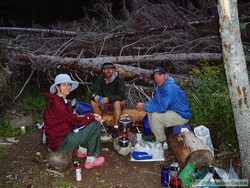 ---
Pre-Hike | Red Rock Lakes NWR kayaking | Clearwater Canoe Trail kayaking | Day 1 | Day 2 | Day 3 | Day 4 | Day 5 | Day 6
---
| | |
| --- | --- |
| | |
| | |