Buckskin Gulch/Paria Canyon Backpacking Trip 2004: Day 4
Added 13 June 2004
---
Day 1 | Day 2 | Day 3 | Day 4
---
For information on the Paria Canyon area, go HERE
---
Since the canyon was opening up more, and thus getting warmer, we made a concerted effort to get moving earlier than we had been. We got up at around 6:30 Saturday morning and were on the trail about an hour later. The canyon became even more choked with rock falls, slowing our progress, but we still managed to make decent time. Our goal for the day was to make it down to Wilson Ranch, which we figured would be just about the only decent patch of shade further down canyon. The ranch is also a fairly short 5-6 miles from Lees Ferry, which would make our final day a short one that we could complete before it got extremely hot.
We were once again delighted in the cut and contours of the the river bed where the Paria had cut down to bare sandstone. In places, the river had started making mini slot canyons.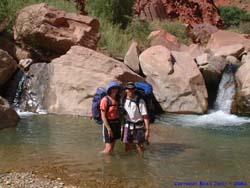 As the canyon opened up, we found more overland trails that cut off the meanders of the river, so we were able to make better time. The only problem with the overland trails is that the temperature climbs quite a bit as you get away from the river. On one long overland route we really started getting warm, so at our next river crossing, we found and enjoyed the comforts of a fantastic pool with a waterfall flowing into it. Our swim was inexpressibly refreshing, and our wet clothes provided cool comfort for a couple of miles after we left it behind.
We were especially happy for the cooling effects of our swim because our next overland trail was quite long. Towards the end of this overland route, Shannon, for the first time, took the lead.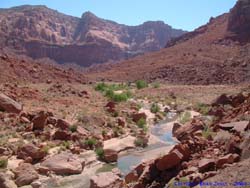 She must have been hot, because she was walking like a horse going back to the barn. She was moving so fast that Jeff and I could just barely keep up with her. But she got us to water faster, which we were all grateful for.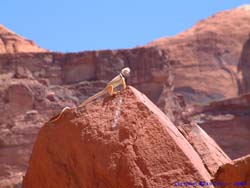 When we did finally get to the next river crossing, we found that we had caught up with the other two groups on the trail with us. They had the same idea and were relaxing in a couple of pools there. Since none of the three of us wanted to be around other people, we held off our enthusiasm for going for another swim until we had gone a few hundred meters downstream, where we found an even better pool.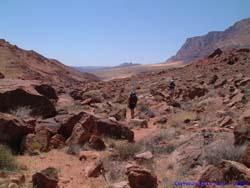 While we relaxed there, the other two groups passed us and we found out that we all had the same final destination in mind for the end of the day.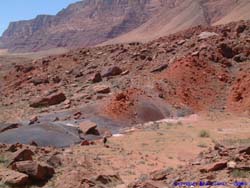 We felt we were making better time than them overall however, so thought we could probably pass them on the trail to get the best spot at Wilson Ranch. We slowly got our stuff back together, hoisted our packs and got hiking again. It wasn't long before we passed both groups as they ate lunch in a small grove of trees. They offered us a spot in the shade but we had determined not to stop until we reached the ranch.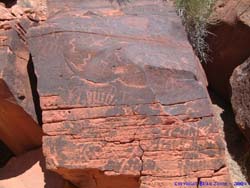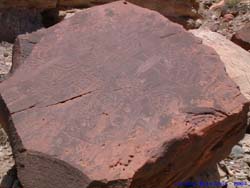 As it turns out, we did end up making one stop along the way. About two miles up canyon from Wilson Ranch is a jumble of large boulders with wonderful petroglyphs on them. We were in full sun at that location, but we had to stop and admire them. If it had been cooler, I might have wandered up the hill side to see if there were more petroglyphs to be found.

When we got to the ranch, we weren't as impressed as we thought we would be. There weren't many places to pitch a tent and still be in the shade. What's more, it was still quite warm. At that point, we discussed once more the possibility of simply hiking all the way out to Lees Ferry that day. We thought at first how refreshing a dip in the Colorado River would be, but it was my suggestion that we could go ahead and drive to Flagstaff and camp out there that clinched the deal. Lees Ferry would be hot. Flagstaff would be cool. The race was on. With a couple more dips in the water, we walked on, definitely intent on making our way to Lees Ferry, but also taking time to enjoy the amazing beauty around us.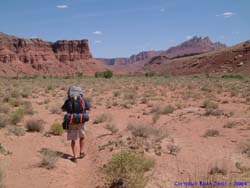 The canyon changes so much from top to bottom that it is always a wonder. The hike through the lower part of the canyon is definitely dominated by overland trails, which cuts the distance down a bit and certainly allows for a faster walking pace. But there is no vegetation that grows above your ankles, and without shade or water they are rather warm! At least in June they are. We found out when we got to Lees Ferry that the temperature there was 105 degrees. Considering how fast we were walking, with packs on our backs, I wouldn't have imagined the temperature was that high based on how I felt.
When we came to the Lonely Dell Ranch, we knew we were getting close. I wanted to take some pictures before reaching civilization, but Shannon and Jeff weren't about to wait up for me to do so, not that I can blame them. So I would stop to take some pictures, then run (literally) to catch up to them, stop to take some more pictures, and repeat.
We got to Lees Ferry at around 4pm I think, definitely happy to see the truck, which meant we could cool off and relax. We threw our packs in the back and wasted no time in driving to the boat launch area so we could take a refreshing swim in the Colorado River. The whole way there we talked about how good it was going to feel to dive right in to the water.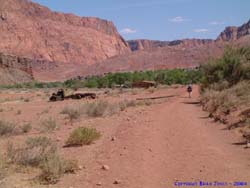 We rushed to the bank of the river and waded in, ignoring the "no swimming" signs. As soon as we touched the water, we stopped short. The water wasn't cool. It was COLD. Bone chillingly cold. We all hesitated. Desperately wanting to cool off, but not wanting to become ice cubes. Finally Shannon took the plunge, getting wet then quickly retreating to the shore. I followed shortly thereafter, while Jeff contented himself by just splashing water on his body. The water was almost painfully cold, but after taking the dip, it was instant refreshment.

Shan and I were then completely soaked, so we went to the restroom and changed into dry clothes for the drive to Flagstaff. We made a quick stop at the convenience store in Marble Canyon to buy some cold drinks, then headed south. We ate dinner in Flagstaff, then headed out to Marshall Lake to camp out for the night. Marshall Lake was one of my old stomping grounds and I was looking forward to seeing it again. My jaw hit the floor when Marshall "Lake" came into view and there wasn't a drop of water to be found! The drought has really hit the area hard.
As we went to bed, I could tell that I was going to have a hard time getting to sleep, so instead of keeping Shan awake, I got out of the tent and laid down in the back seat of Jeff's truck. I slept fitfully until around 1:30, when Shan woke me up opening the door of the truck. She was cold and wanted to sleep in the truck. Instead of one of us having to sleep sitting up in the front seat, I switched with her and went to the tent to sleep so she could sleep in the back seat of the truck. I slept pretty well for the rest of the night.
In the morning, we packed up our gear and continued our journey back home. We were at our front door before noon on Sunday, thus ending the fantasy we had been living for the previous 5 days. I have one over-riding observation about our return home. Civilization stinks. I want to spend my life backpacking!!!
Even Shannon, for whom an entire day at the mall is pure ecstacy and historically has backpacked only because it's the only way she can see certain things (she doesn't like sleeping in a tent), had a difficult time readjusting to the noise and commotion of Tucson.
The next time I do this hike (and I guarantee there will be a next time, and quite probably several next times), I think I would prefer to spend more time in the upper part of the canyon, spending two or 3 days in Buckskin Gulch, a short out-and-back one day down Paria Canyon, then exiting out Paria Canyon upstream at The White House Trailhead. Next time . . . Still I have to say, that my only regret on this trip is that we didn't take ten days to do the hike instead of just 4. Oh, and the snake . . .
Buckskin Gulch and Paria Canyon are definitely a places to slow down and enjoy the journey.
Stats for Day 4: 15 miles, approximately 8.5 hours start to finish with some stopping

---
Day 1 | Day 2 | Day 3 | Day 4
---
| | |
| --- | --- |
| | |
| | |