Buckskin Gulch/Paria Canyon Backpacking Trip 2004: Day 3
Added 13 June 2004
---
Day 1 | Day 2 | Day 3 | Day 4
---
For information on the Paria Canyon area, go HERE
---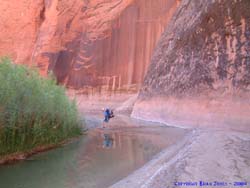 In the morning, we all woke up earlier than the previous day, and soon realized we didn't get up early enough. The sun was beating down against the canyon wall we were camped next to and we were getting an early morning baking lesson. It got very warm very quickly and we were scrambling just to get everything packed up as quickly as possible so we could get walking the canyon where we would find some shade and cool off in the water. We felt half dehydrated before we even got our packs on. Once we got away from our camp site though, the air cooled off significantly, we found some shade, and we were quite comfortable. We were back to Zen.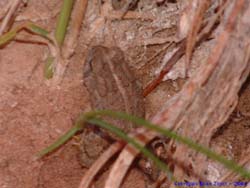 I also finally found a suitably photogenic frog early Friday morning. I have had some difficulty in positively identifying this little guy, but I think it is a southwestern toad (Bufo microscaphus). I should note that at least one person who is more knowledgeable than I believes it was actually a Woodhouse's Toad (Bufo woodhousei). Based on what I believe to have been the vocalizations I'd heard the the night before, I'm sticking to southwestern toad though. At any rate, this guys kin provided us with sweet night lullabies.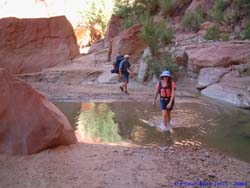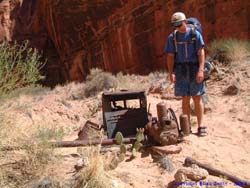 Our goal for Friday was to camp across the river from Shower Spring, which had a very appealing name and was listed as a reliable spring. There were a few points of interest to enjoy before we got to that point though. The first was the Judd Hollow Pump. This was an ill-executed attempt to pump water from the Paria River up to the plateau to the north to water cattle back in the 1940's. Several attempts were made, very little came of any of them. Now the old pump and some pipes just sit in the canyon, rusting away. We missed the second sight, which was called The Hole. It's too bad too, as it looked like a neat little geologic feature based on the picture I saw of it. I guess we were too busy enjoying ourselves.
Fortunately, we didn't miss the third sight, thanks to Jeff. We moved a short ways downstream and Jeff found a trail that headed away from the river to the south. Jeff thought it was the trail to Wrather Arch. I wasn't convinced initially, but after reading the description of the trail in the book and looking at the map thought he might be right, and in any case, decided that I would rather be safe than sorry and check it out.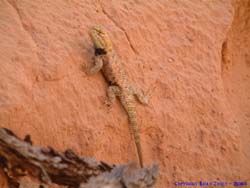 Since we missed The Hole, I didn't want to miss Wrather Arch as well. Before heading out we shed our packs, ate some lunch, grabbed our day packs, then headed out. The hike up Wrather Canyon was a wonderful treat. It was filled with lush riparian vegetation.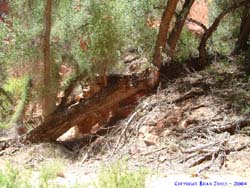 We saw a neat desert spiny lizard (Sceloporus magister) along the way (left). There were a couple of trees that had fallen over onto a small terrace in the canyon, and the branches were growing up out of the trunk like trees.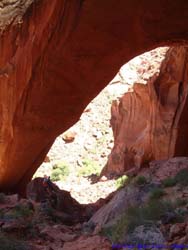 It was very interesting, though I couldn't get far enough away from the trees to do them justice. We also saw some very fresh bobcat tracks. I wished we had time to find a high spot and just sit and wait for the bobcat to make an appearance, but alas, we didn't.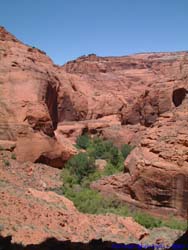 As we got higher up the canyon, the trail started climbing out of the canyon bottom. In the mid-day sun, the deep sand had gotten extremely hot, making hiking through it extremely uncomfortable. We would run through sections (no easy "feat" in deep sand on a steep trail) and then jump off the trail and kick the sand out of our sandals to cool our feet off. Then we would run a little bit further up the trail and repeat. Eventually we made it to the shade provided by Wrather Arch, and enjoyed also the beauty of the huge feature. Photographing the arch from the vantage point of the canyon wasn't easy, as it wasn't really possible to get far enough back to do it justice.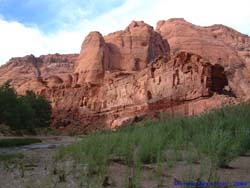 We relaxed under the arch for a while, then hiked back down to the river. On our way back down to the river, we found that the bobcat had been active even since we hiked up. We knew it was close, but never saw it. We got back to our packs, cooled off in the river, filtered some river water, then headed on down the Paria.
On Friday, the sandstone formations making up the canyon had changed and were less competent rock. That meant there were more rock falls, some of them quite large, that we had to navigate around. That slowed us down a bit. It was mid-afternoon by the time we got to Shower Spring. We found the spring was barely a trickle, and the camp site across the river from it was fully exposed to the sun. I'm sure in wetter, cooler times, this is a wonderful place to stay, but it didn't seem all that appealing to us at the time, so we made an easy decision to move on down the river. We didn't go very far before we found a camp site that was a little nicer, but not great. But we were pretty hot by that point, and Shan was getting a bit cranky.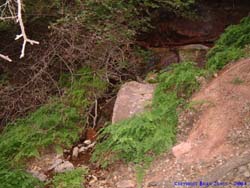 So I did a quick reconnoiter without my pack and found a nice little pool in a shady spot a very short distance down the river. We decided to take about an hour off of hiking, relax in the water, grab a bite to eat, wait for the temperature to drop a bit and put in a couple more miles before calling it quits for the day. While at the pool, Jeff noticed that there was a good-sized spring flowing nearby, so it turned out to be a very fortuitous stop. When we were done relaxing, we filled up our water containers at the spring then started hiking again, feeling relaxed and refreshed. We got our water as the spring fell into the Paria, but the headwaters was a beautiful spot perhaps 15 meters up the canyon slope at a very lush, quiet spot. There is a wonderful place to camp up there, but since camping within 200 yards of a spring is prohibited, the camp site would be off limits.
Ever since about where Wrather Canyon joined Paria Canyon, the Paria started exposing the sandstone bedrock in the stream bed. The water scour and the coloration of the submerged sandstone was magnificent. I could have stared at it endlessly if given the chance. Unfortunately, my digital photos did it justice (though you will get to see a better picture on the page for Day 4). Maybe I'll have to scan one of my print pictures to post here.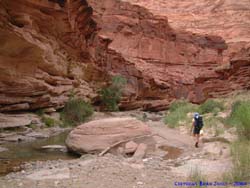 We hiked another mile and a half or so when we found an absolutely phenomenal camp site. It was nestled between two quick bends in the river on a terrace about seven feet above the river, with a wonderful deep pool immediately adjacent to camp and some riffle pools nearby to provide that soothing background rustle of water. There was a handsome little cottonwood tree to provide a place to hang our food to keep it safe from the mice as well. It was also graced by gorgeous and interesting canyon walls.

Again before dinner, I wandered about with my camera looking for some good shots. The light wasn't very good at the time though, so I mostly did a lot of hunting.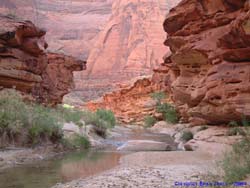 We had dinner just before night fall, then I set about trying to make my sandals a little more foot friendly. My new Tevas were just straps, with no neoprene padding at the heel or on the toes, and with the addition of sand and gravel into the mix, I had some growing sores on my feet. So by headlamp light, I added a little moleskin to my sandals, a move which worked out very well.
Shan was already in bed, as was Jeff even, by the time I was done. So I wrote a short poem, then laid back and slowly drifted off to sleep enjoying the night sounds and a canyon dimly lit by the innumerable number of stars in the luke warm sky.
Stats for Day 3: 8-8.5 miles plus 2 mile day hike to Wrather Arch, approximately 8 hours start to finish (with a couple of long stops/detours)
---
Day 1 | Day 2 | Day 3 | Day 4
---
| | |
| --- | --- |
| | |
| | |