Buckskin Gulch/Paria Canyon Backpacking Trip 2004: Day 1
Added 13 June 2004
---
Day 1 | Day 2 | Day 3 | Day 4
---
For information on the Paria Canyon area, go HERE
---
Living in the civilized world just got more difficult. On June 1st, my wife Shannon, best friend Jeff and I headed up north for a 5 day, 48 mile backpacking trip through Buckskin Gulch and Paria Canyon, near Page, Arizona. Buckskin Gulch is the world's longest slot canyon, and Paria Canyon is simply a beautiful place. I had done an overnight trip in Buckskin Gulch back in 1996, and had been wanting to get back to spend more time there ever since then.
We got all of our gear ready the night before, but I couldn't get my bag ready as I normally like to. I am in the market for a new backpack, and decided to rent one of my top candidates (an Osprey Crescent 75) for this trip to see if it would work well for me. So on Tuesday morning, I headed out to Summit Hut first thing to get my pack so I could get everything ready. Trying to fit 5 days worth of gear into it turned out to be quite a challenge, partially because I had decided to take 5-6 pounds of camera equipment on the trip to try to capture the amazing beauty of the canyons.
Jeff was supposed to swing by to pick us up at noon, but he was running late, which was fine for a while because I wasn't ready to go until about 1:30 or so. But Jeff was even later still. We didn't leave our house until around 3 o'clock, which made the rest of the afternoon somewhat of a scramble. I needed to make two stops in Phoenix on the way up north, one to REI and the other to Tempe Camera to get a couple of items for our new SLR camera, then Jeff and Shan decided to eat dinner at P.F Changs before we continued on. Our plan was to stay at Lees Ferry Lodge that night and meet the shuttle first thing Wednesday morning. By the time we got to the Lees Ferry Lodge it was around 11 pm, which Shannon wasn't too thrilled about. She likes her sleep. At least she had a hotel to sleep in though, which was one stipulation she had for going on the trip; a private room. Jeff just slept out in his truck to save money.
We were up at six o'clock the next morning so that we could meet the shuttle at Lees Ferry. The backpacking trip I chose to do is a 48 mile, one-way trip from Wire Pass Trailhead to Lees Ferry, so we hired a shuttle to take us from the end of the trail at Lees Ferry to the beginning of the trail at Wire Pass. We would then hike back to Lees Ferry and Jeff's truck. We barely made it to the meeting location on time and when, after 15 minutes, our shuttle hadn't shown up to pick us up, Shan began to worry that we had missed her. Finally, at around 7:15, she showed up . . . driving a Toyota Rav4, quite possibly the smallest SUV ever made. As soon as we saw the Rav4, we all wondered how we were going to get four adults and 3 large packs into that tiny little car. We SQUEEZED two packs behind the back seat and lashed Jeff's pack to the roof, then Jeff and I SQUEEZED into the back seat for the two hour drive to the trailhead. We made one stop for gas, and another stop at the Kanab District Ranger Station to get some last minute info and try to find a map that I couldn't find in Tucson.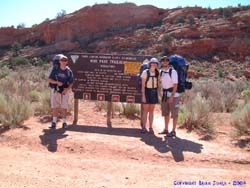 We didn't hit the trail until ten o'clock Wednesday morning, quite a bit later than I had hoped. But at least we were on the trail! We had all decided to do the whole hike in sandals due to the wet conditions on most of the trail, and I think we all had some small fear in the backs of our minds about that. Sandals don't offer much ankle support in normal situations, much less when carrying a heavy pack over uneven terrain. As it turns out, our fears were largely unfounded. My left ankle, which I destroyed playing soccer a couple of years ago, hurt on the first day, but I think the hike was good strength training for it, as it didn't bother me for the rest of the trip. So my ankles may have even improved after backpacking in Tevas!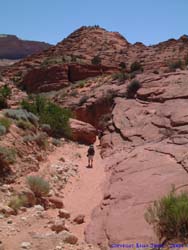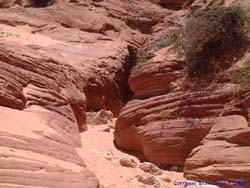 The first part of the hike is down Wire Pass Wash in open country. At ten a.m., the early June morning was already warming up, and I looked forward to diving into the narrows. After a mile or so, we hit the first narrows section.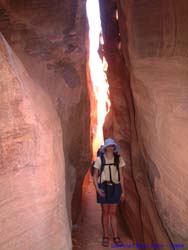 It was beautiful, it was narrow, it was brief. We were soon through it and back out into more open canyon, but it gave us a taste for what to expect the rest of the day; a cool, beautiful slot canyon. It wasn't long before we were back in the narrows again, enjoying the fantastical nature of the canyon. At one point, the canyon narrows so much that both sides of my pack were scraping the canyon walls. It was tight, and I must say, somewhat thrilling.
We hiked on until we came to the confluence of Buckskin Gulch, where we stopped for a moment to admire some petroglyphs left there many moons ago. We then followed Buckskin Gulch for the remainder of the day. We tried to follow our progress on the maps I had, but we found doing so to be extremely difficult. Keeping track of all the twists and turns is no easy task when you are far more interested in just gazing in amazement at the play of light on the sandstone walls. In addition to that, you have hardly any line of sight, so there are no visual references to use to try to pinpoint your position.
So we simply hiked, stopping now and again to take pictures (largely for my sake, as I would set up the tripod to try to get a particularly impressive shot), but all the while thinking we were making pretty good time. The terrain, after all, was pretty easy for the most part. We encountered a few dryfalls that required us to stop and slide down them, and the canyon bottom is a bit rocky in places, but for the most part the hike is on pretty easy terrain.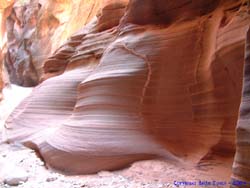 As the end of the day closed in, we started paying more attention to the features of the canyon, trying to pinpoint our location, figuring we had to be pretty close to the confluence of Buckskin Gulch and Paria Canyon. No matter how hard we tried, we just couldn't reconcile our position. But we knew we had to be close.
Jeff and I, in the back of our minds, had one looming fear though. A rockslide we had encountered earlier didn't quite match the description of the major rockslide described in the guide book we had read to prepare for the hike. We simply had to have passed it already though . . . Based on the time and our estimated average speed, we figured we were within a half mile of the confluence of the Paria River.
We didn't have much choice but to keep hiking anyway. So that's what we did. We rounded a corner, walked a short straight stretch, and there it was. The rockfall. Finding it meant we still had a mile and a half to go to get to the confluence. It also meant we were moving much more slowly than we thought. Jeff roped himself down the 15 foot drop at the rockfall, then I lowered our packs down to him. Then Shan and I climbed down the rope. (Unfortunately, we were so intent on just getting past the waterfall that the only picture I got of it is the one at right.) After we got through that, Jeff got motivated. Shan got dejected. (She was operating on far less sleep than is optimal for her.) I was just happy to be where I was. And at least we knew where we were. If we kept moving, we could knock out the last mile and a half pretty quickly. And if we did run out of light, we could find someplace to camp before the confluence. No big deal.
That is, until we reached the next obstacle. When I hiked part of Buckskin Gulch a number of years ago, I remember there being water in pools throughout the canyon, some were up to thigh deep, but most were pretty shallow. All were murky but solid. When the ranger told us to expect water in Buckskin up to knee deep, I didn't think too much of it. Knee deep water is no big deal, even if it is a bit chilly. Not so with what lay ahead of us now. What we encountered was a bona fide mud pit. Going through the mud would slow us down, but we certainly couldn't camp where we were, so we navigated the mud pit. And the next one. And the next one. They ranged in consistency from milkshake to thick sandal sucking muck. Personally, I didn't find them to be all that cold, but Jeff and (especially) Shannon did. Shannon's mood was going downhill fast. Ice cold (to her) mud pits were not doing anything to ease her fears of getting caught on the trail after dark with no place to camp.
We navigated a long succession of mud pits, each one depositing more grit and gravel between our sandals and our skin, grinding away. We joked half-heartedly about this hike being an excellent skin exfoliant for our feet. In the middle of the mud pits section, we found a little western patchnose snake (Salvadora hexalepis). He was so cold he could barely move, and that I regret not taking him out of the mud pits with us so that he had a better chance of warming up and escaping from the chilly canyon.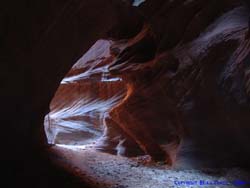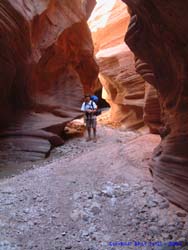 We did finally get past the mud pits, but had a new problem. The mud had now limited our options somewhat. Sleeping with our legs covered in mud was not a real viable option, and we didn't think we had enough water to clean ourselves off sufficiently and still have enough for drinking and cooking that night. That meant we had to push on all the way to the Paria River, and the mud pits had significantly slowed our progress to the point were darkness was close at hand. Our situation meant hiking a little ways more in gritty sandals and fading daylight. We felt confident that we didn't have much further to go.
We picked up the pace, didn't really stop for pictures (which was killing me, because I missed some beauties), and tried to make haste to the confluence. We finally made it to the confluence camp site at eight o'clock that night after hiking about 14 miles. There was just barely enough light that I still hadn't turned my headlamp on, though Jeff and Shannon had. We were fortunate that there was a very nice camp site still open for us.
We didn't have time to rest though. It was late, we hadn't eaten, and we still needed to clean up and try to get as much sleep as possible. Our first task was to get cleaned up. We hiked the remaining quarter-mile to the Paria River and took a cold bath; really just enough to get the mud off of us. No one had any desire to get completely wet. I pulled some water from the river to filter for cooking that night, and we headed back to camp. We got our tents set up, then had dinner before going to bed. While setting up camp, I saw a couple of little mice milling around camp. It meant we would have to hang our food or they would surely get into it. The trees we had available were not great for hanging food, but we got it all up. The mice still managed to get on top of one of my hung food sacks and nibble two of my bagels. They became sacrifices to the gods of nature the following morning. I don't like to eat after mice in Hanta Virus territory.
Stats for Day 1: 13.5 miles, 10 hours start to finish (with a LOT of stopping)

---
Day 1 | Day 2 | Day 3 | Day 4
---
| | |
| --- | --- |
| | |
| | |