Buckskin Gulch/Paria Canyon Backpacking Trip 2004: Day 2
Added 13 June 2004
---
Day 1 | Day 2 | Day 3 | Day 4
---
For information on the Paria Canyon area, go HERE
---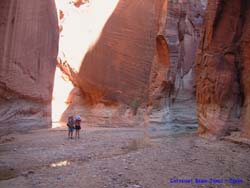 We were on the trail by about 8:30 Thursday morning, better than Wednesday, but not great. I didn't want to push though, given the long day we'd all had the day before. The other two groups who camped at the confluence were gone by the time we headed out. We made the short hike down to the confluence, paused for a photo, then headed down Paria Canyon, soon re-entering our native Arizona.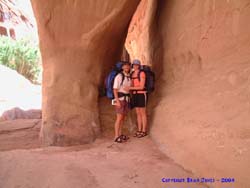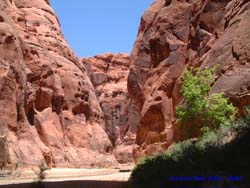 I started the day out excited and hopeful. Shannon started the day out apprehensive. She was very worried about what we would encounter hiking down Paria Canyon, having the cold mud pits still very fresh in her mind. She was very pleasantly relieved to find the Paria River to be clear, rather shallow (about ankle deep) and not so cold as it had seemed the night before. So we happily hiked down the canyon, thoroughly enjoying ourselves.
Late in the morning, we encountered our first humans of the day, two guys and a woman heading down to Lees Ferry on the same schedule we had. They were swimming in a very nice pool that made us feel a bit jealous, but only for a bit. We found out from them that there was another group heading down to Lees Ferry for a Sunday exit. That group consisted of two guys and a woman as well, a strange happenstance we thought. We left them to their pool and continued on a short distance ahead to Big Spring. That's when our jealousy ended. Big Spring was gorgeous.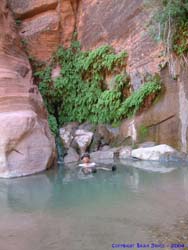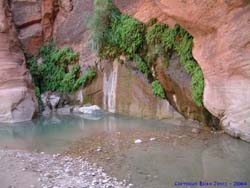 There was an excellent flow of water coming out from the canyon wall in two places, cold and clear. We all took a little dip into the pool below the springs to cool off before having lunch there. The water was cold, but refreshing. We ate a leisurely lunch, then filled our water containers up with spring water, which we filtered even though I'm sure we didn't need to. (Getting sick in the middle of a long backpacking trip would not make for an enjoyable journey, so I always practice the 'better safe than sorry' mantra.)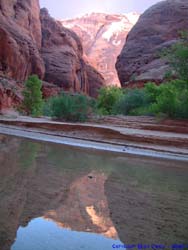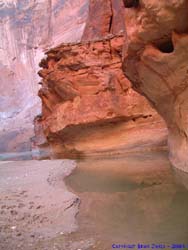 The night before, we had decided to make Thursday a light hiking day to give our bodies a break, but once we got hiking we felt good so we put in a few more miles than originally planned, to make future days easier. As it turns out, the group that we met at the swimming hole were camped at the spot we wanted, so we moved down canyon a short ways to a nice terrace overlooking the river, with a moderately deep pool not too far away for bathing. So we set up camp, relaxed for a bit, cooled off in the river, then relaxed some more. Before dinner, I went out in search of some good pictures. We chatted over dinner, then turned in pretty early. It was a warm evening though, and I knew I was going to have a very difficult time sleeping, so I ended up just dragging my sleeping pad and bag outside to sleep under the stars with the ants and lizards and whatever other critters happened to be around. Even then I slept mostly on top of my sleeping bag most of the night. It was wonderful falling asleep with the sounds of crickets, frogs and bats filling the night air.
Stats for Day 2: just under 8 miles, 7 hours start to finish? (I don't really remember)

---
Day 1 | Day 2 | Day 3 | Day 4
---
| | |
| --- | --- |
| | |
| | |