THE BEAST: My 1998 GMC Sonoma Highrider
Added 17 January 2000, Revised 16 April 2001
This page is mainly designed for folks on the ZR2 discussion list, to show what mods I have made to my truck. You can join the discussion list by sending the word "Subscribe" (without the quotes) to mailto:zr2@zr2hr.org.
---
Mods I have made to my truck include:
Here is a list of things that I plan on doing to my truck:
longer shocks
Front receiver hitches
Rocker panel guards
Multi-mount winch
Some sort of suspension lift
Revolver Shackles
Roll cage
---
If you're planning on making some mods to your truck, check out M&M Specialty products (owned by a Z-owner!) at: http://www.zr2.vista.com/main.php3?communityPath=content/73329.
---
If you're in the Tucson area, drop me a line and we can go wheelin' sometime.
Speaking of which, if you own a Highrider/ZR2/BlaZeR2, or want to find out more about the best little 4X4's around, check out these great sites:
http://www.zr2.com and http://www.zr2hr.org
There is also a ZR2 discussion group, which is very fun for talking about our special trucks and in getting ideas, help, and useful information. I have learned a great deal from the list. You can join by sending an e-mail to mailto:zr2@zr2hr.org with the word "SUBSCRIBE" (without the quotes) in the subject line.
---
ENJOY!
---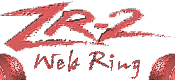 ZR2 - Site Number 4
[ Next Site | Previous Site | List Sites ]
---


This ZR2 & HighRider Webring site owned by WolfSoul .
[ Previous 5 Sites | Previous | Next | Next 5 Sites | Random Site | List Sites ]