Added 11 May 2008
---
Day 1 | Day 2 | Day 3
---
Day 3: Monday, 3 September 2007, Sycamore Canyon Wilderness, Arizona
(Hover over images for captions. Click images for larger versions.)
I was up and moving by about six o'clock Monday morning, wanting to be on the trail quickly to beat the heat for the climb out of the canyon.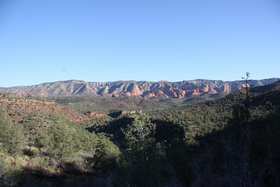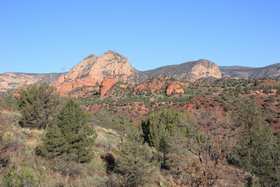 While Shan did her morning routine, I packed up camp, simply stuffing the wet tent into the stuff sack, intending on drying it out at home. A quick energy bar breakfast later, I was ready to go. Tina wasn't quite ready though as she was trying to dry her tent out a little bit. I relaxed as I waited, and we hit the trail at 7:20 a.m. Shan was feeling energetic in the cool of morning and was moving pretty quickly. Tina wasn't up to speed yet though, so I had to try to balance my hike to make sure we didn't leave Tina behind and keeping tabs on Shan to make sure she stayed on the right trail. I tried to stay within sight of both of them, but that proved impossible, so I largely stayed just ahead of Tina so I could stop and make sure she was still behind me and moving, and used Shan's boot tracks to make sure she was still on the right path.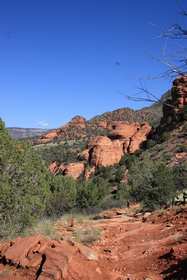 We only got about an hour and a half of shade on the hike out, and the air temperature warmed rapidly once the sun was up and on us. We were glad for our relatively early start. After a short time, Tina found her stride and we made pretty good time climbing out. Along the way, I found bobcat and either raccoon or ringtail tracks in the soft wet dirt of the trail. We made it back to the car shortly after ten o'clock, changed into dry clothes, and started the drive home. We stopped for a late lunch in Phoenix at Sweet Tomatoes. All you can eat is good after a backpacking trip, and I doubt they made any profit on us. We also stopped at REI in Tempe for a while before finishing the drive home.

---
Day 1 | Day 2 | Day 3
---
| | |
| --- | --- |
| | |
| | |