Added 11 May 2008
---
Day 1 | Day 2 | Day 3
---
Day 2: Sunday, 2 September 2007, Sycamore Canyon Wilderness, Arizona
(Hover over images for captions. Click images for larger versions.)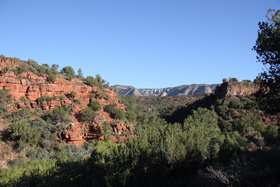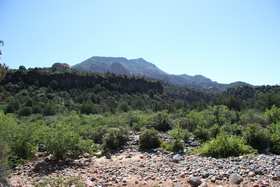 I had planned on getting a fairly early start to Taylor Cabin in the morning, but it didn't quite work out that way. I was ready to roll shortly after eight o'clock, but no one else was quite on my time schedule. Marisa had gotten sick the night before and still wasn't feeling all that good, so she and Brian decided to head home. When Shan, Tina and I left at around 9:30, Brian and Marisa still hadn't even broken camp.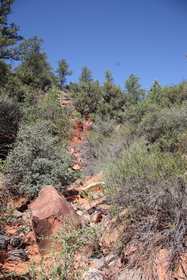 Less than half a mile up the trail, in a moment of less than level-headed thinking, I misjudged the map and ended up getting us off the trail. While I sometimes enjoy getting lost, this was not one of those times. While Tina didn't seem to mind hiking up the creek bed and strode ahead, Shan hates walking on rocks, and I knew I was going to be in trouble if I didn't get us back on the established trail. At the first scaleable ravine, I hiked up in search of the trail. Upon finding it, I went back and guided Shan up to it.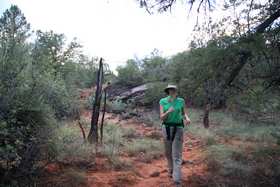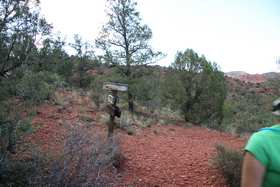 For those that follow this trail, go through the old gate shown at left (in the opposite direction that my wife is hiking, as I took this picture on the way back to camp) which is no longer a gate, per se, but a permanent opening in the fence, until you get to the trail sign (shown at right), then go right.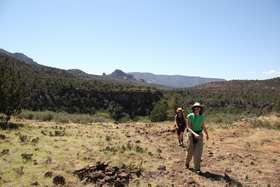 It was surprisingly hot by mid-morning, quickly taking it's toll on our forward progress. I was told that it was three miles from the trail junction to Taylor Cabin. After hiking for a couple of hours, I became convinced that the value could not be accurate. I knew we were moving slowly, but we couldn't possibly be moving as slowly as what a three mile hike would make it seem.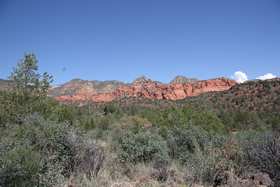 In retrospect, I had forgotten to take into account that our camp nearly a mile from the trail junction, but on the return hike, I also confirmed my suspicions. I normally only use my GPS to verify locations and monitor overall progress towards a goal, and turn it off while hiking lest I become wholly dependent on it. On the return from Taylor Cabin I left the GPS on to determine the distance between the cabin and the Dogie Trail/Sycamore Basin Trail junction. The result was approximately 3.75 miles. Even so, it seemed longer than that on the way to the cabin. The heat has that effect.
But back to the outward bound hike. On the Sycamore Basin Trail, as I suspect is the case for nearly every trail in the wilderness, we found ourselves on very open ground with only the occasional pinyon or juniper tree for shade. As we watched the clouds build towards mid-day, somehow totally avoiding that patch of air between us and the sun, it grew hotter, more humid, and seemingly more exposed to an ever-closer sun.
I became increasingly dismayed out our rapidly dwindling water supply. Shannon tapped out and started in on the reserve supply I had in my pack. By the time we reached Taylor Cabin at around two in the afternoon, a very welcome sight, we were down to what I had in my water bladder and a little sports drink, which wasn't much. Tina said she had about 2-liters left.

With perhaps 3-4 liters of water between us, we needed to find the pools near the cabin, which the USFS employee I talked to prior to the trip said were reliable. We tried downstream first, and I was dismayed to find nothing. Even deep holes in the stream bed were just a little damp. I began to wonder if we weren't going to have to dig for water.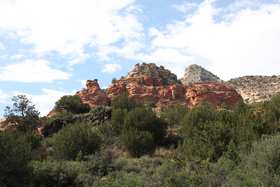 Leaving Tina to explore further downstream in search of a pool, I took Shan back because it appeared as though we might actually get some rain, and I wanted to get her set up to collect rain water off the roof of the cabin if it did. Leaving her and all our remaining water there, I hiked upstream in search of a pool of water. As I started out, it started to sprinkle, but so lightly that it wouldn't help us a bit.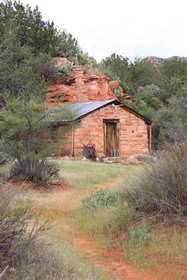 After hiking well over 1/4 mile upstream, still having found no water holes, I happened upon an area with exposed sandstone that contained depressions. I found a rock that still had a small amount of water collected on it. I sucked enough out of the two small depressions to quench my thirst plus a little more. I started to head towards more sandstone pockets in hopes of extending my supply when it started to rain in earnest. It was a fortuitous moment. Had I been in another location along the stream bed, the water would have disappeared into the sands so quickly it would have been useless to me. Working quickly, I dropped my filter into pool after pool, pulling out water Mother Nature put in. Eventually I found one pool that due to the funneling of water from above, filled almost as quickly as I could pump and I stayed there until the rain stopped, which it did before I could top off my supplies, so I scrambled to find other water pockets before they drained away. Finding another good pool, I topped off my total capacity of nine liters and drank my fill to boot.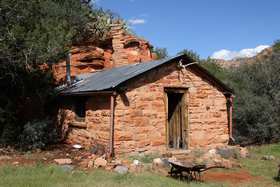 I had been gone quite a while by that point, so I headed back to the cabin, buoyant by my success. In the end, I needn't have walked anywhere. Shortly after I left, Tina returned, and when the rain came, Shan and Tina worked together to collect over six gallons of water from the roof of the cabin. It was enough for us to fully top off our supplies and leave over five gallons at the cabin for the next people to reach the cabin in need.
We were fortunate. That brief rainstorm prevented a great deal of grief, mayhem and death. OK, perhaps that's a bit melodramatic. I never thought for a moment that we would die, especially since I knew there was plenty of water available near camp, but we would have been seriously distressed by the time we got back to camp.
The experience was an excellent one though, and though I generally consider myself to be a pretty experienced and safety-oriented backpacker, I was humbled and made the wiser for it.
By the time I got back to the cabin, it was around 3:30, and though I knew we would need to start the hike back to camp soon, I hadn't eaten lunch and needed sustenance.
Thinking we might get back to camp late, we decided to eat our dinner, so we cooked up our pasta primavera and ate it in the shade of a nice juniper tree before starting the hike back. I also took a few minutes to explore the area around the cabin and look for some of the features I'd read about being there. It was an extremely neat area, and I wish I'd had more time at my leisure to enjoy the place.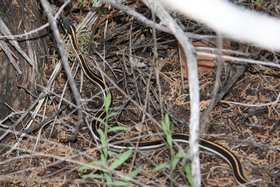 The clouds had cleared by then, so it was still quite warm and even more humid, but I pushed a faster pace on the return hike to try to avoid hiking in the dark. We pushed a little harder going back and returned the five miles to camp in about 3 hours, vastly improving upon our time to get to the cabin from camp. We saw a Black-necked garter snake (Thamnophis cyrtopsis)and what I'm pretty sure was a juvenile eastern collared lizard (Crotaphytus collaris) on the way back too, which was cool. One of the neatest things we saw though, in my opinion, was a male and female grasshopper that displayed sexual dimorphism yet were both supremely well adapted to life in "red rock country." (photo at the bottom of the page, and in the header)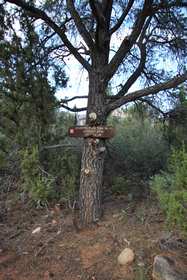 We made it back to camp with light to spare and sat down to eat dinner.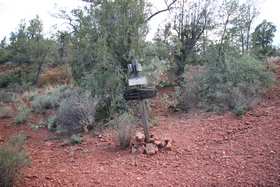 We got swarmed by gnats, so even before it was fully dark I got a fire going to keep the bugs away. I then left Shan and Tina to talk around the campfire while I went down with all of our empty water containers to filter enough water to get us back to the car the next morning. My water filter was starting to get clogged from all of the dirty water, so it was slow going. By the time I got all of the water bladders up it was dark. I then stripped down and took a little sponge bath to get the dirt and sweat off of me (and probably put a host of pond creatures on me).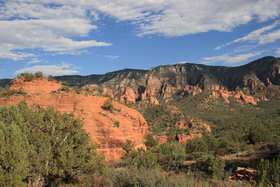 Not wanting to scramble up the loose, heavily vegetated slope to camp in the dark with my newly nearly clean body, I decided to walk up the stream to the trail and take the long way around. After going a ways I realized that locating the indistinct trail would be quite difficult in the dark, and my only hope was to locate the small cairn that marked the entrance of the trail into the dense streamside vegetation. Locating a small stack of gray rocks in a sea of gray rocks at night suddenly didn't seem so appealing, but I stuck with the plan. I hiked until I knew I had gone a little too far, circled back around to the center of the wide wash and soon found myself next to a large boulder that I knew from memory was a few dozen meters upstream of the trail. That allowed me to backtrack and find the cairn and the trail.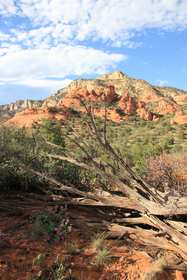 When I got to camp, neither Shan nor Tina were by the fire. It was only eight o'clock and I thought surely they didn't go to bed already! I called to Shan. No answer. I called to Tina. No answer. I went to the edge of the slope down to Sycamore Creek and saw lights. Shan had gotten worried about me and enlisted Tina to help her go and find me.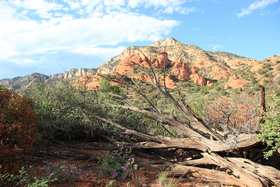 On their way down, they encountered a rattlesnake, which shook it's tail at them as it slithered away. Then as they were preparing to come back up to me in camp, they saw a ringtail. I was going to go down to see it myself, but it didn't stay long, so I stayed near the top of the hill and tried to help them navigate back up the slope.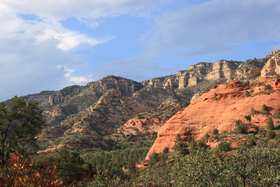 After they got back to camp, they went to bed. I stayed up a short while then went to the tent as well, but it was too warm for me to sleep, so I got back up and sat by the now doused fire and watched the sky. Flashes of distant lightning played on the small clouds overhead, and shooting stars abounded. One exceptionally close shooting star was unusually slow moving. As it fell it broke apart, trailing glowing sparks before entering a small cloud and lighting it from within. It was a pretty amazing sight.
As I lay on a rock looking up, I also watched clouds roll overhead, seeming to be spin off from a storm over to the east. I suspected that rain might be in store before morning. For the second night in a row, I reluctantly entered the tent, nearly deciding to sleep out under the stars. Sometime before midnight it started to rain, and I was glad to be in the tent.

---
Day 1 | Day 2 | Day 3
---
| | |
| --- | --- |
| | |
| | |