Added 11 May 2008
---
Day 1 | Day 2 | Day 3
---
Day 1: Saturday, 1 September 2007, Sycamore Canyon Wilderness, Arizona
(Hover over images for captions. Click images for larger versions.)
I was up before my alarm, anxious to get our backpacking gear in the car and be all ready to go when Tina arrived. Our destination for the 3-day Labor Day holiday weekend, Sycamore Canyon Wilderness Area. Tina showed up at our house at 7:15 a.m., right on time, and we quickly finished loading our backpacking gear and got on the road.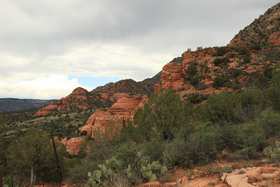 We ran into a little heavy traffic in Phoenix, which delayed us slightly, but it turned out that Brian and Marisa, who were coming from Prescott and meeting us at the trailhead were running late, so it wasn't a big deal. Between Cottonwood and Sedona, we turned off the highway and hit the dirt. There were roads that weren't on my map, causing a small amount of confusion, but we eventually made it to the area near the trailhead a little after 11:30, not too far behind my planned arrival time. We couldn't make it all the way to the trailhead of Dogie Trail because it was a little too rough for the Civic.
I actually could have driven all the way to the trailhead, but didn't see any need to risk damaging the car. We found a nice place to park with some juniper trees for shade about 0.4 of a mile from the trail and waited for Brian and Marisa. After waiting for quite a while, I called to get a status report.
Brian wasn't sure exactly where he was, but thought he was close. After a while, we talked again, and discovered that they went to the wrong trailhead. As a result, they didn't get to us until around two o'clock, and still hadn't eaten lunch. After they ate we loaded our packs in Marisa's Jeep, with me holding my pack in my lap for lack of room, and drove the rest of the way to the trailhead. We didn't start hiking until around 2:30, well after I'd hoped to be hiking.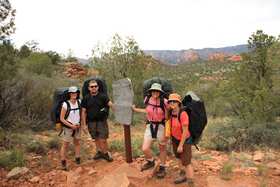 My original plan had been to hike the eight or so miles to Taylor Cabin, at which I was told by a USFS Ranger that there was reliable water. That plan was almost certainly shot out of the water due to our late start, and any hopes of reaching that goal were soon given their walking papers.
The temperature was a fair amount above average, making the hike rather toasty. I suspect the temperature was well into the upper 90s. As a result, our progress was slow as we descended into Sycamore Canyon Wilderness. It took us nearly four hours to hike the 4+ miles down to our campsite, arriving just before dusk.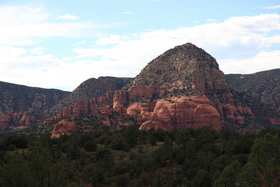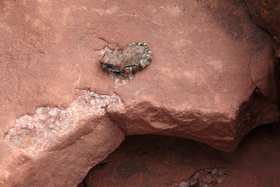 While waiting for Brian and Marisa on some rock ledges, I happened to find a red spotted toad (Bufo punctatus), perhaps one of my favorite toad species. It was a thoroughly enjoyable hike, and the trail was largely in very good condition. It was nice to enjoy Sedona beauty without Sedona crowds as well.

Having located an excellent campsite on high ground on the east side of Sycamore Creek, our first task was to locate water. We had seen pools from high up as we hiked in, so all we had to do is hike the dry stream bed and find them. I started out going upstream, eventually finding a large pool that, while life-giving when filtered, wasn't at all appealing. It was extremely silty and had a distinctly unpleasant odor. We decided to try to locate a better alternative. A foray further upstream revealed nothing, so we tried downstream.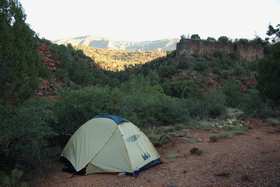 Brian filtered a fair amount of water out of small water pockets while I continued downstream. I found another large pool that, while still silty, didn't have the same unpalatable odor of the first large pool I found. The filtered result was something that looked like weak tea, but which smelled and tasted fine. Shannon, skeptical at first, did eventually drink of the pool water and it even passed her discriminating standards for smell and taste, if not for appearance.
With the more immediate need of adequate water taken care of, our next task was shelter. We had plenty of room to spread out, and took full advantage of that ability, with none of our three tents within plain sight of one another. Everyone ended up clustered around our tent for dinner, during which we discussed our options for the rest of the weekend since we didn't make the planned destination for the day. Brian and Marisa still hadn't fully decided whether they were going to head back home the next day or stay with us through Monday, so they didn't offer their opinion. Our lack of progress for the first day, and the very real prospect of extreme effort needed to get back on schedule made completing our intended loop seem optimistic. Due to the availability of suitable camping locations, I suspected we would be limited to a longer than ideal hike either Sunday or Monday. Given the heat and the unknowns, we decided to keep camp where we had it, and day hike to Taylor Cabin and beyond.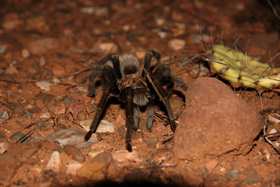 I figured we would be able to at least get to the base of the canyon down which Taylor Cabin Trail descends, a 12 mile roundtrip. I was disappointed about not being able to do the loop, but was pretty confident that we were making the right decision. Tina seemed more disappointed and not so certain that altering our plans was necessary. Had it been just me and Jeff, or Steve, I likely would have gone for the loop, but Shan really struggles in the heat, and with the above-average temperatures I knew we would be seriously pushing her ability to cope.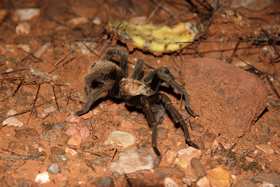 After dinner we migrated to the fire pit. I got the fire going, but not long afterward, everyone decided they were going to bed, leaving me to enjoy it all by myself. It was a situation I was not inclined to complain about. A little solitude in the wilderness is one of the richest treasures I know. The temperature was perfect, the night sky resplendent with stars, and the air thick with the rich voices of crickets and other nocturnal wanderers. It was with great reluctance that I eventually doused the coals that were all that remained of the campfire and went to bed.

---
Day 1 | Day 2 | Day 3
---
| | |
| --- | --- |
| | |
| | |