Added 11 November 2012
---
Day 1 | Day 2 | Day 3 | Day 4
---
24 September 2012, Buckskin Gulch/Paria Canyon
After doing a day hike into Coyote Buttes North yesterday, we headed back to camp and hurriedly organized our backpacking gear and sorted stuff between the two cars for the shuttle so we could get to BLM Contact Station before it closed at 5 o'clock. When we got there just before four o'clock, however, we discovered that it actually closed at 3:30. We really wanted updated information about the condition of Buckskin Gulch. We could tell that it had recently experienced a pretty substantial flow, and someone we talked to said that there were some pretty deep pools in the canyon. Steve ended up going up to the site steward in the non-public area and got some basic information about the canyon, primarily about mud and pools of water. The camp host confirmed that foul smelling, crotch deep pools of water were present in Buckskin Gulch not far below the Wire Pass confluence, but we didn't learn much more than that, except that there was a 30% chance of rain that night, but it was forecast to clear by six o'clock in the morning.
On the way to the Contact Station, I realized I had made another boneheaded move. I forgot the parking pass for my car, which we were going to leave at the White House Trailhead for our exit from the canyon. This elicited more well-deserved ridicule from Chuck and Steve. I really didn't want to have to go all the way back to camp to get it, or pay a day use fee for four days when I already had a permit, so when the site host was closing the gate after we left, I asked her if it would be ok if I just left a note on my windshield. She said that as long as it had my name and enough information that someone could look up my permit, it should be ok, so I wrote a very detailed note to put in the windshield of the car and we caravanned out towards the trailhead. We were stopped about a half mile short by a washed out stream crossing that neither one of us felt totally comfortable in trying to get our heavily loaded cars across, so we just left my car by the side of the road there.
On the drive back to camp we discussed options for trip. In addition to the original plan, we considered delaying a day, or starting from White House Trailhead and just backpacking Paria Canyon with a day hike up Buckskin then possibly only doing 3 days and doing a day hike on Friday into Wire Pass and Upper Buckskin. We did not reach consensus and left the question hanging until morning.
Back at camp we made our final preparations for the backpack while discussing a wide range of deep subjects, including the 9/11 attack and conspiracy theories, religion, the election, politics, and alien life, to name a few. We conspicuously did not talk further about whether we were going to go through with our original backpacking plan or do something different.
25 September 2012, Buckskin Gulch/Paria Canyon
We woke this morning to grey and stormy weather, which deepened our indecision on the appropriate path to take for our journey into the realm of slot canyons. We didn't even discuss it much as we packed up our gear up. It seemed almost certain that we were going to abandon our original plan of going down Wire Pass and Buckskin Gulch to Paria Canyon though.
We were barely able to fit everything into Chuck's car for the drive to whatever trip we were going to end up doing today, and as we pulled away from camp we still didn't know where we were going.
I think we were all a bit apprehensive about Buckskin Gulch, given what we'd been told and the less than ideal weather conditions for being in a slot canyon, and none of us seemed eager to make a decision on what we should do. Some part of each of us wanted to stick with the original plan, but other parts thought it was perhaps not the wise thing to do. Once we got onto House Rock Valley Road, it hit me and I just said it, "We should stick with the original plan." I could almost hear the cogs in Chuck's brain come off their axles. It wasn't what he wanted to hear. Steve, for his part, I think was happy to just have someone make a definitive statement of desire and quickly agreed.
A few minutes later we pulled in to the Wire Pass trailhead parking lot. I noted that when Chuck stopped the car he stopped a little more than half a car length short of the front of the parking spot. He wasn't convinced he wanted to do this yet. With his knee problems, he was nervous, both about the mud and the pools, and rightfully so. A mis-step or slip that tweaked his bad knee could end the trip in an instant, yet with no quick way out. However, I was confident that he could handle whatever lay ahead of us on our original route, but also thought to myself that I would have no problem turning around if we got to a point where Chuck was truly in over his head or that might be dangerous for him.
We talked to a guy getting ready for a day hike into North Coyote Buttes about the weather forecast. It was still supposed to clear. We sat there for some moments more, only 1/3 of the way into the parking spot. Then Chuck agreed to go with the original plan and parked the car.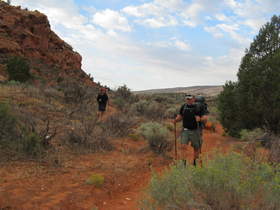 We were then moving positively forward towards some unknown adventure that might end in us reaching Paria Canyon or might end with us returning to the car by the end of the day, but we could at least say we tried, and I felt that the attempt was important to do.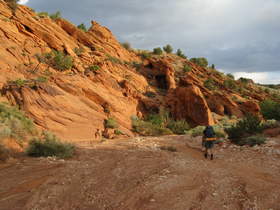 We shouldered our packs at 7:15 a.m. and hiked down Wire Pass. Though it was gray above, it was clear over the horizon and the sun cast a beautiful light on the sandstone. A good portent for things to come, we hoped.
It wasn't long before we entered the narrows, where the walls really neck down to not much more than body width. It seemed changed since my last visit in 2004. There is now a small boulder choke drop-off that I don't remember from before, and the canyon bottom seemed more rock-strewn than before. Wire Pass was, at least, dry.
When we got to Buckskin Gulch we checked out the petroglyphs then dropped our packs and hiked about 15 minutes up the canyon. It was muddy, but we didn't encounter any pools that required wading through.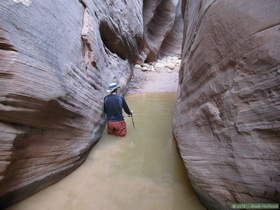 After returning to our packs and heading downstream, we encountered water immediately below the confluence. We were able to dodge around the first pool, but it wasn't long before we came to a pool that was unavoidable.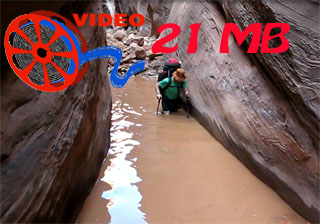 It looked pretty deep, so I shed my pack and borrowed Chuck's trekking poles to scout it out. It turned out to be crotch deep with me walking on my tip-toes and it was probably the deepest one we had to go through. I was thankful of two things, both related to my biggest fears before embarking on our trek down a post-flood Buckskin Gulch. First, the water temperature was much warmer than it was during a previous visit at the end of May. That's not to say that the water was warm. It was still fairly cold, but it certainly wasn't bone-chillingly cold as it had been in 2004. Second, also unlike my trip in 2004, the pools were filled primarily with just thin, muddy water. In 2004, the mud holes were more like the consistency of pudding through the entire depth, so when exiting the pool our legs were coated in thick mud. This time, we exited most pools mainly just wet, with a thin veneer of mud on us.
The conditions of the first pool made me relax a bit. Far from being a hypothermic slog through ice cold pudding, I predicted the entire trip was going to be a pleasurable adventure, even if a bit sloppy and slow going.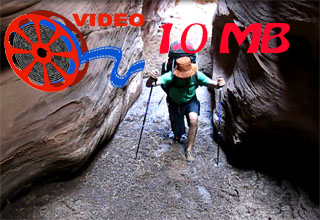 It wasn't long before we encountered the worst obstacle of the trip though. It was a pool that was no deeper than the aforementioned one, but the entire surface of it was covered in floating juniper debris. This was the pool we had heard about.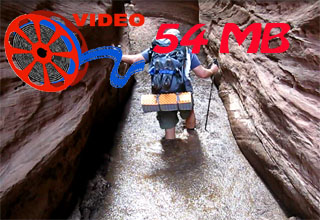 I once again scouted the pool out with Chuck's trekking poles, pack on this time. As I went through, I saw a dead animal floating in the water. Chuck thought it was a mouse. God only knows what else was in the pool, but whatever it was certainly didn't smell great. We each ended up with decaying juniper debris all over our legs when we exited the pool (though fortunately no mouse parts) but were otherwise none the worse for wear. We were actually glad to get to the next just-plain-old-muddy pool so that we could wash the debris and stink off of us.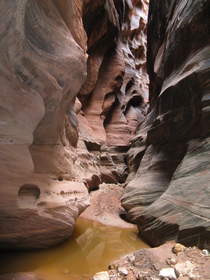 We could never see the bottom of any of the pools we crossed, but some were obviously shallow so I only scouted a handful of the deeper looking ones, and after a while almost entirely stopped borrowing trekking poles for even the deep ones because most times the canyon walls were narrow enough that I could use them for support if I started sliding into a deeper part of the pool.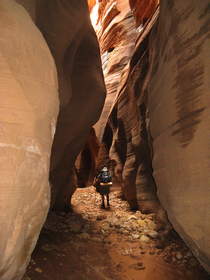 Almost all of the pools had deep parts to them, but most had strips that were higher and we tried to stick to those as much as possible. There were a few pools where the strip of high ground was narrow and right up against the canyon wall, and on some of those I just borrowed one trekking pole to use on the deep side to help me stay on the high ground.
Buckskin Gulch was, mud and all, as amazing and magical as I remembered it, and seeing it after a recent flood event added another layer of fascination to the canyon. Due to the nature of slot canyons, the light was highly variable, from fairly sunny in the wider parts of the canyon, to dark and nearly cavelike. But everywhere were wonderful water carved features. There were more debris features this time, as well, from large debris mats on the canyon floor which were non-existent the last time I was there, to more logs wedged high up in the canyon walls.
There are usually a lot of questions about the proper footwear to use for trips like this. At Shan's insistence, I got a pair of Teva Churn water shoes for this backpack.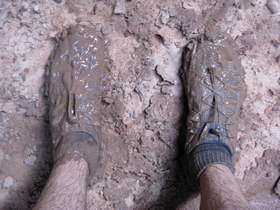 I resisted because I didn't want to spend money for a brand new pair of shoes that I expected to get completely trashed on their first trip. They got great reviews though, so I eventually relented. These shoes were totally in their element through Buckskin Gulch. I wore them with fairly thick wool ankle socks, and that was the perfect combination here. They self-cleaned brilliantly and despite not having a very aggressive tread, they provided as much traction as one could expect under the conditions. While by no means as stiff as a good pair of hiking boots, they also have sufficiently stiff soles while hiking over rocks with a pack. I never felt rocks jabbing the bottoms of my feet. That said, they did less well later in the trip when we got down to the Paria River. The flowing water and sandier conditions there allowed sand to get not only into the shoe, but into my socks. The sand actually cleared out of the shoe quite well, but I had to stop from time to time to empty the sand out of my socks. Perhaps taller, thicker wool socks would have performed better. I never tried wearing the Churns without socks in Buckskin Gulch, but I did try them without socks in Paria, where I hiked for about 2.5 miles sockless in the shoes. They continued to self-clean pretty well, but enough sand was getting into them that I'm not sure I would have wanted to hike all day like that. For just messing around or for short hikes, they would be ok for most people without socks though.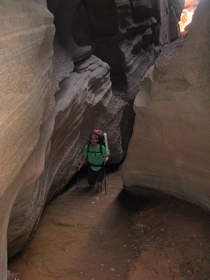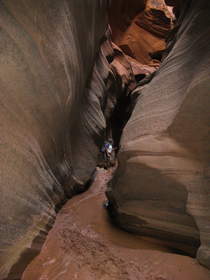 Chuck was leading at one point in the afternoon when we hit a small boulder field. He went around it to the right, sort of going up on the canyon wall, when he found a patchnose snake in the middle of his path. Chuck moved it to the side a bit to go past it and I don't know what else Chuck did to it, but when I followed I was dealing with one really ticked off snake.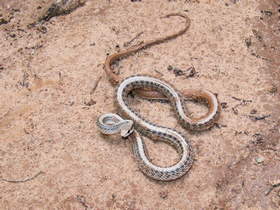 I was a couple feet away taking pictures of it when it struck at me. Then as I was moving on I had to set my hand down on the rock a couple feet away from it and it struck at me again. Fortunately he was so small that his strike range wasn't very large. Not that it would have been life threatening (or even likely very painful) if it had bitten me.
A little further down canyon we also found a red-spotted toad and a tarantula. The only other interesting obstacle we encountered was a 30 foot long mass of logs and debris resting on the canyon floor that we had to climb over. Fortunately, it was densely packed and stable so it didn't really pose a safety risk.
As we continued down canyon, I noticed another change from my trip 6 years ago. There seemed to be more logs and sticks wedged high up between the canyon walls. We also encountered one really large debris jam lodged about 30 feet up off the canyon floor. I think it was the same location as one I saw on my previous trip, but it was larger. One log that I didn't remember, but which must have been there before was at least 75 feet up off the canyon floor. Either it has been there a very long time and the canyon has deepened since it got stuck there, or it was put there by an absolute monster flood.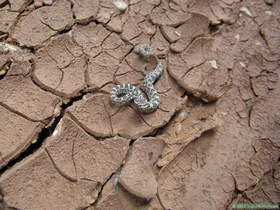 By this time, Chuck was wearing out a bit and Steve's shoulders were hurting so although they both had more miles in them, they were also both willing to call it a day at any point. Not wanting a full blown mutiny on my hands, I hiked ahead so that I could scout out potential camp sites. There aren't a whole lot of places to camp in Buckskin Gulch because it's so narrow that there aren't many terraces large enough to camp on.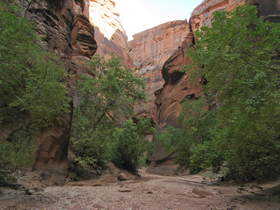 The first even remotely possible camping spot I came to would have gotten us a couple of feet off the canyon floor, but it wasn't a great spot. I decided to let Chuck and Steve weigh in on it and waited for them. When they rounded the corner Chuck asked if I saw the rattlesnake just up canyon. I had walked by it completely oblivious to its presence. It was a very small Great Basin Rattlesnake and when I went back to try to find it, I was unable to locate it.
We decided to pass on that particular camp site. The next possible location we came to was a large, very high terrace, but climbing up to anything approaching reasonably level ground would have involved a great deal of effort, so we just kept hiking on. Eventually we came to a moderate sized terrace with some great flat, smooth ground for sleeping on It only got us about four feet off the canyon bottom, but the canyon was a bit wider there and it would have taken a pretty significant flow to pose a risk to us.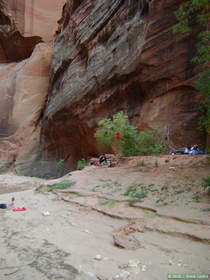 We called it quits for the day there, about 3 miles from the Paria/Buckskin confluence. Before settling in, I sloughed off my pack and ran downstream about a half mile just to make sure there wasn't a really killer camp site just downstream, but only found a stretch of canyon strewn with fairly sizeable boulders.
After setting up his stuff, Chuck got into his sleeping bag and almost immediately fell asleep for a little while. He's not used to backpacking and was definitely tuckered out. Steve went to test out his poop tube, and I just organized my gear. At around dinner time, I pulled out my tin whistle and played some music for a little while. I don't play well, but it sounded pretty nice in the confines of the slot canyon. Chuck and Steve went to sleep pretty early, so I laid down on my bed and watched the sliver of sky above me and composed a poem. I then watched the shadow of the nearly full moon track across the opposite canyon wall before drifting off to sleep myself.
I'm not real happy with the poem, but here it is anyway.
---
Untitled
The sky is a river above
stretching from one
canyon bend to another
then far beyond .
Walls are shore.
Sand is bed,
and me there upon,
not yet lit by the moon
though cooled by its breath.
The mud that slowed my pace all day
and now hardens drying socks
becomes an object of reverie
as I fade to sleep.
My friend shifting in his bag
triggers memories of a long ago rock fall
and I'm suddenly alert,
sorting out the false danger.
Easing the unnecessary fear
but awake again,
I return to rivers, the imagined ones
and the raging ones now turned to mud,
both dark and distantly fitful,
but soothing too,
when taken as they are.
---
Day 1 | Day 2 | Day 3 | Day 4
---
| | |
| --- | --- |
| | |
| | |