Added 11 November 2012
---
Monday, 24 September 2012, Coyote Buttes North, Arizona.
Back at the beginning of June, I managed to win a trifecta, scoring permits to day hike in Coyote Buttes North, then backpack in Buckskin Gulch/Paria Canyon, then day hike in Coyote Buttes South, one right after the other. Over the course of the week that we were in the area, I heard a number of stories that made my good fortune highly apparent. One Taiwanese man, twice unable to secure one of the 10 advanced permits to Coyote Buttes North, flew here both times all the way from Taiwan to try to get a walk-in permit. He failed the first time, and was so happy when he got a walk-in permit the second time that he was too excited to properly fill out the paperwork and the BLM staff had to help him with it. One couple tried getting permits to North Coyote Buttes six times without success. Others had similar stories. And me, I managed to get permits for Steve, Chuck and I to go to North Coyote Buttes on Monday, Paria Canyon Tuesday through Friday, and South Coyote Buttes on Saturday. I tend to have excellent luck with permits.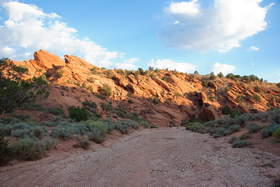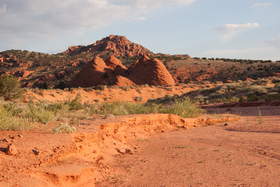 With clearer skies above than our day hike in Upper Buckskin Gulch yesterday, we started at 7:30 for our hike into North Coyote Buttes and The Wave. The permit came with route directions and guiding photographs from the BLM. The directions provided were excellent and very helpful.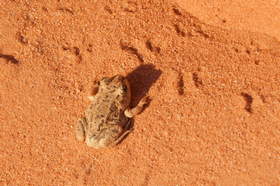 It may be the best document I've ever seen prepared by the BLM. On the way in we saw a few Mexican Spadefoot Toads (Spea multiplicata) and took some time to check them out.
We then made our way south across Coyote Buttes North towards the dinosaur tracks and The Wave, stopping at interesting spots along the way.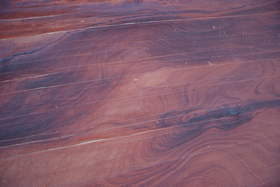 We planned to go see the dinosaur tracks near The Wave before going to The Wave, since the dinosaur tracks would be a bit of a backtrack. Along the way though, we realized that we were currently in the lead for getting into Coyote Buttes North, and that everyone behind us was likely going to go straight to The Wave, so if we wanted to capitalize on our first place position, we should go there first so we would have some competition free time to take photos at The Wave.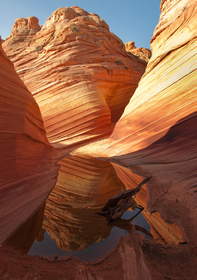 When we got to The Wave, we were rewarded not only with having the place to ourselves, but also with a beautiful tinaja right at the entrance to The Wave. Amongst other critters, the tinaja contained a number of longtail tadpole shrimp (Triops longicaudatus). I had read about them, but had never encountered them before, so I was pretty excited. The scientific name stems from the fact that they have three eyes (triops) and a long tail (longicaudatus.) They are a crustacean and are commonly called longtail tadpole shrimp, American tadpole shrimp or rice tadpole shrimp, and they are considered to be living fossils because they have remained essentially unchanged for 70 million years. They show up in the fossil record exactly as they appear now. Triops are one of the oldest living species on earth. They are well adapted to survival in the ephemeral pools of water that are often the only sources of water available in parts of the desert southwest. The adults die when pools of water dry up, but the eggs can remain dormant in the pool for long periods of time then hatch when the pool fills up again.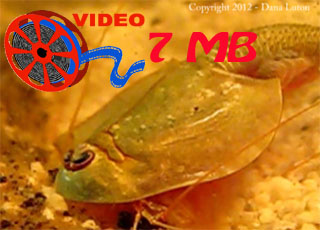 Strangely, the week after I returned from this trip, Dana Luton, a co-worker of mine, sent some videos around the office of some Triops that he had raised from eggs he got in a kit. I thought it was fascinating to see them in motion and feeding, so I have posted excerpts of his videos below, with his permission. It appears that they feed by shuffling debris under their bodies and gleaning nutrients from the debris.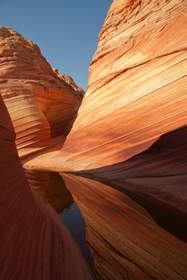 Going straight to The Wave definitely turned out to be the right decision. About 20 minutes after we arrived, two Scandanavian (I think) women arrived and as we left about 10 other people were just arriving. It was much easier to take photos before the rush. We were all very aware of each others' desire for people free photographs and everyone was great about checking before moving across someone's shot. Even so, I'm glad we didn't have to coordinate with more people.
The Wave actually turned out to be less spectacular than I had envisioned it being, but I suspect that's because my expectations were unreasonably high based on the amazing photographs I had seen of it by world class photographers. It's possible that in different light I would have been more impressed as well. I actually found the little side channel to the west of the wave to be far more interesting and photogenic. I definitely spent more time and took more photographs there. I really wished I wasn't having tripod issues, as a tripod would have been extremely helpful there.
The photos below are of The Wave and the area around it. The captions describe a bit about the shot.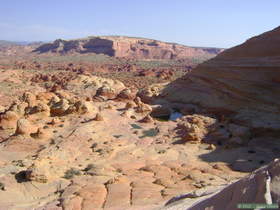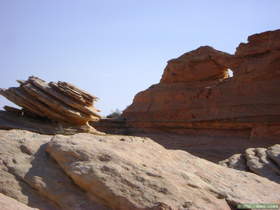 While Chuck and I took more pictures of and around The Wave, Steve tried to climb up to Toprock Arch. He made it most of the way, but couldn't figure out how to get to the arch itself.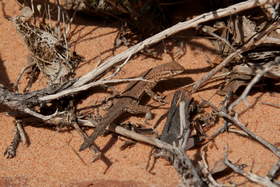 Upon leaving The Wave area, we greeted several groups of people just getting there.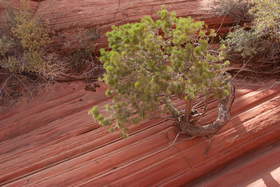 We then hiked up the wash to the west of it, which was really nice and even had a trickling flow of water in the first slot area.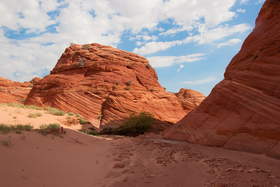 | | |
| --- | --- |
| | |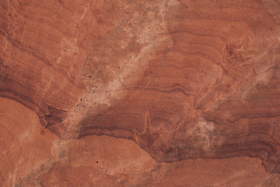 We then climbed up the canyon wall to find some dinosaur tracks in the sandstone. I had the location plugged in to my GPS, but when we went to that spot and searched around, we couldn't find them. We expanded our search and still found nothing. We expanded our search even further and still came up empty handed.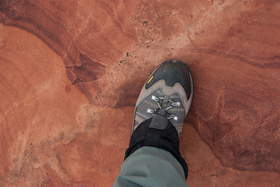 One of the area descriptions I had printed out also had GPS coordinates for the tracks so I put those coordinates into my GPS and tried those. Still nothing. Both sets of coordinates were close to each other though, so we focused on ground we had already searched. After at least 30 minutes of searching, I finally found a handful of three-toed tracks about the size of a mountain lion track. Once I got that search image, I found a couple of other tracks scattered around. There are supposed to be a lot of tracks, but we didn't see that many. Even after finding those, Chuck kept searching for more. Finally, Chuck found some tracks and I said, "You weren't going to let us leave until you found your own set of tracks, were you?" and he replied in the affirmative. I had to laugh.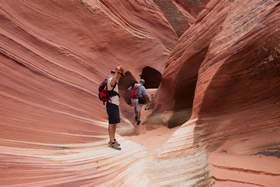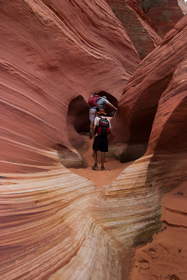 After having lunch at the dinosaur tracks, and setting up a small cairn to hopefully make the task of finding them easier for the next guy, at Steve's request we hiked back down to the canyon and proceeded further up canyon. In places the canyon had been scoured down to bedrock and was cut in graceful curves.
When we reached a dry waterfall, Steve and I scouted ahead with instructions to come back for Chuck if it was worth continuing on, as he didn't want to risk hurting his knee if it wasn't interesting. I was just about to head back to him after taking some pictures when I turned and saw him coming up canyon. I guess he decided he didn't want to be left out.
Since Chuck made it past the waterfall, we decided to push on up canyon and see if we could make it over the pass and hike back to camp that way instead of backtracking all the way to Wire Pass Trailhead. Eventually we reached terrain that was exceptionally steep and rugged. Had it just been Steve and I, we might have made an attempt to continue on (although it would have been dicey), but there was no way that Chuck was going to risk it, so we didn't even consider it.
We turned around and picked a slightly different route to get back than the route we took to get to The Wave. Along the way we passed a Mennonite couple returning from The Wave. The woman wasn't wearing any shoes and as we passed I said she must have really tough feet, which stopped both groups and we all talked for a short while before going our separate ways.
Back at camp we hurriedly organized our backpacking gear and sorted stuff between the two cars for the shuttle so we could get to BLM Contact Station before it closed. For more on that and the Buckskin Gulch/Paria Canyon backpacking trip that we did next, please continue to my Buckskin Gulch/Paria Canyon backpack trip report.
---
| | |
| --- | --- |
| | |
| | |