Added 11 November 2012
---
Saturday, 22 September 2012, Upper Buckskin Gulch, Utah wanderings.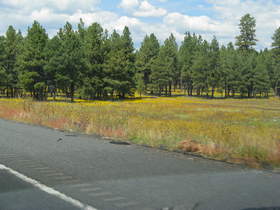 Today was spent driving up to the Arizona/Utah border for a week of hiking and backpacking with my friends Steve and Chuck. I managed to win a trifecta, scoring permits to day hike in Coyote Buttes North, then backpack in Buckskin Gulch/Paria Canyon for four days, then day hike in Coyote Buttes South, one right after the other. It was a pretty amazing coup, for which I feel pretty blessed.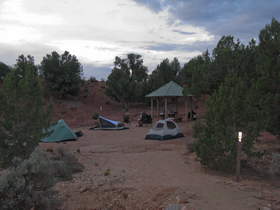 On the drive I was awed by all of the wildflowers in the Flagstaff area. I met Chuck and Steve in Page, and we caravaned to the Stateline Campground, appropriately straddling the boundary between Arizona and Utah. We scored the best camp site, in the back on the Arizona side.
---
Sunday, 23 September 2012, Upper Buckskin Gulch, Utah wanderings.
Chuck and Steve got up before I did this morning. I had such a pleasant night of sleep last night that I didn't want to let it go yet, but it seemed ridiculous to just lay there while they were getting ready for the day so I went ahead and got up. It took us a little while to get organized for our day hike but eventually we all piled into Chuck's car and drove to the Buckskin Gulch trailhead. Once we got there I realized that I had left my DSLR back at camp so we drove back to get it. I felt like an idiot and had to concede that I deserved the good-natured berating the guys gave me for my forgetfulness. I also realized that my tripod quick release plate was still attached to Big Bertha, the lens I didn't bring with me on this trip, so even though I brought my pro tripod on this trip with every intention of finally putting it to good use, it was now just dead weight and space in my car. Chalk up another stupid move to me. I brought my backpacking tripod on the hike instead.
Back at the trailhead, we paid the day use fee then started hiking down canyon. Actually, we paid most of the day use fee. We didn't have the exact amount for the fee, so instead of overpaying, we threw $17.64 into the envelope instead of the strictly required $18.00. We're such hardened criminals . . .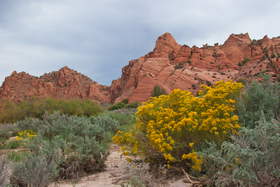 Unfortunately, some weather had rolled in and rain was a potential threat almost all day.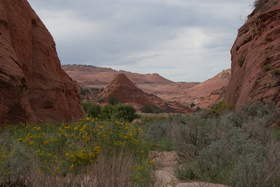 We got spit on a couple of times, but it never really came down. It did make for challenging photography conditions all day though.
Our goal was to explore an area I found on Google Earth that looked really interesting. Once we got near to it we left the main canyon for Buckskin Gulch and just started wandering around. Since we were more or less just wandering around, I don't have a lot to say about this day hike, so for the most part, I'll just let the photos (and their captions) speak for themselves.
We climbed up to an area where the sandstone was like pillows, then just continued roaming from there, going wherever our fancy lead us. We found a lot of amazing rock formations, including an area with some great box work and an iron nodule deposit unlike any I had ever seen before.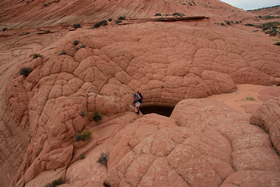 At one point we happened upon a really nice, fairly deep tinaja that was a very cool find.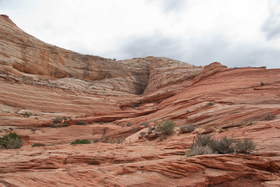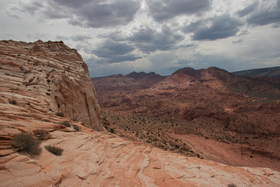 After lunch, we split up a bit. Chuck decided to descend and hike down Buckskin Gulch into the upper part of the narrows while Steve and I walked up a fin to the top of Walker Plateau.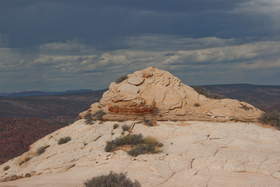 When we got to the top of the fin the wind was really howling so Steve decided to head back down. I still wanted to check out the top of the plateau so I continued up. I found a nice place with a view to the south and looked down upon Wire Pass and Buckskin Gulch. I could also see North Coyote Buttes beyond that. The terrain there looked more rugged than I had imagined it would be.
| | |
| --- | --- |
| | |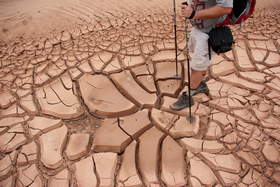 We reunited at 2:30 and hiked back to the trailhead. On the hike back, my backpacking tripod fell apart, so now I didn't have any tripod to use for the rest of the trip. I must be destined to just shoot hand-held for all eternity. The BLM hadn't towed our car away for short changing them 36 cents on the day use fee, so Lupita (Chuck's car) was still there and we returned to camp. We took advantage of the remaining daylight to better prepare for our day hike into North Coyote Buttes tomorrow, as we wanted to get an early start to go see The Wave and other features of the area. We were exceptionally fortunate to get a permit to enter North Coyote Buttes, as the competition for the 20 people per day slots is fierce.
---
| | |
| --- | --- |
| | |
| | |