Added 11 November 2012
---
Day 1 | Day 2 | Day 3 | Day 4
---
28 September 2012, Buckskin Gulch/Paria Canyon
Steve had his tent broken down and packed before I was even awake this morning. He definitely looked motivated to get moving and start the hike out. I had hoped for a lazy morning, but got my rear in gear and started quickly breaking down camp. Chuck ended up being the first one ready to go, so he started out, knowing that Steve and I would catch up to him at some point. We caught up to him while he was talking with the three guys I met yesterday. They started hiking out right after we passed and we spent the rest of the day passing each other.
| | |
| --- | --- |
| | |
At about the time that we exited the narrows, Chuck knocked into me, messing around. I pretended to be outraged at the affront and we faced off like two grizzly bears vying for dominance, each ready to destroy the other to protect his territory and mating grounds, which I suppose in this case means Steve probably should have been scared. Instead, unbeknownst to us, he took pictures as we were locked in battle. And unfortunately for us, the photos he took make us look less like two grizzly bears in a fierce battle than they do like two camels in a head on collision. The pictures don't do us justice. No, really.
P.S. As usual, Chuck got the smackdown he always deserves. The spindly vegetarian whooped the big, hairy meat-eater once again.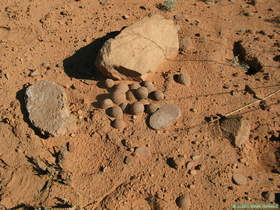 The hike out was beautiful, but relatively uneventful. Near the power lines we looked for the petroglyphs that are there, but none of us had the location description so we searched in vain. Chuck happened upon some really cool globular sandstone rocks though, which was a great find. We were at the White House Trailhead before noon, and after an end of trip group photo, we drove out. We stopped at the Paria Contact Station to give them a report on the latest conditions in the canyon. It sounded like hardly anyone was braving the trip down Buckskin Gulch so the lady at the contact station was really happy to get an update on the conditions in Buckskin Gulch particularly.
Instead of staying another night, Chuck and Steve decided to drive back home today, so after going back to the Wire Pass Trailhead to get Chuck's car we sorted out our gear and parted ways. I drove back to Stateline Campground, hoping that even though it was a Friday that it was early enough in the day for me to find a campsite, preferably the one we had before. The campground was definitely busier than our previous stay there, and all of the campsites were being used. I really wanted to wash the Paria mud off my legs so I parked at one of the picnic sites to clean up a bit and grab some lunch. While I was doing that, the folks at one of the campsites left, after apparently just using it for a picnic. I forgot about lunch and quickly moved in on it. It was good that I did because within the next 15 minutes at least five other cars went cruising through the campground looking for a place to camp.
I was amused when one car stopped at the neighboring camp site and two pretty women got out. My first thought, was, Chuck and Steve really screwed up by going home early! They likely would have had some things in common. Oh well, serves them right for deserting me! Though I must admit that as much as I love spending time with Chuck and Steve, nothing sounded better at the time than having some time totally by myself in such a beautiful location.
After lunch I wandered up over the hill and took a much needed Camelbak shower. It felt good to clean up, even if not quite up to the standards of modern society. I was, at least comparatively, rosy. Food and shower behind me, I was now faced with a chaos of gear in my car. It looked like an entire REI store had exploded in my Prius. I didn't feel like being out in the sun at that particular time, so I decided to utilize the nice picnic table and shade structure to organize all of my gear. Everything came out of my car and entropy expanded the riot of gear to cover the entire table and a good portion of the concrete slab that it sat on. Food was reorganized and consolidated. Backpacking only gear was put away separately from the camping gear I still needed. Dirty, stinky clothes were double bagged in biohazard bags (slight exaggeration). When I finished the process a couple of hours later, I still had a bunch of crap in the car, but at least it was organized and accessible, or in other words, actually findable.
Upon completing those necessities, I concluded that I actually had quite a nice view right from my campsite, so I sat down with my book and a not warm bottle of hard cider, propped up my feet and alternately read and gazed out at the landscape. After I tired of that, I grabbed my tin whistle and headed up the hill away from camp to play a little. That didn't last long because I realized that I could hear voices from the campground, so I'm sure anyone down there could have heard me playing. After dinner I sat around enjoying the evening when the moon came up over the horizon. It was nearly full and enhanced an already beautiful scene. Suddenly, I shot up from my chair.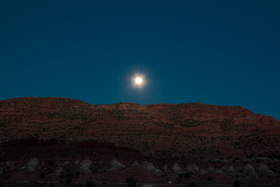 My sudden action was triggered by recalling a cool looking juniper on the ridgeline near where I had played my tin whistle. It would make a great foreground to the moon rising over the Coyote Buttes, so I grabbed my camera and trudged up the hill without a whole lot of thought. Had I thought, I would have brought something to set my camera on to take some long exposure shots (since my tripods were both non-functional as such at the moment). I would have brought my flash. Heck, I would have brought a flashlight. It was pretty dark by the time I walked back to camp. Back at camp I prepared my food and daypack for the following day so that I could be ready to go quickly in the morning for my day hike into Coyote Buttes South. I went to bed fairly early to prepare for an early alarm tomorrow morning.
---
Day 1 | Day 2 | Day 3 | Day 4
---
| | |
| --- | --- |
| | |
| | |