Added 19 May 2008
---
Day 1 | Day 2 | Day 3
---
Day 3: Sunday, 20 January 2008, Martinez Lake, Arizona
(Hover over images for captions. Click images for larger versions.)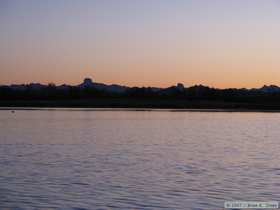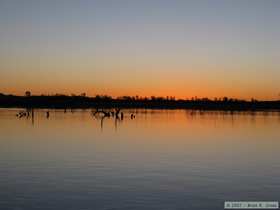 I got up and was on the water before sunrise for a leisurely solo paddle that I hoped would provide some good photo opportunities. The cormorants and green-winged teal were surprisingly sketchy, but I managed to spend some quality time with a few black-necked stilts as the sun rose. I wanted to spend more time taking pictures, but I needed to get back to the trailer to have breakfast before everyone showed up for our group paddle up to Furguson Lake.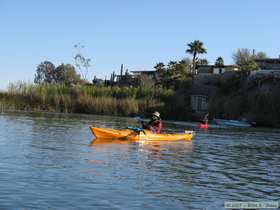 The Colorado River was flowing at about 5300 cfs as we paddled against it on our way up to Furguson Lake for our morning outing.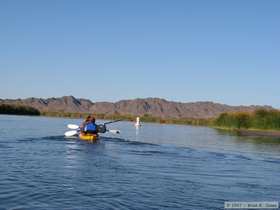 Since Jerry brought both of his kayaks with him, my inflatable kayak wasn't necessary once again. The Turner's decided to stay close to home and explore Martinez Lake in case India got impatient, but they did travel with us as far as the island on the river side of the channel connecting the lake and the river. A flock of seagulls were gathered on the north end of the island as we paddled past. The group split apart as we traveled up the river, each following his or her desire. It was the first time Shan had paddled my Tsunami, which is a bit big and heavy for her. I was in one of Jerry's Carolina's, which is a lighter, swifter boat, so I suggested that we switch boats when we got a chance so she'd have an easier go of it.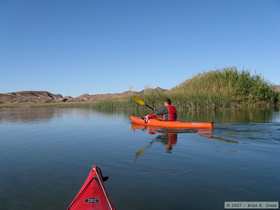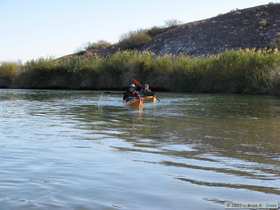 The trip from the ramp on Martinez Lake to Furguson Lake was 1.7 miles according to my GPS. I wasn't watching the clock, but suspect it took us about 1 hr. 15 minutes or so to get there, going at a leisurely pace. Once we got to Furguson, Shan and I switched yaks. The combination of the faster boat and the use of my nice ONNO paddle made a pretty big difference in her paddling speed. I'll definitely have to keep that in mind if we ever get a solo yak for her. I wasn't bummed about getting my slower kayak back, but I was bummed about having to give up my paddle. Once she used it, she understood why I had gotten it, and I think she may make me buy her one too. It truly is a wonderful paddle.
We paddled around Furguson for a short while, but didn't have time to explore even 1/4 of it before we had to head back for lunch and the rest of the planned activities for the day.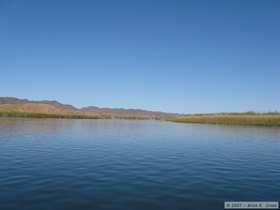 The trip downstream from Furguson Lake to the boat ramp took less than 45 minutes.
After lunch we engaged in some terrestrial activities by doing a hike in Palm Canyon in the Kofa Mountains, then those of us that remained (the Staffords, the Turners, Shan and myself) had dinner at the Cantina across the street from our trailer. There was a party going on at the Cantina, well attended by a bunch of raucus retirees cutting a rug on the dance floor to some live music. The dining area is well away from the dance floor though, so it was fairly quiet where we were.
The next morning, the Staffords headed home and we went with the Turners to explore the Trigo Mountains and do some rock hounding before heading home ourselves. All in all, it was a great trip. I don't think I'd want to go paddling in the area during the summer with all yahoos in power boats churning the water into a froth though.

---
Day 1 | Day 2 | Day 3
---
| | |
| --- | --- |
| | |
| | |