Added 19 May 2008
---
Day 1 | Day 2 | Day 3
---
Day 2: Saturday, 19 February 2008, Martinez Lake, Arizona
(Hover over images for captions. Click images for larger versions.)
Shan decided to go fishing with her parents, and Jeff was sleeping, so only Mindy and I went paddling in the morning. We decided to be brave and paddle down river, knowing that we'd then have to paddle back against the flow with potentially tired arms.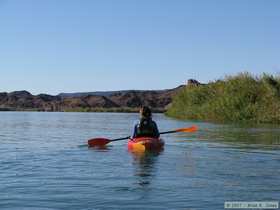 On the way down, we found a small backwater area that we cruised into before returning to the river. The backwater quickly forked in three directions.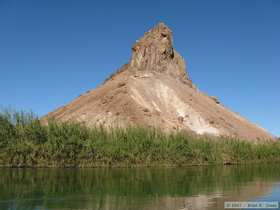 Two didnít go very far, and we didnít explore the third, but it looked like it might have gone a ways after rounding a bend. I would have a much different experience in this back water on my next trip to the area a month later.
We encountered a handful or two of power boats, which was less traffic than I expected. It was a beautiful, still morning and we enjoyed the leisurely trip downstream. In the end, we perhaps got a little over ambitious, travelling 3.5 miles before deciding to turn around. The flow rate of the Colorado was up from the previous day, at around 4800 cfs. In addition, it wasn't until we turned around that we realized that we'd had a slight tailwind pushing us downstream, so we had to fight the current and a slight yet fortunately intermittent headwind. Rounding the opposite side of a small island from the way we went down, we noticed an extremely narrow entrance to a backwater lake. We decided to sneak in quickly to check it out before starting up the river in earnest.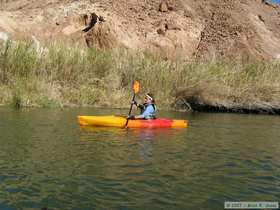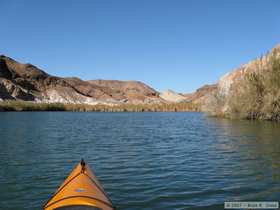 On the west side of the island, there was a beach, so I asked Mindy if she'd like to swap kayaks and take mine for a spin. I thought that mine would be easier for her to paddle upstream because it's longer and narrower. I beached first, and was getting ready to get out of my kayak when I heard a noise behind me. I turned around to find Mindy standing hip deep in the river. When she stepped out of her yak, her foot sunk in the mud and she fell out of her kayak trying to pull her foot out. I felt really bad because it was my idea to beach, and here she was cold and wet. Fortunately she at least had a change of clothes for her upper body, so she changed into some dry clothes. In my kayak, her lower body was largely protected from the wind so she said she stayed pretty warm.
In the end, I'm not sure my kayak helped her much, as it is quite a bit heavier than hers. The trip upstream got a little tiring, and I think Mindy was getting tired of paddling my kayak by the time we got back home. Once again I felt bad, and should have just left well enough alone, I guess. We managed to paddle between 1.5-2.5 mph the whole way up though.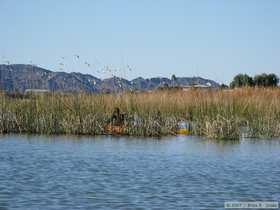 Everyone more or less congregated at our trailer for lunch as the newcomers trickled in. Jerry arrived just as Mindy and I hit the boat ramp coming home, and Tam, Phil and India showed up soon after we'd finished eating. Marisa called and said she wasn't going to be able to come.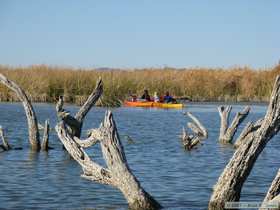 Once everyone had eaten and got organized, we started hauling our yaks down to the water. Since Mindy stayed behind to recoup from the morning paddle, relax and use our shower, and since Marisa didn't come, there were enough kayaks for everyone without having to inflate my AdvancedElements again. Even Karen joined us, her first time kayaking. The group didn't stay together for long. The Turner's and I went out ahead looking for birds, Jerry and Jeff took off the other way to check out the river, and Pat stayed fairly close to Shan and Karen, who if they'd paddled as much as they talked, would have covered the 2 plus miles to the other side of the lake in about 10 seconds. As it was, I don't think they were moving any faster than the current took them (remember we were on a lake . . .). But they were having fun, which is all that matters. I tried moving back and forth a bit between the Turners and the Staffords, and ended up pretty much by myself until Pat paddled ahead and caught up with me. Shan and Karen then paddled over to us.
After a while, Shan and her folks decided to head back to start getting ready for our potluck that night.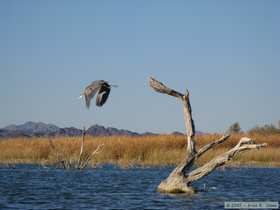 Jerry and Jeff returned at about that time, so Jerry went back as well while Jeff went with me to go find the Turner's to let them know what was going on. After finding them, we started heading back, but got waylaid by increased bird activity, including a pretty fearless great blue heron and an osprey. With the increase in bird activity, I really didn't want to go back, but I did anyway, knowing my meager assistance at getting the potluck ready would nonetheless be appreciated.
We had the entire gang at our trailer for the potluck, which turned out really well. We had great food and a great time. Not long after dinner the Staffords and the Turners headed back to their places, and the rest of us played Beyond Balderdash. Jerry was unsure about the game playing, but he ended up having a good time, as we all did, as we learned not to dwang a butwink.


---
Day 1 | Day 2 | Day 3
---
| | |
| --- | --- |
| | |
| | |