Chevelon Lake Kayaking/Camping Trip, October 2005: Day 3
Added 12 February 2006
---
Day 1 | Day 2 | Day 3
---
We were up fairly early on Monday morning, as we had made plans to have lunch with my parents at Creekside Restaurant in Christopher Creek. We planned on being on the water between 8-8:30 in order to give us enough time to haul all of gear back up the hill to my truck. We hit the water right at 8:30, just as the lake's resident Osprey flew in to land on the opposite shore. Jeff didn't see it at first, but as soon as I saw it land I paddled straight for it.
Unfortunately, I don't have any digital pictures of it, but the Osprey was a beautiful sight in the morning sun. I watched it for a short while and took some pictures before it flew down the lake a short ways. I followed it to its next perch, watched it for a while more, then paddled on, not wanting to harass it or dally too much.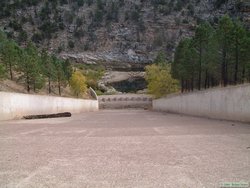 We made it to the dam shortly after 9:15, ahead of schedule, which turned out to be a good thing. We spent about 15 minutes exploring the dam and the spillway, which would be one hell of a log ride when it flows.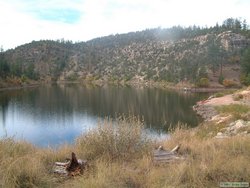 I would have liked to have walked down the spillway to check out the area below the dam, but we didn't have time. We did take the time to walk along the dam though. I think this was partially due to wanting to stretch our legs after the paddle, but largely because we didn't want to start hauling our gear up out of the canyon just yet. I spent our time on the dam enjoying the beauty, but also formulating possible ways to get all of the gear back up to the truck with the least amount of effort and in the least number of trips.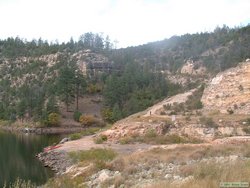 Jeff and I pulled the 'yaks up on shore and unloaded the gear while trying to figure out the best way to get everything back up to the truck, preferrably in two trips. We started by hauling gear on our backs and carrying my yak still inflated. It was work! On the next load we tried to take the rest of the gear and the other yak, but we didn't make it very far. We ended up leaving the yak for the thied trip. Even without the yak the second trip was a challenge. By the time we got the second yak back up to the truck, it was around noon and we were sore and tired from the awkward loads we had to lug up the hill.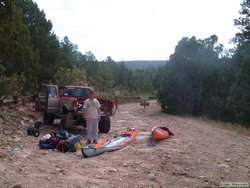 We got the gear loaded in the truck as quickly as possible then headed back towards the highway at a high rate of speed. (Those who know how I sometimes drive on dirt roads I'm sure can well imagine the senario.)
We didn't get cell service until we neared Christopher Creek shortly before one o'clock. I called my folks and they headed out to meet us at the restaurant. While Jeff and I waited in the parking lot, the waittress yelled out the window asking if we were planning on coming in. We laughed and said we were waiting for my folks. Some time later when my parents still hadn't arrived, she called out to us again and said maybe they had forgotten us. Soon thereafter, Mom and Dad showed up and got a table out on the porch.
When we ordered, I ordered a Roy Rogers along with my meal, to which the waittress responded with a sideways glance as I pre-emptively added that it's a tradition since I was a kid eating there. Then she asked teasingly if I wanted TWO cherries with it. I laughed and said that wasn't necessary. She soon brought it to me . . . with three cherries in it.
I chuckled as she walked away then took a sip of my drink, remembering then, AGAIN, that I don't like Roy Rogers anymore because they are too sweet. I make this same realization every time I eat at the Creekside Restaurant. Apparently nostalgia trumps taste buds.
We had a wonderful lunch, and in our chatting about this and that lost track of time somewhat, so it was after 2:30 by the time we left. When we got to my parents place, I called my wife to let her know we were alright. When I told her we had lunch at Creekside and that I ordered a Roy Rogers, she said "Honey! You don't like Roy Rogers! You remember that every time you get one!" before I even had a chance to continue my story. So apparently my wife has a better memory than my tastebuds as well.
Before Jeff and I headed home, we stopped at my parents place to pick up a recliner that they donated to Shan and I. We left late in the afternoon, drove through threatening weather and arrived safe and sound in stormy Tucson at around seven o'clock Monday evening.
---
Stats for Day 3: 2 paddle miles, 5 (grueling, wicked) hiking miles
---
Day 1 | Day 2 | Day 3
---
| | |
| --- | --- |
| | |
| | |