Chevelon Lake Kayaking/Camping Trip, October 2005: Day 2
Added 12 February 2006
---
Day 1 | Day 2 | Day 3
---
The next morning I was up and moving at around 7:30. I wandered up the canyon a short ways to do some bird watching. I didn't see anything particularly unusual, but I did have a front row log at a fight between two woodpeckers and an Abert's squirrel. The woodpeckers were chasing the squirrel all over the place. The whole spectacle was quite entertaining.
After roaming around a while, I went back to camp and got a fire going then simply sat around enjoying it.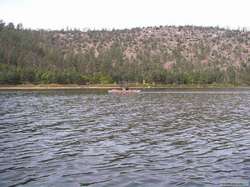 By 9:30, I figured it was time to do some exploring, so I started organizing some gear for the day, with the plan of kayaking up to where Chevelon Creek enters the lake, then hiking up the creek a bit. At about this time, Jeff got up. He had a quick breakfast and signed on to my plan.
We wandered back and forth across the lake, Jeff checking out the sights, myself checking out the birds. I tried, but failed, to make the acquaintance of a par of ruddy ducks. When we got to the end of the lake, we saw a couple of fishermen who had hiked down to the lake. They moved up the creek as we approached, and we caught up with them as we hiked up the creek ourselves.

Jeff and I ended up on opposite sides of the creek, which ended up separating us out of sight of one another. I just wandered along at a leisurely pace, enjoying the beauty. I waded out into the creek a number of times for pictures. The water was definitely too cold for comfort, and the pictures didn't come out as well as I'd hoped, but you'll not hear a complaint out of me. It was awesome.
| | | | |
| --- | --- | --- | --- |
| | Here too, the leaves were changing, and I continually forged into the cold creek to try to get some good photos. I moved leisurely in and out of the creek, avoiding only the deep spots where the water was deeper than mid-thigh. In my estimation, some of the pools are probably up to stomach or chest deep. The water was definitely too cold for a full swim! | | |
Eventually I made our way back down towards the yaks, where Jeff and I found each other again. Then we slowly made our way back north. Very slowly. We would paddle for a short while, then simply lay back and drift for a bit, then paddle a bit more, drift, and repeat. I nosed over to the owl canyon and got out to check it out. The canyon would have required more effort than I felt like exerting at the time, so I only went in a short distance before returning to the water.
We were back at camp for a late lunch, which I ate back down on the shore along with my spotting scope. While there, I was treated to watching a flock of mountain bluebirds hunting for insects in quick, darting flights. I also watched a pair of Red-tailed hawks circle overhead, occasionally screaming (them, not me). I saw several birds I wasn't able to identify, and Dark-eyed juncos, which were everywhere.

By mid-afternoon, I headed back to camp where Jeff had started the fire up again. I enjoyed the fire for a short while, then went to my tent, ostensibly to read or write, but I ended up falling asleep for half an hour or so. After I woke up, Jeff and I were on the same wavelength and we went back out on the water. We both hoped to see the beaver, but didn't have any luck there. We paddled around a little before Jeff headed back to camp. I stayed out on the water, sticking close to shore to the north of camp this time. This time I found a Sandpiper and watched his rhythmic lurchings along the shoreline as he hunted for his dinner.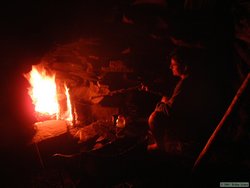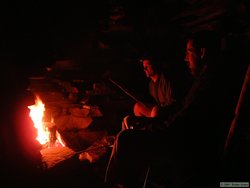 As darkness descended I headed back to camp and made dinner. Jeff and I spent the evening alternating between chatting and enjoying the fire, and simply sitting and enjoying the fire in silence.
---
Stats for Day 2: 2 paddle miles, 2 hiking miles

---
Day 1 | Day 2 | Day 3
---
| | |
| --- | --- |
| | |
| | |