Boundary Waters Canoe Area Wilderness Kayaking Trip 2004: Day 4
Added 12 August 2004
---
pre-BWCAW | Day 1 | Day 2 | Day 3 | Day 4
---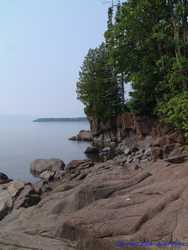 We got a leisurely start Sunday morning for our drive back to Minneapolis. We had plenty of time to get to the airport, so we were in no rush. We drove to Grand Marais and returned the kayak, then headed back down the coast of Lake Superior. We stopped once along the way to better enjoy the view of Lake Superior and do a short hike up Cascade River, which was gorgeous. The first sight was a tree with some very pronounced tumorlike bulges in it.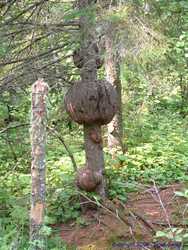 There were many waterfalls on the river, some of them quite large. The tallest one we saw was about 50-60 feet tall (below). The water was distinctly dark, and looked sort of like root beer, suds and all. We learned that the dark color and suds came from the dissolved organics in the water, which came from bogs upstream. Though brief, we thoroughly enjoyed the little respite from the road.

We stopped in Duluth for lunch, then went straight to the airport. Once there, we made our way to the America West counter. There was a long line, though not too bad, but it was moving very slowly. It took us more than an hour to get through the line, and we left with only about 20 minutes to get to our gate. We had about five spare minutes before boarding started and were some of the first people on the plane, which was unfortunate. The auxiliary power unit was broken, so there was no power for the air conditioning system. The plane was hot, and as the plane filled up, it only got hotter and more humid. It was very unpleasant.
It was made more unpleasant by delays getting off the ground. The plane didn't cool off until about 20 minutes after take-off. Otherwise, the flight was uneventful, as was the flight from Phoenix to Tucson. While in Phoenix, I called Darin to see if he could pick us up at the airport and take us home, and he was waiting for us when we walked out of the terminal in Tucson. When we got home at around eleven o'clock Sunday night we threw our stuff in the living room and quickly did what we needed to do to get to bed as soon as possible. We had basically spent the entire day traveling to get home so we were pretty tired.
It was an excellent vacation, and on the way home I realized that it was the first vacation I'd had in a long time that actually seemed like it was at least as long (if not longer) than the time that I was actually gone. Normally vacations seem to end far earlier than I think they should (two weeks seems like one week, etc.), but the 8 days we were in Minnesota felt more like a week and a half or more. I think it's because we did a lot, but weren't really rushing around, getting up early, staying up late, and the like. So when we got home, I was sleepy, but refreshed. I can't wait until I can go back and explore more of the boundary waters.

---
pre-BWCAW | Day 1 | Day 2 | Day 3 | Day 4
---
| | |
| --- | --- |
| | |
| | |