Boundary Waters Canoe Area Wilderness Kayaking Trip 2004: Day 2
Added 12 August 2004
---
pre-BWCAW | Day 1 | Day 2 | Day 3 | Day 4
---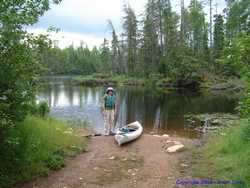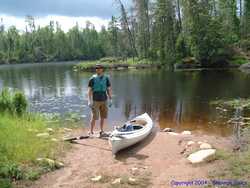 On Friday, we got a late start, partially because we wanted to see what kind of day it was going to be before heading out. By mid-morning the clouds looked less threatening, so we threw the yak back up on top of the ol' AdventureMobile and drove to Iron Lake. Iron Lake is accessible almost directly from Gunflint Trail, so we only had to carry the yak and our gear about 50 feet to the water. It didn't take long for the mosquitoes to find us. They weren't too bad, but bad enough that we wanted to hurry and get out on the water. Iron Lake is a long, skinny lake, in some places barely a stone's throw wide. It was perfect. Shortly after departing the Gunflint Trail (which doesn't exactly get a huge amount of traffic anyway), was out of sight and definitely out of mind.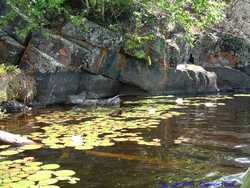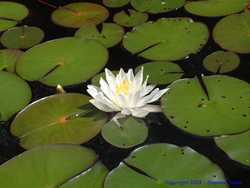 We paddled around towards Iron Lake Campground and soon came upon some beautiful water lilies. Soon thereafter we saw a pair of Loons.
There were pretty wary of us and often dove underwater to hide. I was mildly surprised at how long they can stay underwater, and how far they can swim before coming back up. We passed by Little Iron Lake and continued down the narrows towards the campground.

Soon after entering the narrows I spotted a huge bull moose in the water on the north bank. He was so deep that only his head was sticking up out of the water. We slowly and quietly paddled closer, eventually pushing ourselves into a marshy area on the opposite shore so that we were both slightly camouflaged and so we wouldn't have to worry about the boat moving around while we took pictures and watched the moose graze.

He was moving towards us, but very slowly, so I paddled us a little further up into some rocks, where we got a great view of him. He seemed to take little heed of us, and with good reason. Not only were we looking very non-threatening, if we were looking threatening, he could have pounded us into the marsh without breaking a sweat. We watched him in joy and amazement for a while, then I reached the end of my roll of film. The sound of my camera re-winding got his attention, and shortly thereafter he left the lake and slowly wandered off into the woods. It was amazing to see a moose that close-up from the kayak (as opposed to seeing one from the highway in a car). Definitely a magical experience.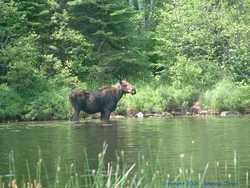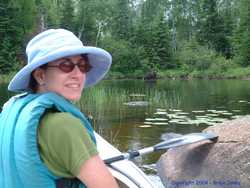 We then paddled on, and soon came to the point where the lake opened up a little bit. As we rounded the corner we saw a cow moose and a "little" baby. The baby quickly moved into the woods to hide, but the mother stayed in the water by the shore. We quietly tucked ourselves into some rocks that were sticking up out the water perhaps 100 feet from shore and watched her for a while, hoping that the baby would come back out. He never did, but we enjoyed watching the mother graze.

While sitting there, we saw what ended up being the only other water traffic we encountered our entire time on the water in the Boundary Waters. Pretty amazing considering we were never all that deep into the wilderness area, and we were there during what I presume is high season. We encountered two canoes, traveling separately. Our contact with the first was merely a wave. We actually spoke with the couple in the second one, but only briefly.
We then paddled down a spur of Iron Lake, then turned around to head back home. When we realized that we might never run into anyone else to take our picture while we were kayaking, when we got back to the car we took turns paddling around the inlet so that we could take pictures of each other in the kayak.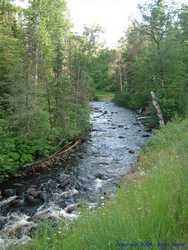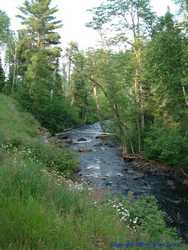 We went back to the lodge, unloaded the boat, ate lunch, then decided to relax in the afternoon by going souvenir hunting. Really all we wanted were some T-shirts, but we had some pretty specific needs in mind for them, and finding "that right one" proved to be more difficult than I imagined. I ended up settling, but it is still a very nice shirt. It took Shan longer, and in the end got a shirt more like what I was looking for to begin with, but I didn't want to spend money on a second shirt. An alternative goal (for me at least) of the souvenir hunt was that it allowed me to scout out the area a little bit. We ended up going all the way to the end of the Gunflint Trail. We didn't really get out and explore much, but what I saw made me all the more happy that we had chosen to stay at Moosehorn Lodge. Many of the lodges seemed more crowded than my liking. Moosehorn Lodge was secluded and quiet, while not even being all that far off the main drag of the Gunflint Trail.
When we got back to the lodge we ate dinner then headed out to try to find a family of foxes that lived by the road back towards Grand Marais a short ways. We didn't get lucky enough to spot the foxes, so we started driving some back roads, simply hoping to get lucky and see some animals. We didn't, but we did enjoy the drive.
Stats for Day 2: 5 miles, perhaps 3 hours, including the time spent watching the moose

---
pre-BWCAW | Day 1 | Day 2 | Day 3 | Day 4
---
| | |
| --- | --- |
| | |
| | |