Added 22 January 2006
---
Day 1 | Day 2 | Day 3 | Day 4 | Day 5 | Day 6
---
We were up early the following morning, quickly got everything packed up, and hit the trail again.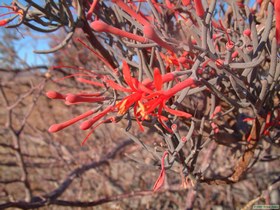 Chuck and I noticed some Colorada trees that, though nearly completely leafless, had these beautiful red flowers on them.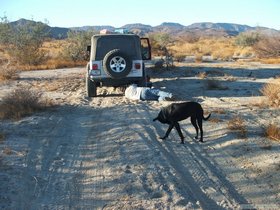 Pretty soon we had a good reason to stop and take pictures of them. Not long into our way back to the highway, Brian realized that his Jeep was broken. In addition to his front stabilizer, both of his rear shocks were destroyed or damaged. That discovery made a decision for us. No longer did we really have the option of returning home via Highway 1 up to San Diego or going back the way we came up the dirt roads on the Sea of Cortez side. Highway 1 it was. But we had a few stops to make first.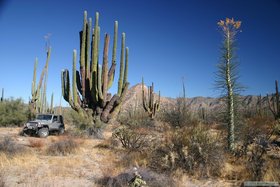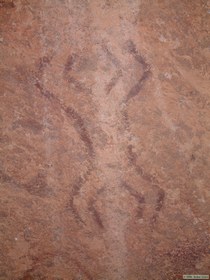 Back on the highway, we headed south again, and detoured over to Valle Montevido west of the highway that had some ancient pictographs painted on a cliff face. The area was thick with boojums and cordons, so it was a beautiful drive. After spending so much time on the coast, it was nice to do a little bit more exploring on the interior of the penninsula. It was neat to see so many plants that look very similar to ones that we have in Arizona, yet are distinctly different.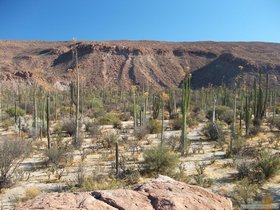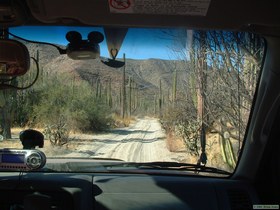 After the pictographs, we headed back to BOLA to gas up for our long drive home.
We originally thought that we might camp somewhere between Cataviņa and El Rosario, but quickly decided that we might as well just exit all the way out of Mexico and either find a hotel in San Diego or camp out in the desert on the U.S. side. So we drove, and drove, and drove. After El Rosario, we were driving primarily through populated areas, and the surroundings weren't pretty by any stretch of the imagination.
It was nearly 9 p.m. by the time we got to the border, and it took us a little over an hour to cross. It rained on us as we made our way north and tried to find a place to eat before finding a motel to crash at for the night. We finally got to a hotel by around 11 p.m. and quickly crashed.
On our drive back to Arizona the next morning it was still rainy, then foggy, but almost as if on cue, blue skies greeted us near the Arizona border.
WHAT AN AWESOME TRIP!!!!
At this point, I really have to thank Chuck for organizing this trip, and for actually inviting me! He really didn't know what a mistake that would be. ;-) I have to thank him for doing all of the driving as well. I didn't have to do anything but enjoy the scenery (or hold on for dear life, and sometimes both). Thanks also to both Brian D. and Chuck for helping to make the trip a very memorable and enjoyable one. It wouldn't have been the same otherwise. When are we going back????
---
If you'd like to hear Chuck's side of the story, go to Chuck's Web
---
Day 1 | Day 2 | Day 3 | Day 4 | Day 5 | Day 6
---
| | |
| --- | --- |
| | |
| | |