Added 26 January 2013
---
Day 1 | Day 2 | Day 3
---
26 September 2011, Pecos Baldy Wilderness
I stayed a bit warmer last night, and slept much better. My feet generally get cold in the sleeping bag, but two pairs of socks kept my feet warm and made my night more enjoyable. I'll have to remember that. I got out of the tent as soon as I woke up this morning, and as I stood up out of the tent, I was surprised to see four deer grazing in the small grassy area about 40 feet away. Like most of the other wildlife in the area, they didn't seem to be terribly concerned about my sudden appearance out of the funny green dome.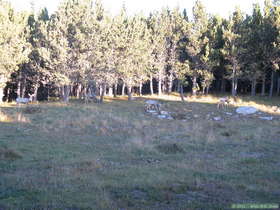 Since Steve wasn't up yet, I grabbed my breakfast, camera and binoculars and went down to Pecos Baldy Lake to watch the sun rise. A fairly stiff breeze made the morning pretty cool, and it took me a while to find a place to sit where I was neither facing directly into the sun feeling the brunt of the cold wind smacking me in the face.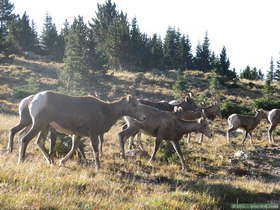 Of course the sun and the wind were coming from opposite directions, so I wasn't entirely successful. Still, it was a beautiful morning. Not long after I arrived, Steve came down to the lake and sat down some distance away from me. Eventually, failing at keeping the sun and wind out of my face, I went over to let Steve know that I was OK with leaving whenever he was ready to go. Not long after that, the only other backpacker at the lake came down to the lake and we all started chatting a bit.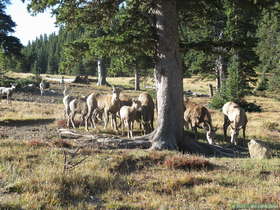 Not long after that, a herd of bighorn that I think may have been the large herd we saw on Trailriders Wall the day before came down out of the woods and walked right by us. They came within about 20 feet of us and grazed at some trees perhaps 40 feet away.
We left the lake before the bighorn did and went back to camp to get ready to hike out. We started hiking at 9:45 and made good time back to the trailhead, arriving at noon. The drive home was pretty. Once we got closer to town I called Shan to let her know that we were out of the back country safe and sound.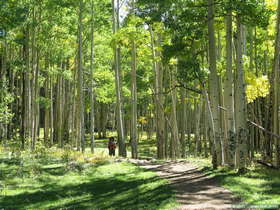 After asking how the trip was, she said she had a dilemma. I was thinking, "I just got out of the backcountry and problems are already hitting me." She then proceeded to tell me that a salesman we had talked to at the Hyundai dealer called her because they had just gotten a 2005 Honda Civic hybrid in. I listened in half-disbelief as she told me that she had basically done everything but sign the contract to buy the car and trade my truck in to the dealer.
I guess her "dilemma" was that she wasn't sure how I would react to the news. (It should be noted that we had talked about trading my truck in earlier, so the concept wasn't a bolt out of the blue to me.) I listened to her rather amazing tale, which was far more involved than I will go into here, until getting back to Steve's house, at which point I told her that I needed to take a shower and process all that she'd told me.
After thinking about it I figured that all in all, it sounded like she had done really well, so I told her to go ahead and finalize everything, on the condition that I get to look at my truck and make sure I got everything out of it before they got rid of it. They actually couldn't officially take possession of it without my signature anyway, since the truck title is only in my name because I bought it before I met her.
So for all intents and purposes, for the first time in my life, I don't own a truck. It will be interesting to learn how weird that ends up being. It's definitely a good thing I'm way more interested in exploring on two boots than on four tires!
---
Day 1 | Day 2 | Day 3
---
| | |
| --- | --- |
| | |
| | |