Added 26 January 2013
---
Day 1 | Day 2 | Day 3
---
25 September 2011, Pecos Baldy Wilderness
I had been a little worried about the temperature at altitude for this trip since I opted to bring my 30 degree sleeping bag instead of my 15 degree bag, but I did pretty well last night. I got a little cool, but not cold. Since we only had about 11 miles to cover with day packs today, we got ready for our day in a rather leisurely manner and didn't start hiking until 9:20 a.m.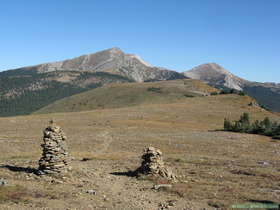 I think the altitude made us a little less energetic (or at least that's my excuse), so we weren't hiking at a blazing pace, but we did pretty well. The saddle above Trailriders Wall is dotted with towering cairns the like of which I've never seen before. They had a bit of a Tibetan feel to them.
While crossing the Trailriders Wall on our way to Truchas Lake we saw a herd of about 18 bighorn sheep. We stopped occasionally to watch them, then again when the trail got to its closest point to them. I was a bit surprised when one ewe and her calf started walking in our general direction. The rest of the herd then followed. They didn't get real close, but there weren't very far away either. It was great to get a good look at them before continuing our journey to the lake, which is where our climb up the Truchas Peaks would start.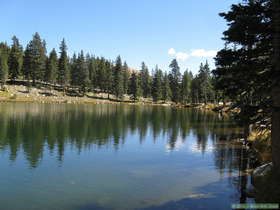 We arrived at Truchas Lake (truchas is trout in Spanish) a little before noon and decided to have lunch before hiking up the peaks.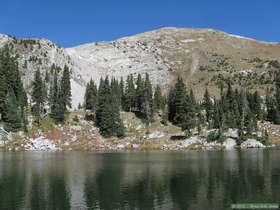 Not long after we sat down a small group of about 8 bighorn came out of the woods at the opposite end of the lake.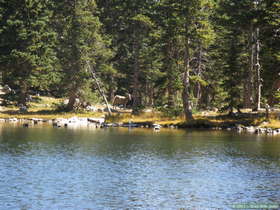 They started moving around the lake in our direction and I had a feeling that they would take the path and pass right by us if we were quiet enough. Little did I know . . . A ewe rounded the trail right next to us, looked at us for a moment, then actually approached closer to us!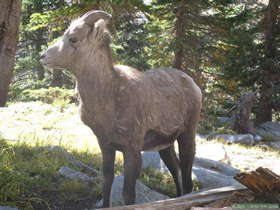 Then a lamb, perhaps a yearling, followed suit. In all, a handful of bighorn surrounded us, some coming nearly close enough for us to reach out and touch. One curious ewe sniffed the map that was laying next to Steve. The ram of the herd, not quite a full-curl male, didn't approach quite as close and definitely kept an eye on us the entire time. I was actually rather glad he didn't approach as closely as the ewes and lambs. I have a pretty hard noggin, and few brain cells left to protect, but I think it's safe to say that he would have won a head butting competition. I'm sure he was just making sure we didn't make a move on any of his women though. Ewe know how those big horn ladies are . . . Despite the slight worry with the ram, it was an amazing experience.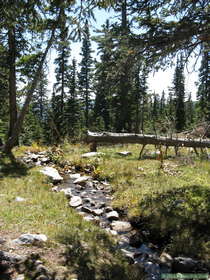 I discovered later that they were probably approaching us to get salt, and that hikers have had problems with bighorn actually coming up and licking the sweat off their arms. This group didn't get that aggressive with us though.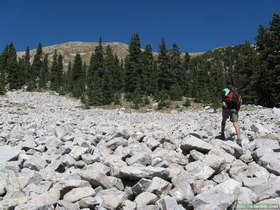 Eventually we had to get moving, so we gathered our stuff and hiked on. We didn't find the trail to the top, so after some wandering around and following a false lead, we finally gave up looking and just started climbing up North Truchas Peak at around 12:45.
Instead of trying to find the trail to the saddle, we basically just made a full assault straight up the southern flank of the peak. At first I hiked in spurts up the slope, climbing fast then taking a break, but at about the half-way point I decided just to keep a steady pace and not stop until I reached the top. We climbed the 1,100 feet from the lake to the peak in 45 minutes. After my somewhat lethargic pace getting to the lakes, I was rather surprised that we attained the peak so quickly.
While at North Truchas Peak (13,024 feet), we eyed the route to Middle Truchas Peak and it looked quite technical. We essentially decided at that point to skip Middle Truchas and just go to South Truchas, which is the highest of the Truchas peaks and the second highest peak in New Mexico. After spending a bit of time at the north peak, we descended the saddle to get to the other peaks. There is more than 600 feet of elevation difference between North Truchas Peak and the saddle, so we lost quite a lot of elevation that we then had to gain back.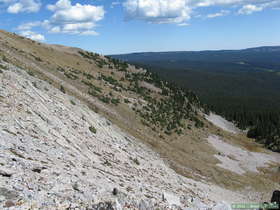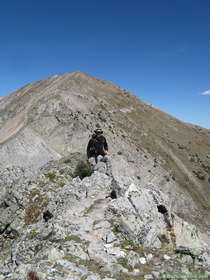 The terrain around the saddle was much steeper and more treacherous than the rest of North Truchas Peak, so we got slowed down significantly.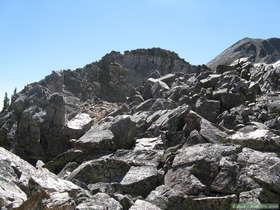 The last bit of descent in to the saddle was a near vertical cliff with a moderate amount of exposure. The areas with the most exposure were less cliffy but still warranted caution. A careless moment could have been disastrous. And there climbed I, on rather tired, oxygen deprived legs. I remained cautious and alert though, and while certainly nervous (I'm definitely not a mountaineer at heart), I never had a moment where I felt like I was going to die. Trying to keep up with Mountain Goat Steve kept me focused on just climbing, which helped too. He definitely didn't give me time to dwell on my tired legs or the drop below me. If ever I were to have an unkind thing to say about Steve, it's that he occasionally tries to kill me on climbs. Fortunately I have the ability to remain focused on stepping carefully when I'm at my most tired and tend to stumble more when I'm feeling strong and energetic.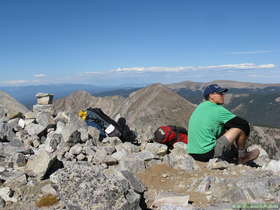 We peaked out on Medio Truchas Peak (13,066 feet), then soon crossed the saddle and climbed South Truchas Peak (13,102). Fortunately, the saddle between Medio Truchas and South Truchas is low and quite gently sloped, so it didn't take us long to get between the two. We reached the top of South Truchas Peak sometime in the three o'clock hour, and enjoyed the views for a little while.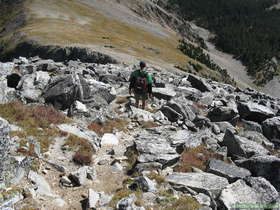 We expected a much easier descent down the southern flank of South Truchas, and for the most part, we weren't disappointed. There were a few steep, bouldery sections and a game trail we followed part of the way lead us through some steep sided ravines, but it was much easier than the terrain up Medio Truchas from the big saddle.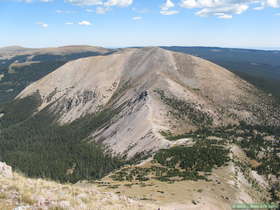 Even so, we were tired and looking forward to hiking on a maintained trail. I think we reached the trail junction at the northern end of the Trailriders Wall at around four o'clock. Despite our weariness, we still had some distance to cover to get back to camp and we moved out at a surprisingly quick pace. We stopped once for a snack break and made it back to camp at around five o'clock.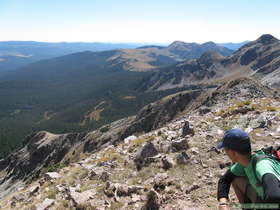 After taking care of a few things, I went and filtered water for Steve and I while he tended the campsmoke (I suppose you can't expect much fire from wood found on a mountain named after a fish). The sun had gone down by the time I got back to camp and I was hungry, so I immediately started dinner. Neither one of us lasted as long around the campsmoke tonight, but we ended up going to bed at around the same time as last night because of our later start at it.
---
Day 1 | Day 2 | Day 3
---
| | |
| --- | --- |
| | |
| | |