Added 3 May 2008
---
Day 1 | Day 2 | Day 3
---
Day 3: Sunday, 22 July 2007, Miller Peak, Huachuca Mountains, Arizona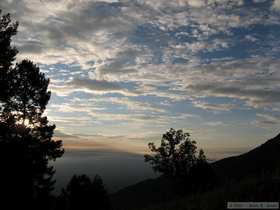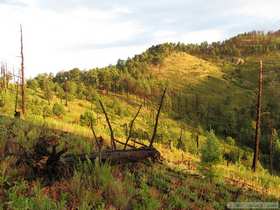 After another long night in the tent, I was up and out of the tent fairly early, enjoying the cool, clean air. Everyone got rolling fairly quickly for our return down the mountain, as Brian needed to be back in Tucson by mid-afternoon. On the hike back down, the group soon split up, with Shan, Brian and Marisa forging ahead while I stayed back with Kyle and Alice. At first I was hiking ahead of them and stopping for them to catch up, but eventually I stayed behind them so I could stop and take pictures without blocking the path.
We spent the entire hike under and in the clouds, then in a light but steady rainshower. Most of us didn't even bother with rain gear, as the temperature was quite pleasant and we would be able to change into dry clothes at the end of the hike.

We made it back to the cars by mid-morning, sloughed off our boots, and piled into the vehicles to drive in to Sierra Vista for lunch, then finish our journey home.

---
Day 1 | Day 2 | Day 3
---
| | |
| --- | --- |
| | |
| | |