Added 3 May 2008
---
Day 1 | Day 2 | Day 3
---
Day 2: Saturday, 21 July 2007, Miller Peak, Huachuca Mountains, Arizona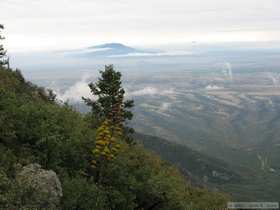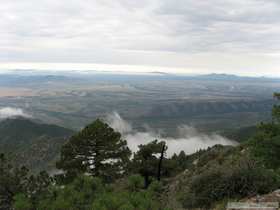 Though I didn't get much sleep because of the storm, I was fairly eager to get up and get moving in the morning. I was glad to be out of the tent. What greeted me when I got out was fast moving fog/clouds moving up the valley towards the saddle in which we were camped. It quickly enveloped us and then slowly burned away.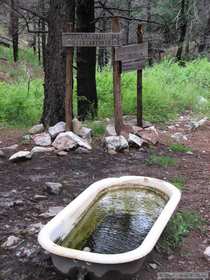 Before long everyone was up and moving. I didn't realize it at the time, but Shan was freezing. I felt bad about not making her a hot drink in the morning when I found out later. Our plan for the day was to hike up to Miller Peak, but first I wanted to make sure we had a water supply for the rest of the trip. I went out in search of Bathtub Spring. When I'd called the Forest Service abotu the reliability of the spring, no one knew (or no one would take the risk of telling me), so while I suspected it was reliable, I wasn't sure. If I couldn't find water, we'd have to cut our trip short and hike out instead of staying the second night. Down the hill from camp, alongside a trail going down the mountain, I found bathtub spring, more or less where the USGS maps show it to be (UTM 12R 565285E 3474770N, or 31.4057° N, -110.313° W) You can actually (vaguely) see the bath tub as a white blur on Google Earth. Though I certainly wouldn't guarantee this, it appears that Bathtub Spring is a reliable water source.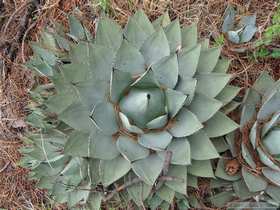 Knowing we had water supply, I didn't worry about getting any because everyone had enough to get through the day. We could replenish our supplies after our day hike up to Miller Peak. The clouds and early morning fog stuck with us for the hike, but did occasionally clear in one area or another offering us occasional views of the surrounding terrain. Even without packs, and on the relatively flat ground of the ridgeline, Kyle and Alice were struggling a bit with the hike, lending support to the altitude sickness diagnosis.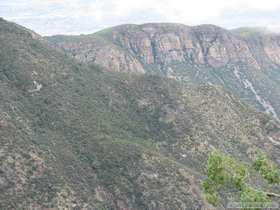 At one point we were relaxing on a rock outcrop overlooking the east when we heard, then saw, a helicopter flying up the canyon. We watched as the helicopter approached the location of our camp, dropped down below tree line for a few moments, rose up again, circled, then descended back down the canyon. Even though the helicopter didn't appear to be an official government helicopter, all we could think of was that we'd just been searched by Border Patrol. Five to ten minutes later, the helicopter returned, and did the same thing. We sat there and watched as it repeatedly came up the canyon, landed near our camp, then returned down the mountain towards Sierra Vista. In the end, I think the consensus was that the Forest Service or Border Patrol were dropping people and/or supplies off for some reason.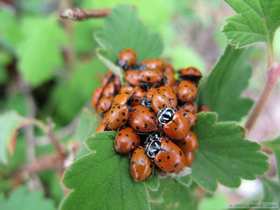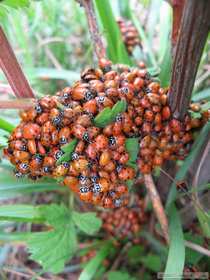 As we neared the top, we encountered a fairly common mountaintop phenomenon, a lady bug swarm. It's always neat to see hundreds or thousands of lady bugs amassed on a single tree or plant. As we watched the lady bugs an elderly hiker passed us. He was relaxing at the peak when we got there a short time later. We chatted while we waited for Kyle and Alice to arrive. He was from Tucson as well. He was practicing a weekly ritual of going for a day hike while his wife spent time with their grandchildren. Not long after Kyle and Alice reached the top, the other hiker headed back down the mountain.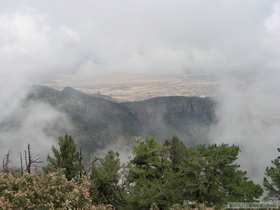 The top of the mountain was almost completely covered in clouds, so we stayed at the peak for a while and had an early lunch in hopes that the clouds would clear. Eventually we gave up and headed back to camp. Along the way, Shan, Marisa and I took a detour to try to find Miller Spring while Kyle, Alice and Brian continued on. We were unsuccessful at finding the spring on the poorly defined trail, and soon continued on to camp.

| | |
| --- | --- |
| | |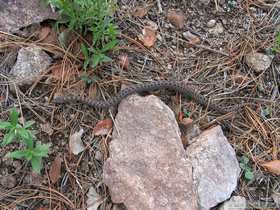 We were back at camp by mid-afternoon, but no one seemed particularly interested in another excursion, myself included, so we just lounged around camp or went down to Bathtub Spring to filter water. As Kyle and Alice went down to filter water, they found a small rattlesnake. I got some pictures of it, and later identified it as a rare twin-spotted rattlesnake (Crotalus pricei). It was an exciting find, made more exciting by the rare discovery of it's rarity and protected status. It's illegal to collect, kill or harrass twin-spotted rattlesnakes. We also saw what I later identified as a juvenile golden eagle, another exciting find.

I went down to filter water after I figured everyone was nearly finished. Marisa joined me, and after her water supplies were topped off she headed back to camp, allowing me to take a little sponge bath. While filtering water and taking my sponge bath, I enjoyed watching the many beautiful birds that came to the spring to drink.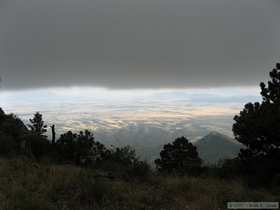 Not long after returning to camp, storm clouds started to build once again, and I recommended to Shan that we go ahead and cook dinner.
It started to sprinkle very lightly as I was getting dinner prepared, but the rain held off. Within minutes of finishing dinner, the sky opened up again, forcing everyone to their tents for another long and stormy night. The storm seemed slightly less energetic than the storm on the previous night, but it still packed plenty of punch. It lasted into the wee hours of the morning.

---
Day 1 | Day 2 | Day 3
---
| | |
| --- | --- |
| | |
| | |