Havasupai Backpacking Trip 2003: Day 2
Added 25 January 2004
---
Day 1 | Day 2 | Day 3
---
For information on Havasupai, go HERE
---
In the morning, many of our neighbors were already up, packed and heading back up the canyon for home. We took the opportunity to steal a camp table (that was most likely stolen from our camp site before we got there) so we would have a place to sit and eat that night. Marisa and Mike had to head back home that morning since they couldn't get Monday off, and some time after that, the rest of us headed out for a day hike further down canyon. My original plan had been to hike down to the Colorado River and back, a 14 mile round trip, but that got nixed before we even started. It would have been too much for this group.
Again, the group was pretty slow to get moving, but eventually we did hit the trail. On the way to Mooney Falls, we found some campsites further down canyon than we had explored the previous day. I'm sure they had all been taken the night before, but they are definitely something to keep in mind if/when I ever go back. Some of the sites were phenomenal. Many were in areas like the two photos to the right below.
Everyone was very impressed by Mooney Falls, even if Brad was a bit apprehensive about the rather extreme descent down to the bottom. Part of the descent is through a very steep cave-like tube within the cliff face.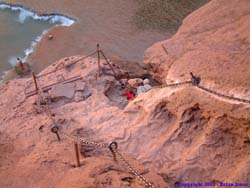 The rest is an exposed descent on which you have to rely on steel rods driven into the cliff wall, minimalist carved stone steps, and chains to keep you from a fateful, and almost assuredly deadly fall.
There was a lot of traffic on the steep part, so moving down it was a little slow. It has to take two way traffic on what is basically a one way street. Fortunately, that early in the day, most of the traffic was heading down.
There was a Boy Scout troop at Mooney Falls, so we decided to spend little time there and move on down canyon to Beaver Falls and parts unknown. Early in the hike below Mooney Falls, we encountered a gorgeous little creek that spilled over into Havasu Creek (below left). There was a great view of Mooney Falls from there too (below center). A ways down from that, we found a mangled picnic table that had likely been washed there from the big flood of 1993 (below right). To think that the picnic table undoubtedly took a plunge down Mooney Falls (the fast way!!) and ended up here, about 3/4 of a mile below the campgrounds was a testament to the power of nature (and actually to the strength of the picnic bench, since it was surprisingly intact!) :-)
Beaver Falls is only about three miles from camp, but it was after noon by the time we got there. The trail below Mooney Falls isn't always easy to follow, has several stream crossings to slow you down. Besides that, the trail is so beautiful that it doesn't exactly invite speediness. So we ambled along, constantly amazed by some new and amazingly beautiful spot.
At one point, we had to cross a large "field" of wild grapes (at least I think that's what they were). It was an interesting site to see this lush field of grapes in stark contrast to the red and tan sandstone cliffs.
Eventually, we did make it down to Beaver Falls, which are much much smaller than either Havasu or Mooney Falls, but are very beautiful and picturesque in their own right.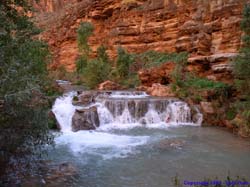 We stayed there for a while soaking in the beauty and grabbing a bite to eat.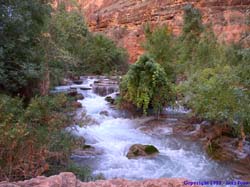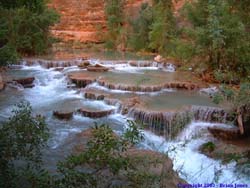 Some of the gals took a bath, while Shan and I found a nice secluded spot to relax and enjoy the sound of the water and the beauty of the place. I got in the water and checked out the various travartine formations. There were some beautiful little water plants with red flowers called Crimson Monkey Flower (Mimulus cardinalis) that I enjoyed photographing (below).

All too soon, we had to head back to camp. Even though we stopped less, we enjoyed the hike back to camp as much as the hike down to Beaver Falls. Truth to tell, I can't imagine Havasu Canyon ever "getting old."
On the way back, I had the group go on ahead while I explored a neat little side canyon. It was nice to have some time to myself to enjoy my surroundings.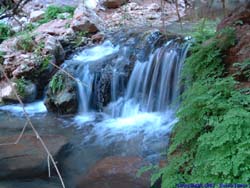 I couldn't tarry as long as I would have liked though, as I was worried about Shannon freaking out about me being gone too long and sending out a search party for me. They had a 10-15 minute head start by the time I left the side canyon and I caught up with them sooner than expected, at the base of Mooney Falls. So I could have spent more time in that side canyon, but that's all water under the bridge I guess.

Back at camp we relaxed and eventually made dinner. Brad and I went back to Havasu Falls that night to clean up a little bit before bed. It was another beautiful night, but the moon wasn't out yet. We all turned in pretty early Sunday night because of the early start we had to get on Monday.

---
Day 1 | Day 2 | Day 3
---
| | |
| --- | --- |
| | |
| | |