Added 22 December 2007
---
Day 1 | Day 2 | Day 3 | Day 4 | Day 5
---
Friday, 12 October 2007, Grand Canyon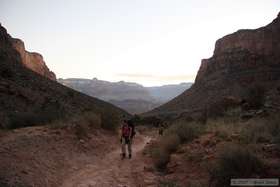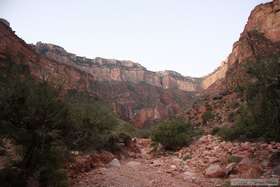 Another alarm at 4:30 a.m. I'd given the group the option to wake up a bit later since we didn't have as many miles to cover to climb out of the canyon, but the decision was unanimous to get up at oh-god-thirty and get as high as possible before the sun got a chance to get the best of us. Once again, we were hiking by six o'clock. It seemed were one of the first groups to get up and get moving, and we had the busiest trail in the park all to ourselves for quite a while. Everyone hiked out at their own pace, as there was little need to stick close together on the Bright Angel Trail. Still, the protector in me did keep me looking down to keep track of everyone to make sure everyone was progressing.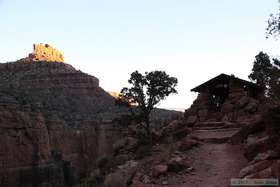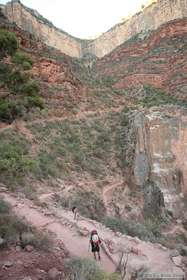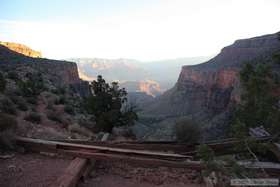 I made it from Indian Garden to 3 Mile Resthouse (about 1.5 hiking miles) in about 35 minutes. I then roamed around the area and waited for everyone to catch up. The view from the area around 3 Mile Resthouse is really nice. Behind the resthouse itself a little ways are some heavy timbers that look like they may have been a part of an old mine or something. They may have simply been something constructed for the early tourism business in the Grand Canyon though. After exploring the area for a bit, I went back to the rest house to see if everyone had made it up. It was too early for Shan to eat breakfast yet, but we convinced her to eat something anyway, as she would need a lot of energy for the climb out. In the end, she probably should have eaten more and earlier. While she ate, we chatted, then headed on up the trail.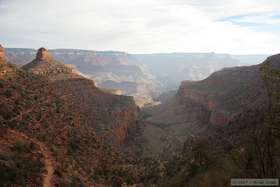 It took 40 minutes for me to get from 3 Mile Resthouse to 1.5 Mile Resthouse (obviously a distance of about 1.5 miles). There I waited again.
Leaving 1.5 Mile Resthouse, I decided to stick with Shan, as she indicated she could use some encouragement to get the rest of the way out of the canyon. She had been getting along superbly up to that point, as had everyone else, so it seemed a bit odd that suddenly she needed encouragement. As it turns out, Shan was running out of juice. The group moved out ahead, and Shan had to constantly stop to rest. At one stop I took off my pack and mixed up some Gookinaid Hydrolite for her. Within 15-20 minutes of drinking the Gookinaid, she was largely restored to life, though still weary of the incessant climb.

At one point, we reached a place where the trail went through a hole in the rock. I thought it was the hole in the rock that we'd seen from Kolb Studio the day before the hike, and told Shan that the top must be just ahead.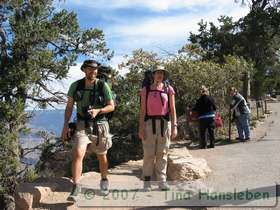 What I didn't realize was that there are two places where the trail goes through a hole in the rock, so I inadvertently gave Shan some false hope. It wasn't long though, before we reached the hole in the rock near the rim.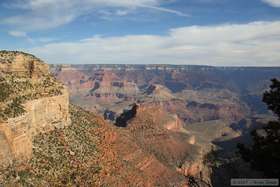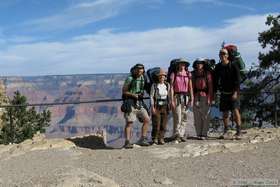 Sometime before ten o'clock, we reached the rim, perhaps 10 minutes behind the rest of the group. A kind woman offered to take our "end of the trail" photo, then we hiked with gusto to our awaiting vehicles. This flat ground stuff is easy! And only a few tourists passed out as we passed by. I'm sure it had nothing to do with our smell after five days in the back country.
Back at the vehicles, we threw our gear down. Steve packed up and we said our goodbyes. As always, it was a much more enjoyable trip for his presence. And for the next day and a half, the rest of us repeated his signature way of saying "dang it!" as a way to keep him with us.
We tried to check in to our hotel rooms early, but there weren't any available, so we went to Yavapai Lodge to have lunch instead. We scarfed down pizza and deserts, then perused the shops in the area for things to buy.
Marisa learned that afternoon that while we were in the canyon, a four-year old girl had fallen from the rim to her death near Mather Point. It was a tragic event.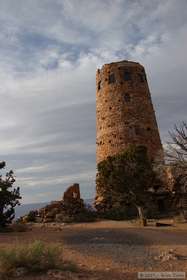 When we returned to Maswik Lodge, they had a couple of rooms ready for us, so we checked in and took some welcome showers.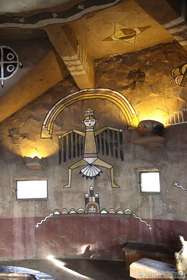 After getting cleaned up, Shan, Marisa and I left Tina to enjoy her "Death in the Canyon" book and headed out to check out The Watchtower, a magnificent historical building perched on the rim of the canyon that was designed by Mary Jane Colter about 23 miles away from Grand Canyon Village.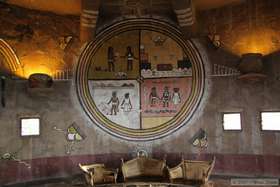 Of all the historical buildings at the Grand Canyon, The Watchtower became far and away my favorite. Not only is the exterior a stunning complement to the canyon as a replica Native American watchtower, the art of Hopi artist Fred Kabotie on the interior is amazing. My new goal in life is to try to figure out how to usurp the Park Service and live in the Watchtower. It's easy to imagine how life changing that would be.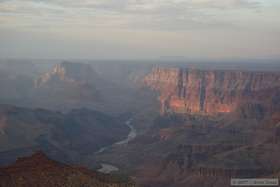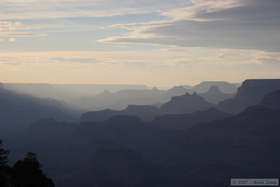 I would have actually enjoyed watching the day fade and the light change on the Watchtower, but I also wanted to go see an evening ranger talk on "River Stories" at the Shrine of Ages, and we needed to get back in time to eat dinner before the talk. Back at the hotel, we gathered Tina up and all four of us went to dinner at Maswik Cafeteria then took the shuttle to Shrine of the Ages for the evening program. The shuttle driver was a real ham, and had the whole bus laughing as he warned us about getting off at certain stops because of the roving gangs of squirrels. He also told us that a couple days prior, a mountain lion had been seen by a bunch of folks right near the Village. I spend tons of time in the back country and I've never seen a live mountain lion, and some people show up to take pictures from the rim and get to see one. Ah well, I've seen wonders they can't even dream of.
I was ever so slightly tempted to stay on the shuttle to remain entertained by the driver, but we got off at our intended stop in the nick of time to make the show. It turned out to be not what any of us expected (or hoped for that matter), but it was still pretty enjoyable. After returning back to Maswik Lodge, we turned in for the evening.

13 October 2007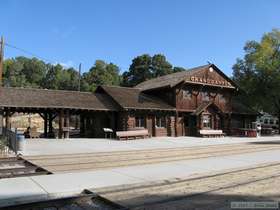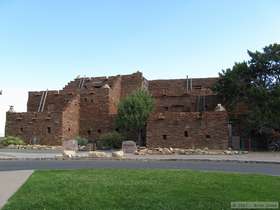 With the alarm set at a more leisurely time this morning, we awoke and ate breakfast in the room after enjoying a good night's sleep. As I was packing the car up, Marisa and Tina returned from breakfast at a café at Bright Angel Lodge. After we got our cars packed up, we wandered over to the El Tovar Hotel, historical landmark.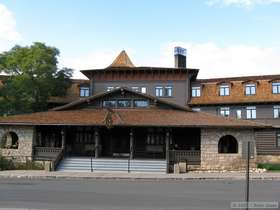 From there, we browsed the selections at Hopi House, another historical landmark that sells mostly Native American goods. I was mildly surprised by the number of native made items they had that were not made by the tribe traditionally associated with them. For example, most of the kachinas they had were made by Navajo artists, not Hopi artists. While still beautiful, and far less expensive, I found this rather disappointing. Who knows, if I am ever to get one, I might have to settle for a Navajo made kachina, but I hope one day to help support a Hopi carver, as well as a Navajo weaver for that matter.
After Hopi House, Marisa and Tina headed home so we said our good-byes. Shan and I continued wander along the rim, heading ultimately to the Kolb Studio. We checked out the exhibit they had on the Havasupai people, then returned to Maswik Lodge to collect our car and drive to Yavapai Observation Station on our way out of the canyon. The observation station located at Yavapai Point has a commanding view of the canyon, but what interested me most was a three dimensional model of the Grand Canyon. I roughly traced our backpacking route on the model, which imparted a very powerful impression of the size of the canyon and how tiny the area we covered was. The model was perhaps 12 feet long and 5 feet wide, but the entire area we covered on our hike was about the size of my palm. One could truly spend a lifetime exploring the canyon and not see the half of it.

After looking at the educational stuff at the observation station, we started our journey home, with a layover in Phoenix for a friend's wedding.
---
Day 1 | Day 2 | Day 3 | Day 4 | Day 5
---
| | |
| --- | --- |
| | |
| | |