Added 22 December 2007
---
Day 1 | Day 2 | Day 3 | Day 4 | Day 5
---
Wednesday, 10 October 2007, Grand Canyon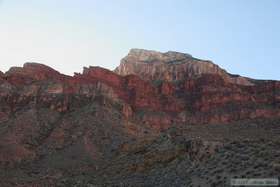 With only four miles of backpacking in store for the day, there was no pressing need to start early, but I had plans so the group agreed to be on the trail pretty early.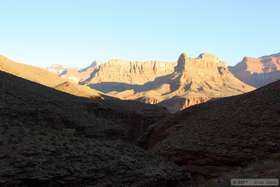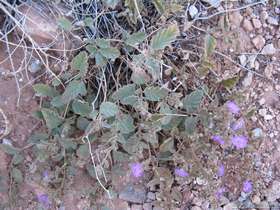 Steve was up before my alarm even went off, everyone else got up afterwards. It was just becoming light as all of us packed up, ate breakfast, and got ready to go. I had a lot of chores to do, so decided to concentrate on those and eat on the trail. We were on the trail by 7:30 or so and climbed out of Hermit Canyon headed for Monument Creek. It wasn't long before we stopped so Shan could eat her breakfast.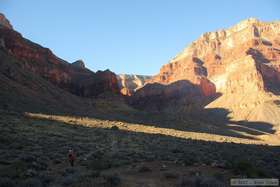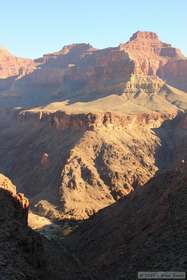 After the break, we encountered several groups of backpackers headed in the opposite direction, up and out of the canyon. The first was a large group of British soldiers. I think I heard one of them say they were special forces. They certainly looked it. I got a good chuckle when I noticed one of them taking a picture of the canyon with his cell phone camera. Only after we had moved on did I think to ask them how the hike from Granite Rapids to Monument was. I had gotten the impression while planning the trip that the route was difficult to follow and wanted some confirmation. The next couple we encountered on the trail had also camped down at Granite Rapids, so I asked them about the route. They made it sound like no big deal, so I added a trip down to the rapids as a possibility for an afternoon jaunt after setting up camp.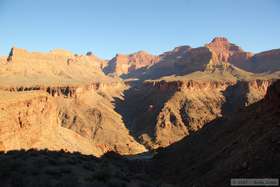 The next couple we encountered were Canadian, and also said they stayed at Granite Rapids. When I remarked that it must have been a busy place because everyone we'd encountered said that's where they stayed the previous night, the couple seemed surprised and said that they hadn't seen anyone else down there. I'm not entirely sure how you'd miss 10 British special forces guys and another couple in what I imagined to be a fairly small area, but I let it go. This couple told us of a neat little canyon carved out of bedrock down below the monument for which Monument Creek is named. It sounded so nice I started changing my plan from exploring up Monument Creek to exploring down Monument Creek.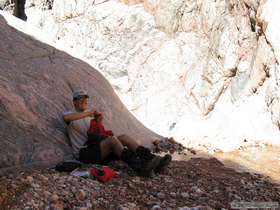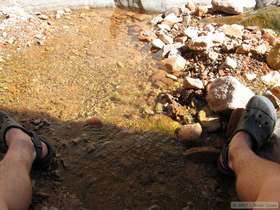 Sometime around ten o'clock, we reached Monument campground and found the place empty. Everyone had already moved on, which was nice because it gave us the pick of the camp sites. We chose the largest one, even though it didn't have as much shade or large trees. It was pretty toasty, so perhaps opting for one of the smaller, shadier spots would have been a good idea, but it was also nice not to have tents parked on top of one another. After getting camp set up, Steve and I went down to Monument Creek to filter some water. The little trail to the creek deposited us at the upper end of a wonderful little box canyon that I suspected was the upper part of the canyon we were told about by the Canadian couple. From where we filtered water, it appeared like there might be sections of the canyon below us that might require rope and climbing gear, but we couldn't be sure.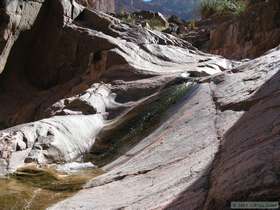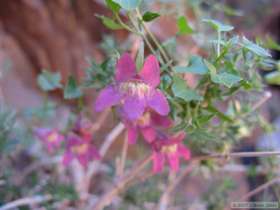 Once back at camp, I realized that it was going to be a bit too warm for comfort that afternoon, so decided to have an early lunch and find a nice place in the shade in the box canyon to spend the early afternoon before venturing down to the Colorado River to see Granite Rapids. Though Shan wanted to rest instead of hike, she agreed that someplace cooler would be far more relaxing and decided to go with me as far as a nice shady spot to rest. The rest of the group was in with the plan as well, so after cooking lunch, we headed out. Not wanting to risk walling out in the box canyon, we decided to come up from the bottom so we took the established trail that goes to Granite Rapids. The trail descends into the canyon at the base of the monument, which is impressive from any angle, but looms most when right below it.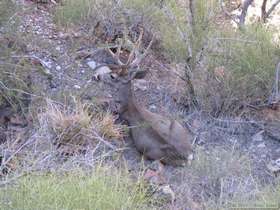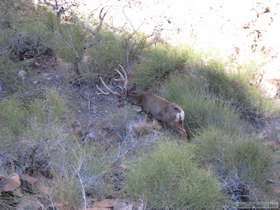 As we descended the trail, Steve spotted a large 5 point mule deer buck right down below us. It ambled around a bit, then laid down on a flat spot right next to the trail. We kept inching our way down the trail, not wanting to spook it, but it seemed to have no concern about us. We walked past it within 15 feet or so and it just lay there, casually glancing over it's shoulder at us. It appeared not to want to expend any more energy than absolutely necessary in the heat of the afternoon.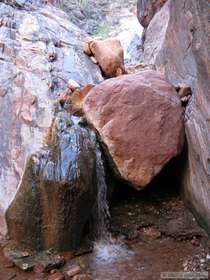 Once down in the canyon bottom, we found the wash completely dry. As we moved upstream though, it wasn't long before we found water as it dove beneath the gravels and sands of the canyon floor.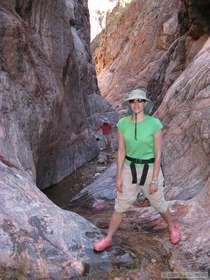 Soon after that, the canyon turned to a pure bedrock of metamorphosed rock. Water flumed and fell through smooth, water scoured channels and over boulder chokes. In places, the forces of erosion had sculpted wonderfully shaped basins that pooled water. Though I think only Steve and I had the original plan of exploring up the box canyon, it lured everyone in and everyone climbed up the first couple of waterfalls. Marisa didn't bring water shoes, and the gravelly portions were hard on her bare feet, so she stopped after the second waterfall. The rest of us continued on, each high on the excitement of exploring such a wonderful place. We waded, we splashed, we climbed, we chimneyed up steep-sided chutes. We had fun. At one point, a concave wall created a perfectly sculpted seat and drink rest that temporarily enticed Shan to sit for a spell. She soon got out of her Vishnu-Schist-o-lounger though, and continued on with us up the canyon.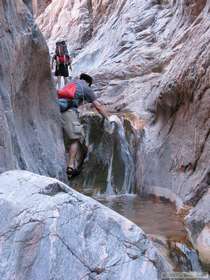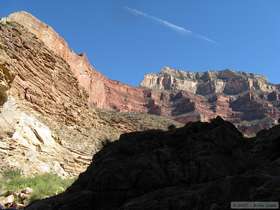 After a while, we stopped for a break. Suddenly I realized that we were at the spot where Steve and I had filtered water earlier. My suspicion had been incorrect after all, and it is possible to travel through the entire length of the box canyon below Monument campground, though not likely without getting wet.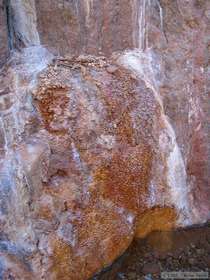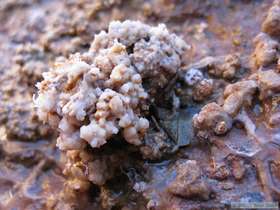 At that spot was a live limestone formation on the canyon wall that somehow Steve and I had missed when we were there earlier. After a snack, we turned around and happily headed back down the slot to where Marisa waited. Once there, the women decided to find a nice spot to relax while Steve and I hiked the 1.5 miles or so down to Granite Rapids. We pointed out various geologic features to each other and scanned the wash for "keepers" of a size in converse proportion to that of the climb that we would be forced to carry them up on the last day.

On the way down, we passed a couple on their honeymoon who had camped at Hermit's the previous night. They were exiting the canyon via Bright Angel Trail the next day and had requested a campsite closer to the finish, but there were no slots and the Park Service put them at Monument Campground instead.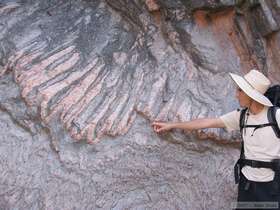 The guy kept saying how the Park Service had screwed them over like they were personally out to get him or something.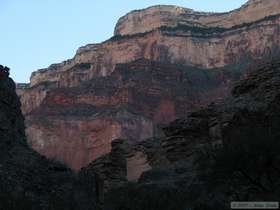 They said that they were going to go ahead and hike to Salt Creek or Horn Creek and camp there anyway. Since we hadn't seen a ranger, none of us thought that they would get caught, but I thought what they were doing was pretty rude since there is a limited amount of usable space in each campsite. It did mean that we would have more room to spread out at Monument though.
Once down at the rapid, Steve quickly stripped down to his shorts and dove into the cold Colorado River again. This time I demonstrated some intestinal fortitude (or perhaps temporary insanity) and at least waded out into the frigid flow and splashed my upper body down. I think Steve was a polar bear in a former life. We patrolled the shore for cool rocks for a while, hoping to see a rafting group go through the rapids, but the only group we saw stopped to camp above the rapid.
Eventually, it was time to depart, as we had told the others that we'd return at around five o'clock. As we left to return to camp, we bumped into a couple of the rafters, who were part of a private party group on a 22 day trip. The group leader had waited 14 years for his permit!
We arrived back at camp exactly at 5 p.m. in an unrivaled feat of planning prowess. Everyone had dinner and talked for a while. Before heading to bed, Steve and I went down to the creek to filter enough water for our hike the next day, which would be our longest in terms of mileage. Before long, everyone turned in for the night.

---
Day 1 | Day 2 | Day 3 | Day 4 | Day 5
---
| | |
| --- | --- |
| | |
| | |