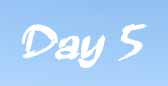 Added 28 January 2011
---
Day 1 | Day 2 | Day 3 | Day 4 | Day 5
---
Saturday, 21 August 2010, Glacier National Park, Montana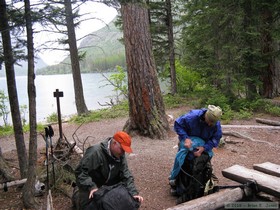 We had planned on a leisurely morning this morning, but when Jerry got out of his tent he noted some dark clouds towards the west so that put us into high gear.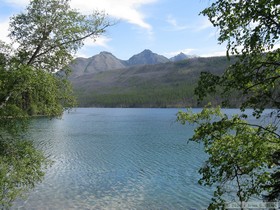 I don't mind hiking in the rain, but there's not much worse than either setting up or tearing down camp in the rain. I had been ready before everyone else pretty easily every other morning, but this time we were all ready at pretty much the same time. Nothing like a little rain for motivation!
We started hiking at nine o'clock, just as the sprinkles started to come down. We went ahead and started out in our rain gear, but it never really rained hard enough to warrant it, so once the rain gear got too warm to wear we stopped and shed it.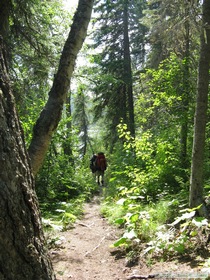 We were lead all day by Cheetah who, true to form, stepped out at a wicked pace. She never ceases to amaze me on trips like these. My left achilles was hurting more than ever as we started out. It got a little better after 45 minutes or so, but then got progressively worse as the day wore on. This was not a good sign, as every other day the pain dissipated a bit after the achilles warmed up. What's worse, is that it still hurt when we got back to the truck and I was walking around without my boots on. It hadn't hurt with my boots off before that. It was still better than with my boots on though, so I was glad to be able to shed them.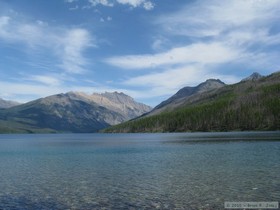 We stopped for lunch at Kintla Head Campground, where some canoers were camping. We chatted with them a bit while we ate. They all looked way too clean and pressed to be in the backcountry. One guy had a shirt on that was so white that I couldn't believe it had ever been worn. They also has a solar powered electric fence around their campsite for bear protection. Their backcountry experience was definitely a far cry from ours.
Once we got back to the truck we went down to the lake to enjoy our post-trip libations and take a short break before driving out. I waded in to the lake and rinsed at least a little bit of the trail grime and sweat off of me before putting on a clean shirt.
After we had all cleaned up a bit, we headed out. Along the way we stopped at the Polebridge Ranger Station to make the obligatory "we're alive" calls home.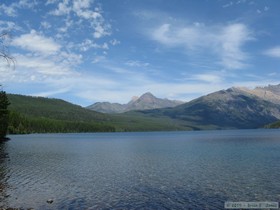 After trying to call home I finally reached Shan on her cell phone. She was, rather unexpectedly, in Tombstone with her parents to celebrate Dad's birthday. I thought it amusing that while I was in the wilds of the west she was in the Wild West. By the time we got all the calls done on the only pay phone there, it was almost time for the Northern Lights Café to open for dinner. We stopped in at the Polebridge Mercantile for some libations then got dinner. The menu was short, to say the least, but they had a really good veggie quesadilla, while the others got cheeseburgers. We topped the meal off with excellent pie and ice cream. For what it was, it was expensive, but considering it's the only restaurant around in a rather remote area, I suppose that's to be expected. Once we got back to the property we emptied our packs, dried our gear and generally got a little bit organized. We also took some much needed showers.
And so ended a trip that was one of the most wonderful failures of my life. We didn't get to the top of Kinnerly. We didn't get to the top of Kintla. We endured the slings and arrows of outrageous vegetation. But looking back, I wouldn't have changed a thing.
Except my boots. I definitely would have changed my boots.
---
Day 1 | Day 2 | Day 3 | Day 4 | Day 5
---
| | |
| --- | --- |
| | |
| | |