Gila Wilderness Area Backpacking Trip, May 2005: Day 1
Added 5 July 2005
---
Day 1 | Day 2
---
The next morning dawned clear and . . . shady. We just happened to camp in the part of the meadow that received the sun last. So it was a chilly but beautiful morning, and we took the time to dry some of our gear out before packing everything up and hitting the trail for day 2.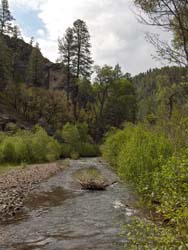 We had to cross Iron Creek to get to the trail that took us up on top of Iron Creek Mesa. Once on top we were once again in a very open, healthy ponderosa pine woodland. Iron Creek Mesa appeared to be a little bit warmer and drier than Clayton Mesa though, as there were more oak and juniper trees on it. And what splendid junipers they were! I think it is a safe bet to say that many of the juniper trees we saw were well over 300 wizened years old.
The trail continued on through a beautiful open forest, climbing ever so slightly as storms threatened in the near distance. Shortly after noon, we stopped for lunch, which prompted an immediate response from the nearby storms. It started to rain. We all put on rain gear and ate quickly so we could get moving again. Before starting to hike again, I took my raincoat off. I had a premonition. As soon as we started back on the trail, the rain stopped.
After some time had passed, it started back up again and faded in and out. Eventually, the front passed, the air temperature dropped fairly dramatically, and the sky opened up into a rather hard rain, then hail. During this process we ourselves alternated between taking shelter under large trees and simply hiking on in the rain. The trees weren't very effective shelters, so my vote was always to simply keep moving. Since Shan was cold and getting colder, she preferred moving as well. Along the way we saw a fairly large herd of elk running through the forest.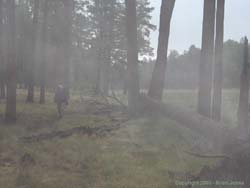 We continued on through the rain to a place on the map that looked like a meadow that could have running water, but when we got there, we couldn't find a stream (728150 E, 3697550 N). So we continued moving forward towards Iron Creek Lake.
By this time, Shan was miserably cold and her feet were in pain as well. Our forward progress was slow and plodding.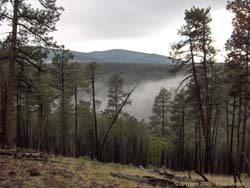 Jerry and Estevan hiked ahead, and I stayed with Shan to help keep her motivated. By this time the rain was merely a drizzle, and except for the fact that hiking at such a slow pace was causing me physical discomfort, I was rather enjoying the wet walk in the woods. Shan, however, was not in such a state of mind, and was thinking only of a nice hotel.
As Shan and I neared Iron Creek Lake, we approached our very pleased looking backpacking companions, both holding a bottle of beer. Apparently two day hikers passed Jerry and Estevan and handed each of them a beer as they passed! Appalachian Trail thru-hikers talk of Trail Magic. It seems to me that this is an excellent example of Trail Magic.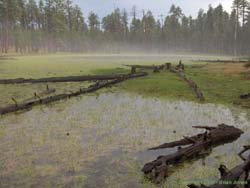 When we got to Iron Creek Lake, it was discussion time. Shan really wanted to hike the last mile or so back to the car and try to find a hotel for the night. Jerry really wanted to stick to the plan and camp at the lake. Estevan was persuadable and I was torn between my personal desire to stay and the desire to advocate for Shan's point of view. In the end, the decision was made to head out.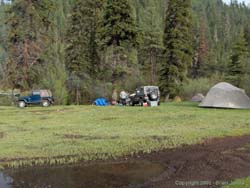 When we made it back to the campground, the two guys who gave Jerry and Estevan the beer were there with their buddies. The camp bathroom was right there so we changed into dry clothes and Jerry went and brought the beer and coolers we had over from the car and we hung out with them for at least an hour or so. Barry, Bill, and John were all co-workers at Palo Verde Nuclear Power Plant and Paul is John's brother. They have get-togethers fairly frequently and are a fun bunch of guys. We chatted about backpacking and travels and water filters (Barry is a chemist at Palo Verde working in their water treatment plant). We had a really enjoyable time with them. They made coffee for Estevan for his drive home, and made a lush out of my wife by giving her a watermelon wine cooler that she fell in love with.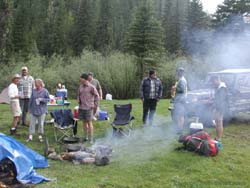 After a while their camp neighbors came over, Jim and his wife (I never caught her name). Jim was a character, the kind of person who does lots of strange and probably inadvisable things when he's had too much to drink, which means he probably often does strange and inadvisable things. When I think about it further though, he probably does strange and inadvisable things even when he hasn't been drinking.
At any rate, eventually we walked back to the car, and had one last stream crossing to get there. My boots were already soaked, so I just crossed in them. Jerry was wearing Shan's tevas and Shan was wearing my Crocs. As Shan bolted across, one of my Crocs came off her foot and started floating rapidly down stream. With a full pack on, I started sprinting down the creek after it and caught up with it 30 or more feet downstream. So much for my dry clothes. Once again, I had to change, this time in the middle of some bushes in the middle of a very busy campground.
Our drive back to Glenwood was filled with conversation but was otherwise uneventful. When we got to Glenwood we went straight to the Double T Homestead in hopes of finding a room there. No luck. The owner of the Double T called around to some other places in town, and there weren't any rooms available in the whole area. So we went in to town and ate dinner at the Blue Pole Café for some excellent Mexican food before driving home. We finally pulled into the driveway sometime after midnight.
---
Day 1 | Day 2
---
| | |
| --- | --- |
| | |
| | |