Gila Wilderness Area Backpacking Trip, May 2005: Day 1
Added 5 July 2005
---
Day 1 | Day 2
---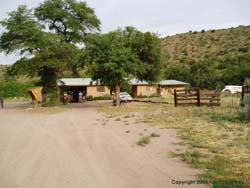 Leading up to this trip, I was very excited, not only was it my first backpacking trip of 2005 (despite my good intentions of having several trips under my belt by May), but I was going to get to spend some time with an old friend that I hadn't seen in years. So Shannon (my wife), Jerry (my boss) and myself (myself) left Tucson at around 3:30 Friday afternoon and drove to Glenwood, NM, where we met Steve "Estevan" Lucero (the friend and former co-worker I hadn't seen in far too long) at the Double T Homestead. By all accounts, the Double T proved to be an excellent and reasonably priced place to stay.
We had stopped in Safford for dinner, so it was moderately late in the evening by the time we got there, so Shan went to bed and I went over to the two room "guest house" that Estevan and Jerry were sharing where we talked about our trip over some beers and (for me) wine coolers. At around 10:30 or so, I headed back to my room and got some shut-eye.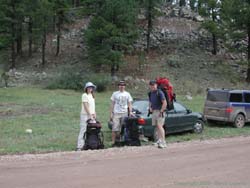 We were on the road by 7:30 (Arizona time) Saturday morning, for the hour-plus drive to Willow Creek Campground and the trailhead. On the way we passed the sleepy town of Mogollon, a former ghost town turned artist colony/tourist destination. We didn't stop, but it seems to be quite an eclectic little town. We got stuck behind some slow traffic on the dirt road after Mogollon, so it was about nine o'clock by the time we got to Willow Creek Campground (725000 E, 3698200 N Zone 12).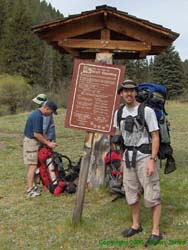 At that point we discovered that the trailhead is on the other side of Willow Creek, which was flowing pretty swift and cold. So once we got our gear all ready to go, we put on our sandals and waded across the Willow Creek, then another smaller creek before donning our boots for the climb into the Gila Wilderness. Once again, I encountered my favorite sign. Wolf Country!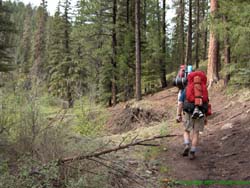 The first part of the hike is fairly steep but only lasts a half-mile or so before it flattens out, then eventually descends down to Iron Creek (725900 E, 3697200 N). At the top of the climb is Iron Creek Lake, which is really hardly even a pond. A more appropriate name would be Iron Creek bog, though there was standing water in it. The "lake" couldn't have been more than a foot deep I imagine. When we got to the lake, Jerry and I noticed someone coming towards us who looked very familiar. It turns out that an engineer that we often work with at the county was spending a week in the wilderness with his family and was hiking back to the campground to meet his daughters. It's not like we were on the other side of the planet, but it was strange to see someone we knew in such a remote location. We chatted for a while then headed our separate ways.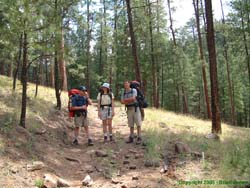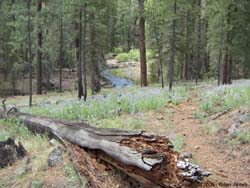 We quickly descended into the Iron Creek watershed (726400 E, 3695900 N), which is an idyllic little place, as the creek drops clear and clean over rocks and fallen logs down to the Middle Fork of the Gila River. The ponderosa pine forest in the Gila Wilderness is refreshingly healthy, and I imagine much like it was before logging so severely altered much of the other ponderosa stands of the southwest. For the most part, the trees are large and spaced well apart, with various grasses and wildflowers below them.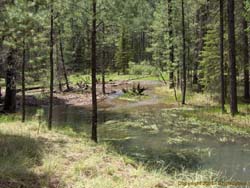 The whole area is shaded, but open and airy. A closed space with a sense of boundlessness. That is the Gila. We ate lunch sitting on the banks of Iron Creek. With the clouds building, I decided it would probably be a good idea to pull out my emergency parka and put it in a handy place. Shan looked for hers too, but couldn't find it. It turns out she had left it at the car.

As we trekked along Iron Creek, I called up to Jerry and said, "Hey boss! I'm calling in sick all of next week!" To which he replied that I'd have to call someone else because he'd be out there with me.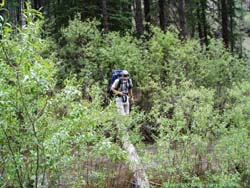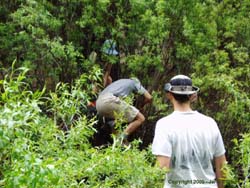 The trail stayed on the north side of Iron Creek until the very end. At that point we had to find a way across without getting our feet wet. Jerry found a small log across the creek and hustled across. I went next, more tentatively. Estevan tried next but didn't make it out of the trees before falling off the log, so he ended up just running across the creek and got his feet wet. Shan was too scared of falling off the log to cross with her pack, so I went back and brought her pack across the creek, then she followed after me.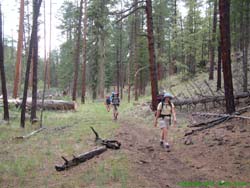 Eventually, the trail left Iron Creek and started climbing up onto Clayton Mesa (728950 E, 3695800 N). The climb up made me feel out of shape.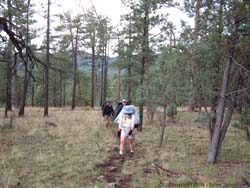 It was steep, but fortunately it was fairly brief. Once on top of the mesa, we had the pleasure of excellent views. We also saw the clouds rolling in. And shortly thereafter heard the thunder and saw the lightning. While crossing Clayton Mesa it started to drizzle, then the weather alternated between moderate rain and mere misting.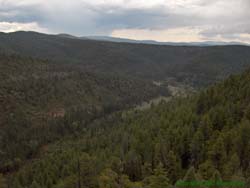 I gave Shan my parka and got out my coat, which at least offered some protection from the rain, despite not being completely waterproof. Eventually we made it to the end of the mesa and then looked down on the confluence of Iron Creek and the Middle Fork of the Gila River (734500 E, 3696750 N). What a gorgeous sight that was!

The terrain between the mesa and the grassy confluence where we intended to camp was steep, to say the least. The descent was made by course of long winding switchbacks. But eventually we made it down and found ourselves in the company of two other groups of backpackers. We opted to head downstream a ways to get as close to out of sight and out of earshot as we could (734850 E, 3696900 N). We found an excellent camp site with a nice fire pit and wood already piled up next to it. Below are some pictures of it from the next morning.
With the off and on rain, our first order of business was to get the tents set up. Once that was done, we filtered water out of the Gila River, then I tried to get a fire started out of the wet wood. We eventually got the fire going really well, which helped as we got sprinkled on periodically throughout the evening. My recollection of the evening is that we talked about something and nothing. I could scarcely tell you the beginning of what we talked about. What I can say is that it was a very enjoyable night in the wilderness.
And even more importantly, the new REI Mojave sleeping bag I bought for Shan worked wonders!!! She stayed warm all night long and didn't even whimper once! It made the night much more pleasant for both of us.

---
Day 1 | Day 2
---
| | |
| --- | --- |
| | |
| | |