Blue Range Wilderness Area Backpacking Trip 2004: Day 3
Added 11 September 2004, Revised 1 March 2005
---
Day 1 | Day 2 | Day 3 | Day 4
---
Again the following morning, I was up and around before Jeff, so took the opportunity to explore the immediate area.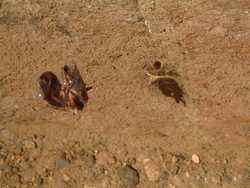 While wandering around I came across two huge pincher bugs in the water in a life or death struggle. They meant business. As I knelt there and watched them fight, I saw one pry the back plate off of the other, then get a leg around to slice the back plate in half. Some white stuff leaked out into the water and the wounded pincher bug broke free, swimming away injured, but alive, apparently well enough to survive to fight another day. I must have watched them fight for the better part of a half an hour.
When I got back to camp, Jeff was up, and I proposed that instead of hiking over to HU Bar that day, that we just relax and explore Little Blue Creek more, and move camp back down canyon a little ways. Happily, he agreed. We milled around a bit then got our gear packed up and headed about a mile down stream to a very nice camp site by the creek, with no cliffs overhead to drop rocks on us in our sleep.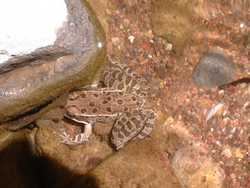 If Sunday was the day for snakes, Monday was the day for frogs. I know I saw three different species of frog in the creek, but I was only able to photograph two of them, the Canyon Treefrog (Hyla arenicolor) (right), and the Lowland Leopard Frog (Rana yavapaiensis) (left). (NOTE 3-1-2006: Special thanks to Mike Sredl, Ranid Frogs Projects Coordinator with the Arizona Game and Fish Department for the correct identification of the leopard frog, which I initially misidentified as (Rana blairi)
We then hiked leisurely down the creek all the way back to the Blue River. We had hoped to hike up the Blue River a short ways to see some new territory, but it was extremely overgrown, and it didn't look like a pleasant hike in the sandals we were wearing, so we simply turned around and headed back to camp.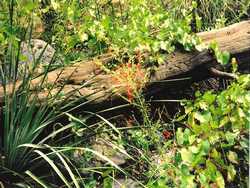 With a little light remaining when we got back to camp, I wandered off once again with my cameras and Jeff found a nice rock in the middle of the creek to read on. That night we made a fire and just enjoyed the evening.

---
Day 1 | Day 2 | Day 3 | Day 4
---
| | |
| --- | --- |
| | |
| | |