Added 11 November 2011
---
Day 1 | Day 2 | Day 3
---
13 and 14 October 2011, Aravaipa Canyon
Since it's about a 3 1/2 hour drive to the east entrance of Aravaipa Canyon, we camped out in Turkey Creek Thursday so we could start hiking earlier on Friday morning. I've been to Turkey Creek several times, but massive flooding in 2006 altered both canyons pretty significantly and the changes threw off my internal navigation system. Landmarks that I knew from before were completely gone.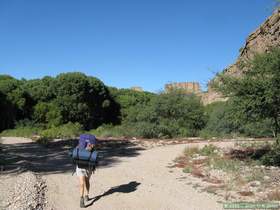 It wasn't until we got to the Turkey Creek Cliff Dwelling, where we camped, that I got my bearings back.
After a great night of sleep under the stars, I awoke all bright-eyed and bushy-tailed this morning. It was a beautiful night. Everyone quickly broke camp and we were on the road to the trailhead by 8:15 a.m., which rather surprised me. I had hoped to be moving toward the trailhead by eight o'clock, but I frankly didn't expect to get rolling until 9 o'clock or later.
The trailhead for Aravaipa Canyon got moved 1.5 miles upstream from the Aravaipa/Turkey Creek confluence as a result of the 2006 flood, which wiped out the old trailhead and, so the story goes, made several cars parked at the trailhead completely disappear. They were simply never found. Presumably, that's why the trailhead got relocated. Since there was no predicted rain in the forecast, it just meant that we had to hike 1.5 more miles.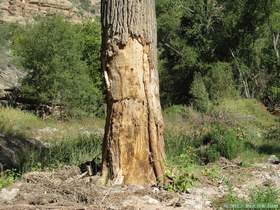 We started hiking at around 9:30 and stuck to the road to save time getting to the wilderness area. We had to cross Aravaipa Creek a half dozen times just hiking the road, so we were hiking in wet feet right from the start, which is probably the biggest challenge that backpacking in Aravaipa poses. Everyone in the group opted to wear trail shoes, tennis shoes or water shoes instead of boots. Folks tried those shoes with and without socks. I hiked without socks today and came to realize that it's better to wear socks. Mindy did the same. Footwear was the main bone of contention the entire weekend. Indeed, practically the only complaint anyone had seemed to be, "these shoes suck."
Below the Turkey Creek confluence, we left any remaining evidence of civilization behind and entered unadulterated beauty. Canyon walls quickly rose up and closed in around us. In many stretches, massive cottonwood and sycamore trees, not to be outdone, did the walls one better and obscured both wall and sky with canopies of green.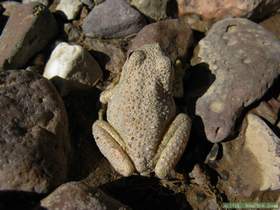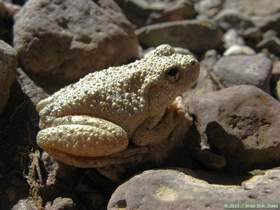 Besides some canyon treefrogs and native fish, our first big wildlife encounter came courtesy of Eagle Eye Brad, who somehow managed to spot a bighorn ram at the top of a cliff through a small hole in the tree canopy. Our second came when we stopped to have lunch at the Deer Creek confluence before hiking up into Hell Hole Canyon. A herd of javelina crossed the creek nearby. A minute later they were followed by what appeared to be Grandpa Javelina.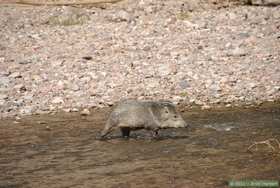 He was moving pretty slowly and seemed reluctant to cross the creek. He sniffed around a lot apparently trying to pick up the scent of the rest of the herd, and eventually crossed the creek very near to where we sat. Hopefully he was able to catch up with the rest of his family.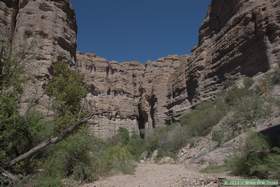 As we hiked through Hell Hole Canyon, none of us could imagine how the place got its name. There was a large hole in a high cliff above the creek, but there was nothing hellish about it or anything else in the canyon. The sinuous box canyon was gorgeous, and we all marveled at the flood debris we saw perched well above our heads, presumably remnants of the historic 2006 floods. It would have been amazing (though possibly deadly) to have seen those flows.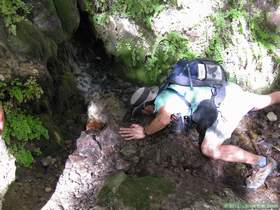 On a tip from some day hikers we passed in the canyon, we hiked further up canyon than we otherwise might have to a beautiful little spring that provided most of the rather meager flow we encountered in Hell Hole Canyon.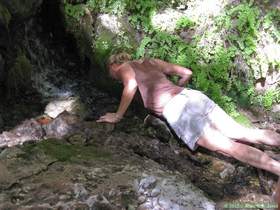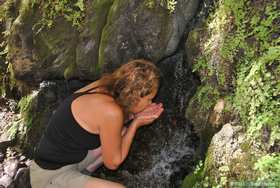 It was here at this unnamed spring that I did something that I have never had the guts to do before. I got down on my hands and knees and drank directly from the spring. I lived a little more fully for a moment. A small act, to be sure, but I couldn't help but feel a bit triumphant. A few others also drank directly from the spring, and as of this writing, none of us have died from some rare parasite.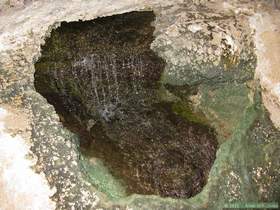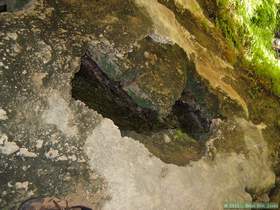 The spring itself was quite interesting. Water poured out of a crack in the canyon wall then flowed under a shield of stone down to the canyon bottom where it formed a small waterfall. There were several windows in the shield rock through which the flowing water was visible. Several of us climbed up to look through uppermost window at the source of the spring and found delicate, corral-like formations lining the rim of the window. I was unable to get better photos of it for fear of damaging the formations.
We then hiked back down the canyon to rejoin Marisa, who had returned to Aravaipa Creek earlier. After donning our packs again, we resumed our journey downstream.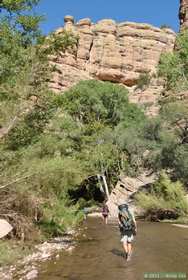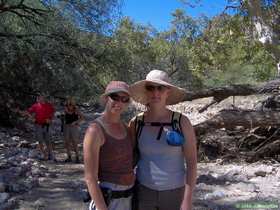 There was a fair amount of groaning under the resumed weight of packs and I began to have doubts that the group could be coaxed as far as Horse Camp Canyon, where I had hoped to camp for the next two nights.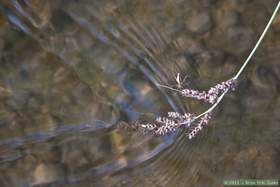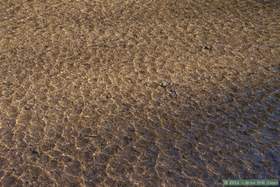 Indeed, at around 3:30 in the afternoon we stopped in the Booger Canyon area and set up camp. I wanted to keep going, but didn't want to push anyone past their limits. Since there was still plenty of daylight left, and with the good evening light approaching, I quickly found a spot to lay my tarp out then grabbed my camera and went off to enjoy the remainder of the day. (Not having to take the time to set up a tent has it's advantages.)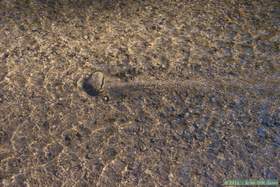 The afternoon sun turned the shallow waters of Aravaipa Creek to honey.

One of the things I found was the remains of a great blue heron. Presumably he wasn't wary enough. All that was left of him was a mass of feathers, one let and his bill. I wandered up and down the creek taking photographs and simply watching things. I watched the water move, the sunlight reflect, cattail seeds blow away, bugs, swarms of bugs swarming, and individual bugs within a swarm of bugs. It was in my watching of the later that I made what was, to me at least, an interesting observation.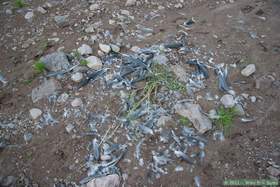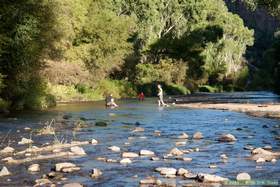 There was a swarm of bugs flying around in the sunlight above the creek that appeared to be flying in a mass roughly shaped like a tube following the path of the creek. At first glance, each bug appeared to be just randomly flying around within that tube, but as I focused on individual bugs I noticed that each bug flew in a distinct vertical zig-zag pattern. Every bug's flight pattern had a different frequency and amplitude, but nearly every bug flew upstream and flew up and down in a sharply peaked and troughed pattern. One bug's up and down motion might be twice as high as another bug's pattern, but each bugs pattern was extremely consistent. Each bug marched to his own drummer. The whole effect of hundreds or thousands of bugs doing the same thing, out of sync and at different frequencies and amplitudes, had the effect of making the swarm appear at first glance to be a swarm of randomly flying bugs, when in fact all the bugs really needed was a choreographer.
Out of chaos: order. Or perhaps more appropriately, what was thought to be chaos was order.
While wandering around I also happened upon a small glade with a wonderfully backlit sycamore tree. It was enjoyable to watch the character of the tree and the glade change as the sun dipped closer and closer to the horizon.
It was a blissful afternoon.
The rest of the group was variously engaged in dining and drinking by the time I wandered back to camp. I ate last and drank least, enjoying only a bit of the wine that I brought and a bit of tequila. About half the group was ready to go to bed before seven o'clock, but they were forced by shame to stay by the fire until at least 8 o'clock. Brad, Patricia and I were up until well after ten.
---
Day 1 | Day 2 | Day 3
---
| | |
| --- | --- |
| | |
| | |