Added 11 November 2011
---
Day 1 | Day 2 | Day 3
---
15 October 2011, Aravaipa Canyon
Once again, I slept great last night. It was perfect weather for sleeping out under the stars: calm and cool.
I was on my feet by seven o'clock this morning with camera in hand once again.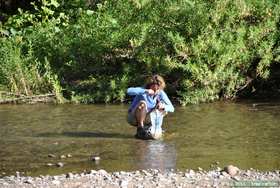 I knew I would have some time to kill before the rest of the group got ready to head further downstream for a day hike and didn't want to just hang around camp. After taking photos for a while, I returned to camp and got ready for being gone the rest of the day. We all started hiking down to Virgus Canyon at around ten o'clock and made pretty good time getting there.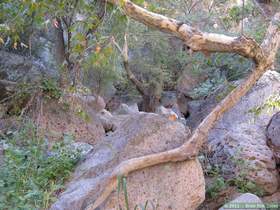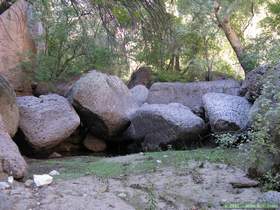 On the way down I found a dead Gila longfin dace fish in the creek. We saw several different species of fish on the trip, but they were elusive, so it was neat to be able to get a good look at this one. Throughout the trip I kept picking up dead things (bugs mostly), and it got to be kind of a joke by the end of the trip.
The mouth of Virgus Canyon is heavily choked with massive boulders and I started picking my way through them to hike up the canyon. I thought that the rest of the group had chosen to try a different way up the canyon, but after 10 minutes or so I realized that they seemed to have decided to stop and have a snack before hiking up. I didn't feel like navigating through the boulder field to get back to them so I found a nice spot to have lunch and wait for them. I sat by a pool of water with some desert pupfish in it and a beautiful flame skimmer dragonfly hunting the air overhead.
Once rejoined, we all hiked up the canyon and continually encountered dark pools of water, often algae covered.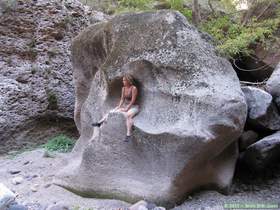 Even when not algae covered, the water was so tannic that the bottoms of the pools couldn't be seen. There were also many boulder obstacles to our progress. At one such obstacle, Brian, Marisa and Patricia decided to turn around and head back. As we continued on, we saw dozens of canyon tree frogs. We had also seen a red-spotted toad lower in the canyon.
Mindy, Brad and I persevered for a while longer before finally reaching a spot that none of us were particularly keen on trying to get through or around. I probably would have gone on had someone wanted to, but I was certainly somewhat less than enthusiastic about continuing solo, so all three of us headed back to Aravaipa Creek. The decision turned out to be fortuitous.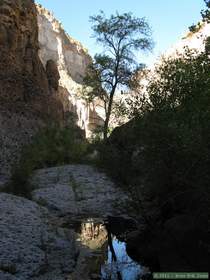 We returned to Aravaipa Creek and as we hiked back towards camp I was hiking ahead of Brad and Mindy.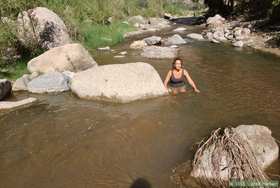 At some point I turned around and saw the two of them getting ready to go for a swim in one of the pools I had passed.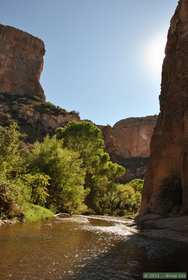 Not wanting to intrude on their time together, I continued up canyon and stopped at a nice shady spot across from Horse Camp Canyon. It was still mid-afternoon, so I decided to explore the side canyon after filtering some water and having a snack. Mindy and Brad approached just as I was ready to take off up Horse Camp Canyon, so I let them know of my plan in case I didn't show up in camp tonight. I invited them along, but they declined. Mindy took a photo of me heading out in case it was the last time I was seen alive. It's for things like this that I love my friends! (Really, I do.)
I knew Horse Camp Canyon was going to be good from the moment I stepped around the first massive boulder and came face to face with the most beautiful yellow warbler I've ever seen. Immediately after that, a lowland leopard frog jumped into some dense grass near a small pool of water. After emerging from the dense vegetation at the mouth of the canyon, I discovered a bedrock wonderland. The canyon was scoured down to bare rock, yet there were lush grasses, crimson monkey flowers, small trees and other vegetation growing up out of the rock.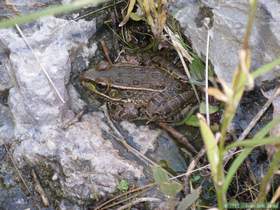 All this was arranged amidst rock-lined pools of glassy dark water, disturbed occasionally by a leopard frog leaping to safety at my approach.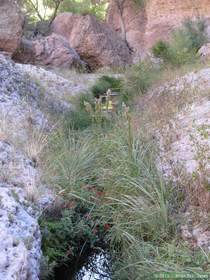 It was immediately apparent that I had made a trip-crowning discovery. I slowly made my way up the canyon, wide-eyed in wonder and grinning like a 49er who'd just sunk his pick into a mother lode. I dare say though, that my treasure was greater, and with greater still to come.
At a narrow pool of water formed in a scoured out crevice I hunted for frogs to take photographs of. It took more than 10 minutes before I found a frog before it found me and leapt into the depths of the pool. He was confident enough in his disguise that he let me approach closely. Not wanting to disavow him of his notion of being invisible, I backed away from him as carefully as I had approached. He never moved.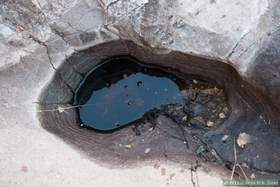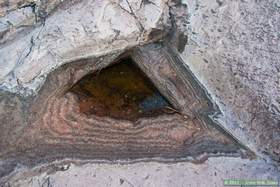 After climbing up a gentle pour-off, I pulled my tripod out and started taking photos of some interesting depressions in the rock that were lined with concentric evaporation rings.
While wholly focused on the ground at my feet I was startled by a loud huffing sound behind me.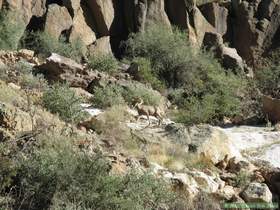 I spun around to find a full curl bighorn ram looking down at me from the canyon-side above. He appeared to be assessing me and my intentions. After watching each other for a short while, he continued to move along slope up canyon. When he entered a depression and disappeared from sight I climbed up to a ledge on a cliff opposite the bighorn, both to make myself less threatening and to gain a better vantage point to watch him from.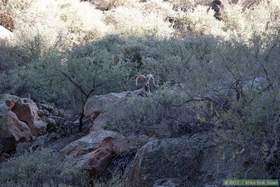 He made his way to a large boulder directly opposite though slightly higher than my location. As he stared at me from atop that boulder, I stared back at him from a ledge not much bigger than my two feet, about 20 feet up a nearly vertical cliff. It was a Mexican stand-off to see who would move first. Fifteen minutes later, he won the stand-off by laying down on top of the boulder. He was obviously prepared to wait a while, and I didn't have the luxury of a place to sit down.
Conceding defeat in the battle, though not necessarily the war, I descended from the ledge and continued on my original course up canyon.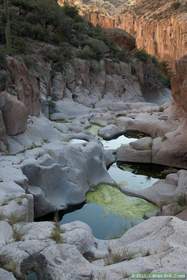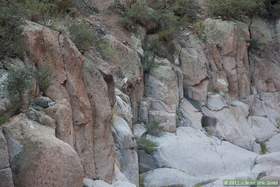 After I had gone a couple hundred feet or so, he went on the move again himself. Despite all the water in Aravaipa Creek being, for him, just a hop, a skip and a jump away, he seemed intent on drinking from the pools of water I had just passed. I moved behind a large boulder and climbed atop it to capture his approach to the water. Sure enough, he soon appeared in the canyon bottom. Watching bighorn move in steep terrain is a thing of wonder.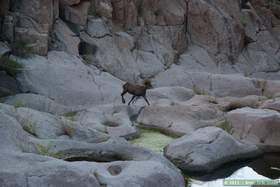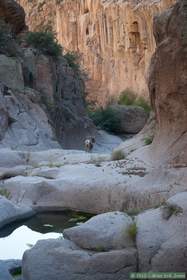 He didn't even lift his head when I came out from behind the boulder to photograph him, so I ventured a little closer to get a better look. When he finished his drink, he walked down canyon and descended the pour-off I had just come up. With him unable to see me, I knew this was an opportunity to move quickly and get close to him before he disappeared.
When I reached the edge of the pour-off and looked down, that big ram was nowhere to be seen. I was confused, but in the end I only had a few moments to contemplate the whereabouts of this bighorn Houdini.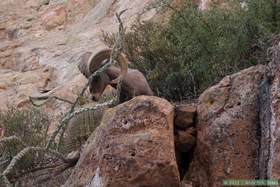 Upon hearing a noise above me I looked up to see that big ram on the cliff about 20 feet directly above me. If he had fleas, one of them could have easily jumped to me from him.
He munched lazily at the fruit of a barrel cactus clinging to the edge of the cliff, then started to make his way up canyon and up slope. While he didn't seem particularly concerned about me, I didn't want to wear out my welcome so I thanked him and bid him farewell. And thus we parted ways, though I often looked for and sometimes found him grazing up on the canyon slope.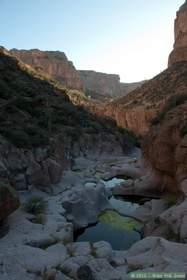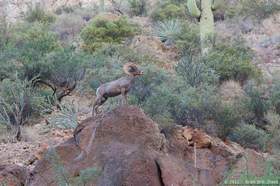 I wished that the others had been able to share the experience with me, but I knew that had I not been there alone, the experience wouldn't have happened at all. As Mindy said when I returned to camp with my tale, it seems it was an experience meant for me alone.
As I continued up canyon, around every massive boulder field or other visual obstruction I found another beautiful, vegetation lined, glassy pool housed in the living rock. And each time I found another pool my eyes and smile got wider, and my amazement did too. Water seemingly seeped out of every crack and crevice in the canyon bottom, yet for all of this, there was very little flow.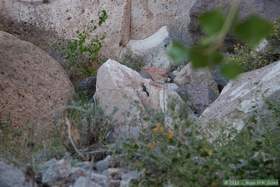 Only the faint tinklings of tiny waterfalls could be heard at intervals and the barest hint of movement could be seen where the stream dropped from one pool into the next.
All this cloaked the apparent alter ego of the canyon though. Clearly there have been times when these pools were far from quiet. I found huge boulders trapped in even larger scour holes cut right into the bedrock. They were a testament to the massive force of flood waters raging down the canyon. One pair of holes were 4-6 feet in diameter, deeper than they were round, and perched more than 6 feet above the canyon bottom. Truly impressive.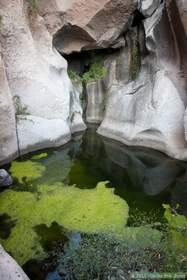 I also found some interesting algae that appeared to be platforms rooted in the black depths of the pools it grew in.
By this time the afternoon was waning and I knew I would have to turn around soon. I then encountered an obstacle that was the trickiest up to that point. I opted to try to ascend a nearly vertical cliff on the left side and got right to the crux before running out of descent holds. The top of the cliff rounded over on to sloping ground. The rock was quite smooth and there was a chance that I wouldn't be able to find enough traction to pull myself up. I was just about to launch myself up when I paused to assess my situation. I tested my ability to stick to the rock. I looked down. I estimated my chance of success at perhaps 75%. (In the past I've been known to cling to rocks quite resolutely at highly opportune moments when failure would have been problematic.) 75 percent. Not bad odds . . . until I also estimated that my chance of walking out of the canyon if I failed to be less than 5%, or well short of abysmal. A basic tenet of exploring is that death or serious maiming is detrimental to the experience, so . . . I carefully picked my way back down the cliff and explored other options.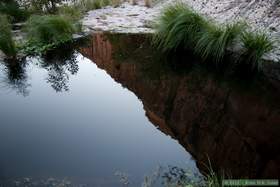 I found another, quite easy way up on the right side of the canyon and discovered yet another amazing pool, this one at the base of a vertical dryfall with a slick, sloping approach. Getting up this canyon wasn't getting any easier. As I contemplating finding a way around the dryfall I noticed that my established turn-around time was only five minutes away. Surmounting the obstacle would take time, and I suspected that I was already likely to run out of daylight before getting back to camp. I had my headlamp with me so darkness wasn't a huge problem, but I also didn't want anyone to worry about me, so I reluctantly turned and made my way back down to Aravaipa Canyon and back to camp.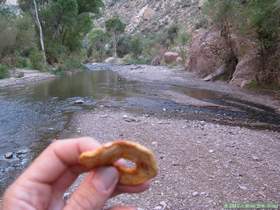 I was so energized by Horse Camp Canyon that I practically floated to camp. Everything within my sphere of existence, from the glow of the setting sun on the high cliff walls, to the cool, clear water, made any negativity impossible to even fathom let alone entertain. Life, as they say, was good. But I had expended a lot of energy so I was also rather hungry. I knew I didn't have time to stop for a snack though, so I ate on the hoof.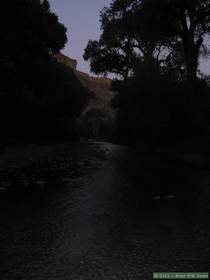 As I proceeded up canyon, even the highest cliffs fell into shadow and the darkening waters required increasing attention as to where to plant my feet. Once in sight of camp, I could see the campfire already blazing, and within minutes of arriving at camp, I pulled out my headlamp in order to gather my dinner necessities.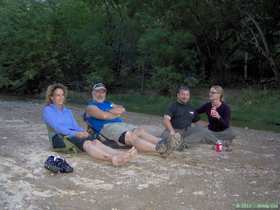 While I had been exploring, the rest of the crew was largely taking it easy back at camp. Also not a bad way to spend an afternoon!.
Life around the campfire was a bit more subdued tonight, most of the alcohol having been consumed last night. The atmosphere tonight was actually more to my liking. Being raucus is fine for car camping, but when backpacking I prefer serenity. Despite it being a quieter night, everyone lasted longer into the night, though we all pretty much parted in the same order as last night.
---
Day 1 | Day 2 | Day 3
---
| | |
| --- | --- |
| | |
| | |