The Beckoning Art Page
Francisco de Zurbaran
---
Revised 17 June 2003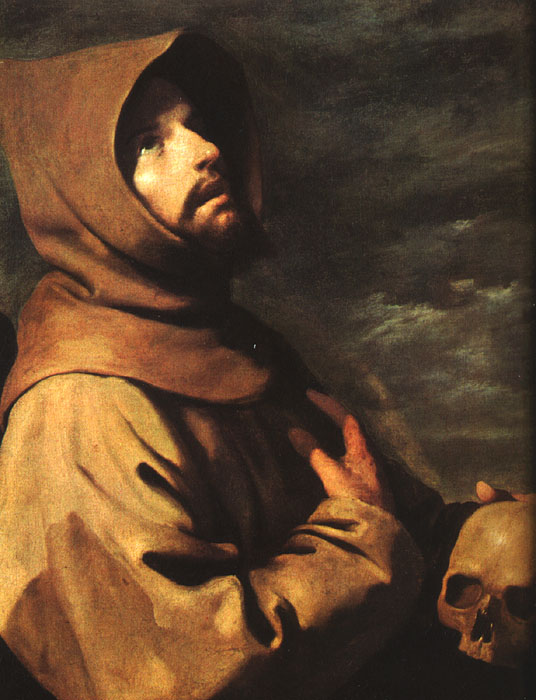 Francisco de Zurbaran (1598-1664) did much of his work while living in Seville, Spain. Zurbaran, along with Valazquez, was known for his '. . . direct and ruthless realism. . .' Zurbaran's work is more severe than Valazquez' work though. The works of Zurbaran are more stark, more modelled than those of Valazquez, even though both of them were inspired by the dark images of Caravaggio.

One can see in 'The Meditation of St. Francis' (right) styles that are typical of Zurbaran. St. Francis is richly detailed, against a very dark, mono-tonal background. Even the highlighted central figure is deeply contrasted by shadow. The robe that St. Francis is wearing is quite solid, resembling painted wood sculpture that was popular in Spain at the time. These styles combine to yield a very serious look.

Zurbaran was not a court artist (royal court), though he did get some court commissions. Despite being unaffiliated with any court, King Phillip IV said that Zurbaran was the '. . . painter to the King, and the king of painters.' Many of Zurbaran's paintings ended up in the New World, and after Zurbarans death, they were all but forgotten. Zurbaran didn't become popular again until his works were rediscovered until the Neopoloenic Wars, when looting uncovered the paintings from monastic seclusion.

---
I have found a number of resources for anyone interested in learning more about Francisco de Zurbaran and his art. Click HERE to see what I've found.
---