Added 5 May 2007
---
Day 1 | Day 2 | Day 3 | Day 4 | Day 5 | Day 6 | Day 7 | Day 8 | Day 9 | Day 10 | Day 11 | Day 12 | Day 13 | Day 14 | Day 15
---
Sunday, 11 March 2007, Journey from La Paz to Cabo Pulmo, Baja California Sur, Mexico
In the morning, a knock on the door woke us and told us it was time to get ready to disembark from the ferry.
After getting off the ferry, we immediately had to go through a military checkpoint. Because we were nearly the first ones on the ferry, we were nearly the last ones off, and somehow we ended up being the last two vehicles to make it through the unexpectedly thorough yet extremely polite search.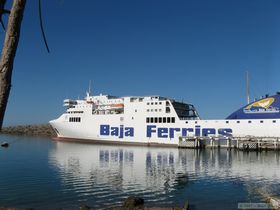 The inspectors thoroughly went through a number of bags and bins of gear, carefully repacking them the way they found them. Actually, in some cases, they repacked our gear better than we had in the first place. We joked that we should have had them inspect everything, so we could have been a lot better organized!
After we got through the checkpoint, we had to pay 30 pesos for some sort of pesticide to be sprayed on the underside of our vehicles. Then we were off.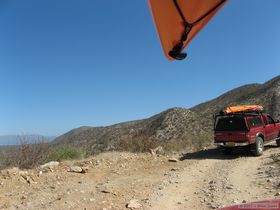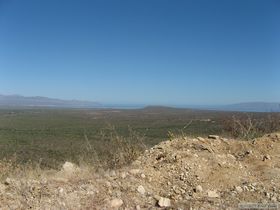 Despite our weariness, we decided to take the longer, scenic route down to Cabo Pulmo. Thanks to Leo and Karen, we used a by-pass around the town of La Paz, and soon found ourselves on the open road. Before long, we hit the dirt, aired our tires down for the rough road ahead, and made our way into the Sierra la Gata mountains, which separated us from the Sea of Cortez.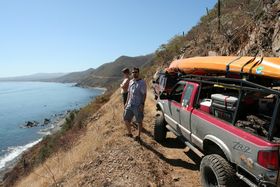 The road over the mountain was really nice, and soon we had wonderful views of the sea as well. The road then wandered along shore keeping us all entranced. Every now and again along the coast, we would see stingrays leap out of the water, flapping away before splashing back into the sea. We speculated that they were either hunting or trying to escape predators, probably the later. At any rate, it was definitely neat to watch them. About half way through the journey, Marisa switched over to Chuck's truck because mine was swaying a bit on the rough road.
After a while, we reached Los Barrilles, which we all agreed was a really pretty town. From there, we had a choice to either continue on dirt roads, or take a longer but faster paved route. We opted for the pavement, as were starting to run out of daylight, and I think Marisa was a little tired of getting jolted around.
The road turned to dirt again before Cabo Pulmo, and when we got there we stopped at a tiny snorkeling tour place to ask a few questions. The guy recommended the same beach that Leo and Karen had for camping, so we headed there. Unfortunately it was quite crowded, so we went to a second beach that the guy at Cabo Pulmo recommended.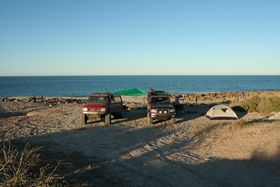 It was close to the main road, but it was a nice camp with good beach access, and since it wasn't all that large, we effectively took the whole useable area and would likely have it all to ourselves.
We threw a little bit of gear out of our trucks to get camp set up a little bit, and Marisa set her tent up. Marisa then assumed the role of the fire pit preparer, a duty that she continued to perform admirably throughout the trip. The water beckoned me though, and I soon found myself ignoring the rest of my camp set-up needs and reaching for the straps securing my kayak to the truck. Chuck saw me pulling my kayak down and asked if I was going to go out. "Yep," was the only word he needed to hear and he was soon taking his kayak down as well.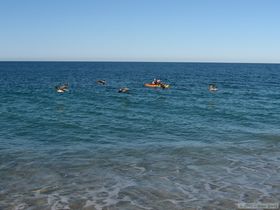 Marisa relaxed for a little while as Chuck and I went out to get some ocean under our kayaks. We couldn't wait. I launched first, and hadn't turned around yet, so didn't see Chuck get turned by a wave and flip his boat as he tried to launch. Marisa saw it and got a good laugh though. After dragging his yak back up the beach to empty the water out of it, he tried again. Once Chuck finally made it through the surf, we went out for a little while to test things out then came back to get Marisa, who was by that time, ready to test out the yak I borrowed from a friend for her to use.
I gave her a few pointers on launching the boat and we were off. Well, Marisa and I were off. Chuck dumped his boat while launching again. We kayaked around a little bit then headed back to camp, where Chucked rolled his boat a THIRD time coming in for a landing. It was looking to be a very entertaining trip.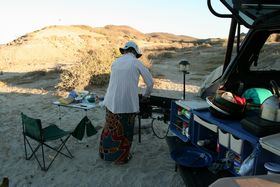 For dinner, Marisa made a really nice taco salad for all of us that night, and we spent he rest of the evening around the campfire. After dinner, while we were all sitting around camp, Chuck pulled out the satellite phone that we rented to see if anyone had left us any text messages. We rented the sat phone for emergency purposes, but we could receive text messages on it for free, so we all looked forward to checking it in the evening to see who had sent anything.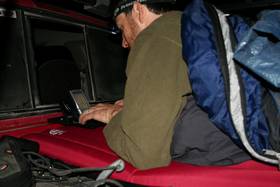 Generally, they were read aloud for everyone to hear, but a few started out in such a way that you just knew not to.
After going to bed, I pulled out my PDA and wireless keyboard to start writing my Baja journal. It's a heck of a lot easier and lighter than lugging around a laptop, and is far less conspicuous on top of being cheaper if lost or stolen. Chuck got a good laugh out of me getting all geeky though.
We had arrived!! After a great deal of planning, months of seemingly endless WAITING, and many hours of journeying, Chuck, Marisa and I wound down on our first night in Baja California Sur.

---
Day 1 | Day 2 | Day 3 | Day 4 | Day 5 | Day 6 | Day 7 | Day 8 | Day 9 | Day 10 | Day 11 | Day 12 | Day 13 | Day 14 | Day 15
---
| | |
| --- | --- |
| | |
| | |