Added 3 September 2006
---
Day 6 | Day 7 | Day 8 | Day 9
--------------------------------------------------------------
Atlantic Rainforest Intro | Pantanal Intro | Amazonia Intro
Brazil Intro
---
Day 7: Monday, June 12, 2006
We saw so many things today that much of this page will be pictures. Please be patient as the page loads all the thumbnails if you're on a dial-up connection. It should be worth your wait!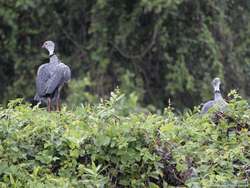 We started our day with a nice breakfast before returning to the river for our first day truly exploring the Pantanal.
We saw so many species that first day that I could scarcely write them down fast enough to keep up. We saw 48 species all before lunch! We watched a Snail Kite (Rostrhamus sociabilis) catch a large snail (thus earning it's name) and actually start eating it on the wing. What a cool sight that was!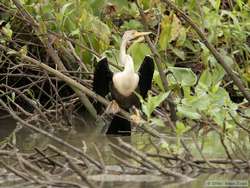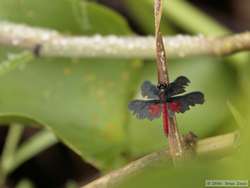 One of my favorites, and something that remained a fascination for me, were the anhingas (Anhinga anhinga). There may be many who think they are too plain or too common to put much stock in, but I enjoyed every sighting of them, especially when they were perched with their wings outspread to either warm up or dry off.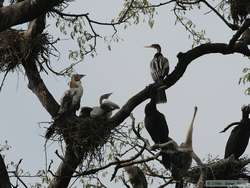 Anhingas don't have oil on their feathers so they need to spread their wings out to dry off after swimming to catch a fish or other prey. Other favorites included the roseate spoonbill and the amazon kingfisher. But it seemed that every time we looked in a new spot there was some new species to be found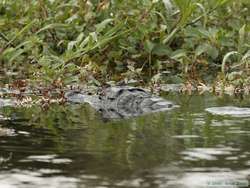 It was mid-morning before we saw our first pantanal caiman (Caiman yacare). We watched for quite a while, not realizing how many we would end up seeing in the Pantanal. While watching the caiman, which let us get much closer to it than I imagined it would, Chuck joked that he wanted to catch it.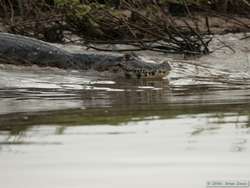 I told him to just jump on it! Heck, it was only about 2 meters long! Fabricio had a good laugh and said, "You want to catch one?" then said something in Portuguese to Indio, who laughed and nodded his head.
We continued on, seeing quite a few more caiman on an isolated little patch of sand surrounded by water. Indio then got the rope used to tie the boat off, made a lasso, and right before our eyes, caught a fairly mid-sized caiman! We were all kind of in shock that he'd actually gone and caught a caiman, as we were largely joking about wanting to catch one. Later, Fabricio said that he had never caught one before, and implied that we got to only because Chuck and Dave are wildlife biologists. Besides Indio, who brought in on board the boat, Chuck was the only one who really held the caiman, though we all touched it. It's skin was kind of rubbery, I thought. It was quite an experience!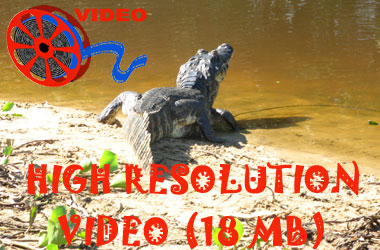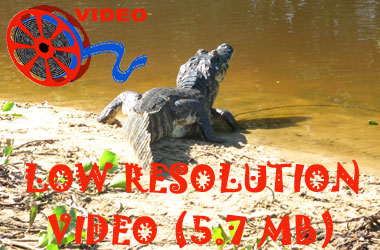 Later we found a very young caiman walking on a beach as we were looking at a troupial (Icterus icterus).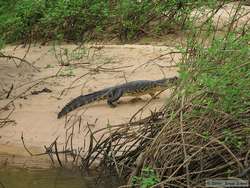 As we looked for the bird, the caiman hid in some bushes near the boat. After the bird flew off, Indio dove out of the boat like superman and caught the caiman with his bare hands!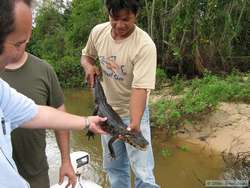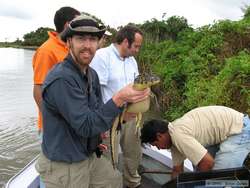 We were riding around with the real-world Crocodile Dundee or Steve Irwin (may he rest in peace) here! This one, all of us but Shannon held, which she regrets a little I think. At the time, she was afraid that she wouldn't be strong enough to hold it.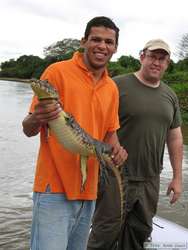 This little guy had a fat leech on it's belly, and Shan wanted to remove it. None of us thought we would be able to just pull it off, but she was insistent, so Indio got a pair of pliers out of a tool box and gave them to Shan.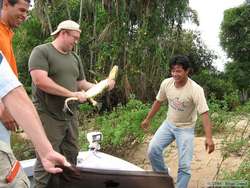 Shannon grabbed the leech with the pliers and surprisingly, was able to remove the leech from the caiman. Indio then pointed out that the caiman had a bunch of baby leeches in its mouth. Figuring We'd gone this far, I figured what the hell. Indio put a piece of metal in the caimans mouth so it couldn't bite, and I took the pliers from Shan and carefully tried to pluck the leeches out. Unfortunately, they were so small and slippery that I couldn't grab on to them with the blunt pliers. If I'd had needle nose pliers, I probably could have rid the caiman of the pests, but alas, we ended up releasing the caiman with only one less leech to contend with. In the picture with Fabricio holding the caiman, you can see where the leech that Shan pulled off was.
We cruised around in the boat all morning, sometimes quickly, sometimes slowly, and always with a sense of awe.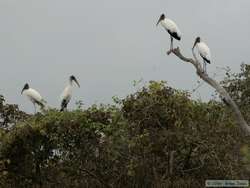 I became even more awestruck when I thought of just how extensive the Pantanal is, extending south all the way to Campo Grande. At 54,000 hectares, or 140,000 square miles, the Pantanal is the largest freshwater wetland in the world. One thing that surprised me was how swiftly the Rio Paraguai was flowing, or rather, that it was flowing at all. The north-south slope of the region (the river flows from north to south) is only about 1-2 cm per kilometer! That's about one inch per mile for you non-metric fluent folks. I suspect that the only reason it flows as it does is because there is always more water pushing the rest of the water down slope.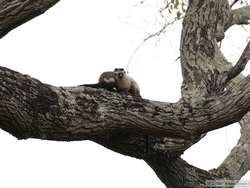 While cruising around, we found a bare-eared marmoset (Callithrix argentata), which was a rare and cool sight to see, even though we were quite some distance from it. I wish we could have gotten a closer look at them.

Eventually, the inevitable had to happen. Shan had to go to the bathroom. And there she was on an open boat full of guys. The only real option became finding a place to let her off the boat so she could do her business. And Shan being Shan, we couldn't even be anywhere in the vicinity, so we found as good a spot as we could, put a lifejacket on her in case she fell out of the boat getting on shore, dropped her off and drove some distance away. We could only guess when she might be done so we could return. When we got to within sight of the beach she started waving. At first I didn't know if it was a "don't come yet I'm not done" wave, or a "please get me now!" wave, but it ended up being the later.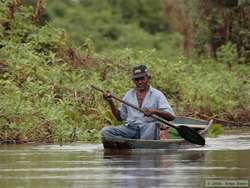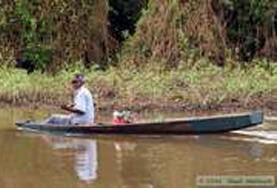 A couple of times, we passed a peixcadore (not sure how that's spelled), or a local fisherman. They would be paddling a small wooden boat. I never specifically looked, but I never noticed any fish in the boats, even though fish seemed to be abundant. Perhaps we saw them as they were paddling out to their preferred fishing locations. We passed by this guys home several times in our travels, and each time I saw it I had to smile. It looked like it might fall into the river at any second.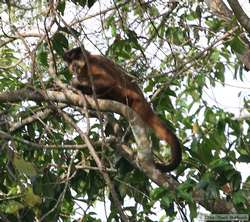 At some point during the morning, Shan's camcorder died, and when she swapped one of the spare batteries in it, that too was dead. When she looked for the third battery, it wasn't in the case. I thought that it must be back at the hotel, then soon had the realization of dread that I may have accidentally left it (via the charger) plugged in to the wall at the Italia Palace Hotel way back in Ipanema. If so, we'd be in a really bad position video-wise.

We returned to the hotel for lunch, and before we were within a quarter mile of the hotel, Johnny was out there to meet us. Before lunch I tore our baggage apart looking for the camcorder battery charger and third battery, but didn't find them. We had some time off in the afternoon, so I watched the US soccer team lose to the Czech Republic in the World Cup. It was an embarrassing loss surrounded by Brazilians. After the game, we hung around the hotel, and checked out some of the souvenirs they had in their small gift shop.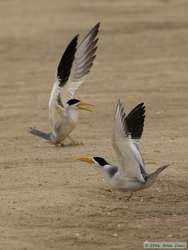 We ended up buying a pretty cool ceramic monkey head and paws for a mere R$30, or about US$15.
That evening, we went out again, adding 18 new species of bird to the days tally. One of the places we went to was a large sandy flat where thousands of large-billed terns (Phaetusa simplex) and black skimmers (Rynchops niger) were congregating. I got out of the boat to try to get some shots as well, resulting in one of my favorite shots from the trip. It was amazing to see the various interactions between the birds.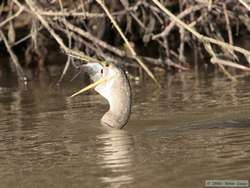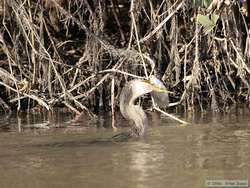 We wandered the waterways to see what we could find. We found much, and were never let down by what we found. At one point we saw an anhinga dive and come up with a good sized fish. We watched for several minutes as he tried to slide a large fish down a very skinny neck. He ended up coughing it back up and trying several different ways to get it down. It took him a while, but he eventually got it down.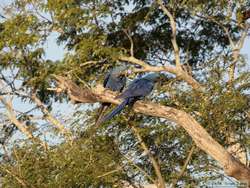 Our afternoon outing included a stop at a local ranch, where we got a great look at the hyacinth macaws (Anodorhynchus hyacinthinus) that frequent the area, as well as greater rheas (Rhea americana), the largest bird in South America. It is similar to an ostrich, though not as large. We also saw some beautiful parrots.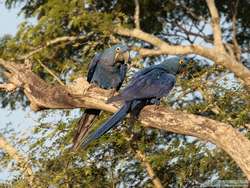 The hyacinth macaws were a phenomenal site. I was amazed at how large they are. Not including the tail (which is sizeable in and of itself), the hyacinth macaw can reach heights of 100cm (39 inches) tall, with a wingspan of more than 127 cm (more than 4 feet).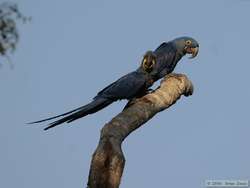 Once widely distributed throughout Brazil, Bolivia and Paraguay, the hyacinth macaw is now restricted to a few areas, and the wild population is estimated to be only 2500-5000 individuals. It is estimated that as many as 100,000 hyacinth macaws once flew across South America.
Once again, we find habitat destruction as a major cause of species decline, but the hyacinth macaw also has to deal with the pet trade. There is evidence that perhaps as many as 10,000 hyacinth macaws captured and taken out of the wild to be turned into pets during the 1980s alone. Selling for $8,000-10,000 a piece, it's not hard to understand why locals would resort to almost any means necessary to capture them, including cutting down the nest tree to get at young macaws.
Surprisingly, many of the birds never made it out of the country. About half of the birds caught in Brazil were purchased by other Brazilians. But smuggling hyacinth macaws and other tropical birds out of the tropics is still a huge problem.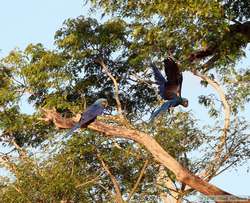 In the time period from the mid-80s to the mid-90s, an estimated 8.5 MILLION birds were smuggled into the United States alone, constituting about 85% of the total illegal, bird trade. Yet another threat comes in the form of a Trojan horse. Tourism, which is supposed to be a non-destructive way for the local people to make money from the environment around them, can be a destructive force as well.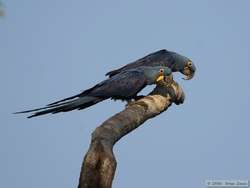 Some Indian tribes have started making arts and crafts out of the feathers of tropical birds, creating another extinction pressure on them.
Chuck found it very interesting that we just walked onto the property even though Fabricio said we really didn't have explicit permission to do so. Fabricio made it sound pretty ordinary to do so in the Pantanal. I suspect the area sees so few people that the locals aren't particularly concerned about trespassers.

The day ended with a gorgeous sunset, a nice finale to a phenomenal day. As a measure of the abundance and beauty of the Pantanal, I ended up taking over 600 pictures with my SLR alone. On the day, I had 61 new species of bird.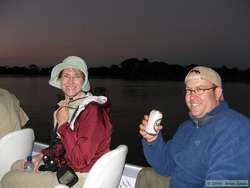 We returned home after the setting of the sun. The soft dusk allowing the experiences of the day soak in slowly. The day was filled with so many wonders that it was difficult to actually take it all in.
And then I realized we were only on our first day in the Pantanal! I wondered what more could possibly await us in the days to come . . .

NEXT STOP: DAY 8
---
Species list for the day (74 birds, 3 mammals, 3 reptiles, 1 amphibian):
Greater Rhea (Rhea americana)
Neotropic Cormorant (Phalacrocorax brasilianus)
Anhinga (Anhinga anhinga)
Southern Screamer (Chauna torquata)
Whistling Heron (Syrigma sibilatrix)
Snowy Egret (Egretta thula)
Cocoi Heron (Ardea cocoi)
Great Egret (Ardea alba)
Cattle Egret (Bubulcus ibis)
Striated Heron (Butorides striatus)
Black-crowned Night-Heron (Nycticorax nycticorax)
Rufescent Tiger-Heron (Tigrisoma lineatum)
Bare-faced Ibis (Phimosus infuscatus)
Buff-necked Ibis (Theristicus caudatus)
Roseate Spoonbill (Ajaia ajaja)
Wood Stork (Mycteria americana)
Jabiru (Jabiru mycteria)
Lesser Yellow-headed Vulture (Cathartes burrovianus)
Osprey (Pandion haliaetus)
M Snail Kite (Rostrhamus sociabilis)
Plumbeous Kite (Ictinia plumbea)
Black-collared Hawk (Busarellus nigricollis)
Roadside Hawk (Buteo magnirostris)
Crested Caracara (Polyborus plancus)
Bat Falcon (Falco rufigularis)
Chaco Chachalaca (Ortalis canicollis)
Red-throated Piping-Guan (Pipile cujubi)
Gray-necked Wood-Rail (Aramides cajanea)
Limpkin (Aramus guarauna)
Collared Plover (Charadrius collaris)
Pied Lapwing (Vanellus cayanus)
Southern Lapwing (Vanellus chilensis)
Large-billed Tern (Phaetusa simplex)
Yellow-billed Tern (Sterna superciliaris)
Black Skimmer (Rynchops niger)
Ruddy Ground-Dove (Columbina talpacoti)
Picui Ground-Dove (Columbina picui)
White-tipped Dove (Leptotila verreauxi brasiliensis)
Hyacinth Macaw (Anodorhynchus hyacinthinus)
Yellow-collared Macaw (Ara auricollis)
White-eyed Parakeet (Aratinga leucophthalmus)
Monk Parakeet (Myiopsitta monachus)
Yellow-chevroned Parakeet (Brotogeris chiriri)
Blue-fronted Parrot (Amazona aestiva)
Scaly-headed Parrot (Pionus maximiliani)
Orange-winged Parrot (Amazona amazonica)
Black-hooded Parakeet (Nandayus nenday)
Smooth-billed Ani (Crotophaga ani)
Burrowing Owl (Speotyto cunicularia)
Planalto Hermit (Phaethornis pretrei)
Ringed Kingfisher (Ceryle torquata)
Amazon Kingfisher (Chloroceryle amazona)
Great Rufous Woodcreeper (Xiphocolaptes major)
Yellow-chinned Spinetail (Certhiaxis cinnamomea)
Greater Thornbird (Phacellodomus ruber)
Rufous Cacholote (Pseudoseisura cristata)
Vermilion Flycatcher (Pyrocephalus rubinus)
Black-backed Water-Tyrant (Fluvicola albiventer)
Cattle Tyrant (Machetornis rixosus)
Tropical Kingbird (Tyrannus melancholicus)
Rusty-margined Flycatcher (Myiozetetes cayanensis)
Lesser Kiskadee (Philohydor lictor)
Black-capped Donacobius (Donacobius atricapillus)
Thrush-like Wren (Campylorhynchus turdinus hypostictus)
Sayaca Tanager (Thraupis sayaca)
Saffron Finch (Sicalis flaveola)
Yellow-billed Cardinal (Paroaria capitata)
Grayish Saltator (Saltator coerulescens)
Giant Cowbird (Scaphidura oryzivora)
Campo Oriole (Icterus jamacaii)
Yellow-rumped Cacique (Cacicus cela)
Solitary Cacique (Cacicus solitarius)
Chopi Blackbird (Gnorimopsar chopi)
Troupial (Icterus icterus)
bare-eared marmoset (Callithrix argentata)
Crested Capuchin (Cebus robustus )
Black-and-gold Howler (Alouatta caraya)
Pantanal Caiman (Caiman yacare)
Common Iguana (Iguana iguana )
Tegu spp.
Geckos Family (Gekkonidae )
---
---
Day 6 | Day 7 | Day 8 | Day 9
--------------------------------------------------------------
Atlantic Rainforest Intro | Pantanal Intro | Amazonia Intro
Brazil Intro
---
| | |
| --- | --- |
| | |
| | |