Added 1 June 2008
---
Saturday, 15 December 2007, Saguaro Lake, Arizona
(Hover over images for captions. Click images for larger versions.)
It's a tradition. Every year my friend Shannon (whom I've known since kindergarten) and Don (whom I've known since high school) and I get together around the holidays.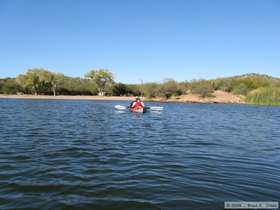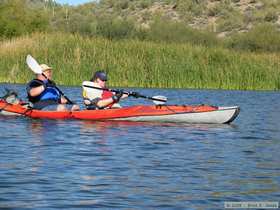 Normally we just hang out for a day and go goofy golfing and other urban activities. This year, we decided to also go kayaking. Saguaro Lake is the closest non-urban lake to Phoenix, and since I figured it would be pretty quiet right before Christmas, we decided to go there. My sister, brother-in-law and niece decided to join us for the maiden voyage of their new Necky Manitou II tandem kayak.
We got to Butcher Jones beach before two o'clock, but it took us a while to get everything organized and get to the water. We didn't get out on the water until around 2:30, so we didn't get to paddle around for long, but we all had a great time. Shannon actually expressed a great deal of concern before hitting the water, and even a little during the excursion though. He was rather concerned that he was going to end up at the bottom of the lake, I think. I put he and Don in my AdvancedElements Convertible tandem inflatable kayak because it is extremely stable and thus is good for beginners. Plus, since both are pretty big guys, it has a high enough weight capacity to handle them both. The specs from the manufacturer when I bought the boat said the kayak has a 600 pound capacity, though the weight limit label on the kayak itself says only 550. If the label on the kayak is right, they actually slightly exceeded the weight limit. I didn't let Shannon know that though.
I was confident that the yak could easily accommodate both of them. Once I got them in the yak and on the water, I have to admit that my confidence was slightly shaken, as the yak didn't have a whole lot of freeboard in the center.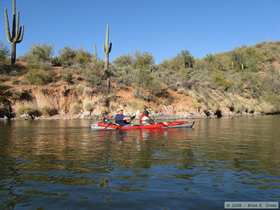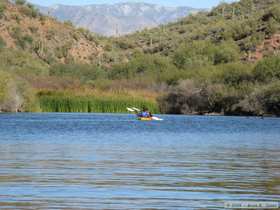 I shifted Shannon forward a bit, which helped enough that I was certain they wouldn't have any problems. Shannon was still somewhat nervous, but I think he ended up enjoying it in a Shannon Laine kind of way (meaning not outwardly and not by actually admitting to such a dastardly deed). Don had an absolute blast and would gladly go again. If I ever get both of them out on the water again though, which I certainly hope to do, I'll set it up better and slide Shannon further forward and Don further back.
It was an absolutely gorgeous day, sunny, in the mid-60s, with a very slight breeze. I had hoped for few boats on this notoriously busy lake, but even my hopes were surpassed. The lake was practically devoid of all boating activity. What few power boaters we did encounter were generally courteous and slowed down at least a little bit as they passed us. None hit us with huge wakes. We stayed loosely together in the three kayaks, with me generally sticking close to Don and Shannon but occasionally near Tam, Phil and India. I largely stuck with Don and Shannon since they were newbies, and to make sure they were doing fine, plus we were having a great conversation. We talked a lot of politics and about our beliefs. With Tam and Phil, the conversations tended towards the avian, as we saw and identified (or tried to identify) the numerous birds we saw.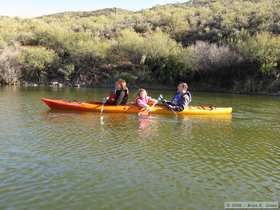 We paddled a short distance up the narrows of the lake before we decided we should turn around. On the way back, we bumped into Rick, a kayaking buddy of mine, who I knew had also planned a kayaking trip on Saguaro for the day. They had gotten a much earlier start and most of his group was further up the canyon than where we went. We talked for a little while as my companions paddled on, then Rick left to reunite with his group and I went the other way to catch up with mine. As we were finishing loading our kayaks and gear up, Rick's group returned and Harry, another kayaking buddy, came over to chat for a bit. After we got the boats loaded up and the gear in the car, we headed back into town for dinner, then went to Shannon's house.
I decided Saguaro was worth a return visit, but I wouldn't want to be on the water there during the high season or on a busy weekend.

---
| | |
| --- | --- |
| | |
| | |