Added 18 December 2008
---
Pre-trip and Day 1 | Day 2 | Day 3 | Day 4 | Day 5 and Post-trip
---
Pre-trip: Wednesday, 5 November 2008, Tucson, Arizona
(Hover over images for captions. Click images for larger versions.)
Even before I bought my first kayak, I wanted to paddle on Lake Powell, a place that I have an enduring love/hate relationship with. Beauty displaced by beauty, like a good and noble king displaced by a dashing usurper. I wanted to see if I could get a sense of what the lake entombed and weigh the loss against the gain.
Twice before I had planned this trip. The first time I had to cancel it due to a death in the family, the second because all but one person backed out at the last minute, and even he was only going out of a sense of commitment not to back out, so I let him off the hook. This time, I was determined. Only my own death or dismemberment would prevent me from going this time. Not even being in the middle of fixing up the repossessed home my wife and I just bought would keep me away (much to Shannon's chagrin.)
I got four other people to sign on for the 5 day adventure on Lake Powell. Chuck, a welcome friend on any trip; Marisa, friend and co-worker; Mindy, friend and co-worker, and Dennis, Mindy's friend and former co-worker. An excellent group to share time with, to be sure.
My final day to prepare for the Lake Powell kayaking trip was rather chaotic. Work was bad enough, but I had to pick up the kayak I was borrowing from Jerry for Mindy after work and take it to Marisa's so she could haul it up to Powell. The only problem was that I didn't have the foresight to grab my roof rack from the house, so I had to go all the way out to the house, then come back to Jerry's, then go to Marisa's, where I realized that my kayak saddles wouldn't fit on Marisa's Thule rack and since I didn't have straps, I had to go to my truck at the condo to grab some ratchet straps. Then back to Marisa's to strap the kayak down, then back to the condo to eat dinner and grab my food and some gear for the trip. I didn't get back to the house to start packing for the trip until around nine o'clock.
All I had done up to that point was gather all my gear into one area in the garage. And I still had to finish preparing the meal I had offered to make for the group our first night on the lake. I knew then that it would be a late night. First I had to take care of my gear. I threw it together as fast as I could, but had a hard time finding a few things I really needed in the myriad of unpacked boxes that I had just gotten out of storage to the new house. It was well after midnight by the time I started in on preparing the group meal. After taking care of some other things, I didn't go to sleep until 3:00 a.m.
Before nodding off I pushed my alarm back to 7:20 a.m., and thus went the first night's stay at the new house.
Thursday, 6 November 2008: The Drive
I was up and scrambling to finish getting ready for the trip before Mindy and Dennis showed up at eight o'clock. They showed up right on time and I wasn't quite ready, but close enough I suppose. I hate not being ready when I'm supposed to be though. When I saw the kayak that Dennis had, I was a little worried about how it would do on a 5 day yakpacking trip. It was a pretty small boat for a multi-day trip, and it didn't look like a speed demon on the water. Not that my boat is an expedition boat either, but his was decidedly smaller than mine. But I figured I could accommodate some gear on my boat if need be. As it turns out, I needn't have worried.
We loaded up Dennis' Suburban and hung out for a few minutes waiting for Marisa, who was driving separately but realized on her way out of town that she forgot to bring a bungee cord to keep her kayak rudder from catching the wind. By around 8:45 a.m., we were on the road, heading north. We made it to Flagstaff about four hours later and stopped at Stromboli's for lunch to let Marisa catch up, as she stopped in Camp Verde to give her dogs to her mom to take care of while we were gone. Marisa arrived in town just a little before we were finished with lunch, so after gassing up, we continued north. Marisa was listening to a book on tape, so I stayed with Dennis and Mindy for a while. We left Flagstaff at around 1:45 p.m. and got to Kayenta by around 5 o'clock. We stopped there briefly, then I drove Marisa's Jeep and Mindy took over for Dennis for the rest of the trip. We reached the Moki Dugway after dark, which in a way is too bad because it's impressive to drive up, but it's actually more ominous approaching it at night, as it looks like you're just driving to the base of a cliff with no possible way to go up it, which you know the road somehow does. So I suppose it makes quite an impression at night too.
We stopped to camp at around seven o'clock, approximately 15 miles away from Hall's Crossing Marina, our put-in location. It was rather cold and windy, and we all huddled between the two vehicles chatting for a while, using the vehicles as wind breaks. I think in part because of the cold, people turned in early. Marisa, Mindy and Dennis decided to sleep in the vehicles, but I didn't have that luxury, so I just threw my sleeping bag on the ground between the two trucks, using dry bags to block the wind blowing under Dennis' Suburban. Despite the temperature getting down to the mid-20's, I stayed relatively comfortable, even despite the wind.
That first night definitely worried Mindy. If every night were like that, she was going to have a cold trip.
Friday, 7 November 2008: On the water
Everyone was up pretty early, and I think we were on the road to Hall's Crossing before eight o'clock. When we got to Hall's Crossing Marina there was hardly any activity. We walked down the dock to the ranger station and the marina store, but found nothing open except the bathrooms and not a soul around.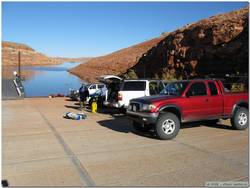 Eventually someone from the boat rental place showed up and we chatted with him for a while. I took the opportunity to test the water temperature, and at around 62 degrees, it wasn't too bad. Then we went back to dry land to wait for Chuck. When I got a hold of him, he was about 20 minutes away, so we headed back to the entrance to pay the entrance fee since Marisa's parks pass had expired. On the way there, we saw Chuck, who said the pay station was broken and that the store clerk just said to go ahead and go on in without paying.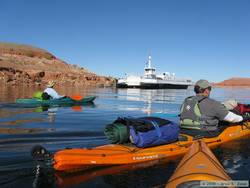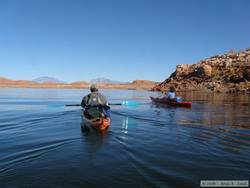 Chuck had spoken with one of the park rangers before the trip and had obtained special permission for us to park at and launch from the ferry boat ramp, cutting a couple of miles (and many potential large boat encounters) out of our trip northward. We drove to the ferry ramp and started the scramble of trying to get five days worth of gear into (or onto) our kayaks. Because of my kayak and my compact backpacking gear, I was able to get all my gear inside my yak and still have room for five fire logs. Mindy and Marisa fit most of their gear in, but the size of Dennis' kayak made it impossible, and he had a lot of gear on his decks. Chuck, despite having the same boat I do, won the Aquatic Sherpa Award though. When he got on the water, his deck combing was barely above the waterline. He was a bit worried about becoming a U-boat captain instead of a kayaker.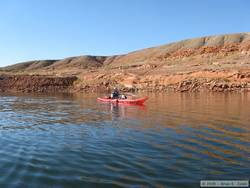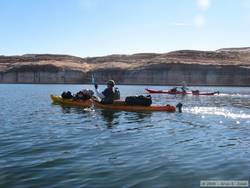 We were on the water at around 10:30, but got immediately held up when Dennis wondered whether he had locked the doors of his Suburban and went back to check. It's a good thing he did, because not only were both his Suburban and Marisa's Jeep unlocked, one of the Jeep's doors was open! Yikes! Talk about being excited to get on the water!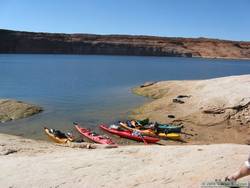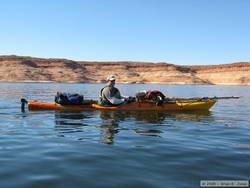 After that small delay, we made decent progress up the lake and stopped at mile marker 102 for lunch shortly after noon. Chuck, worried that we might not find enough wood for a campfire that night, decided to take a log he found at our lunch spot with him. He struggled with it a bit, but eventually got the log strapped on to the bow of his kayak. It gave his kayak a quasi-Viking look. Other jokes were offered up in response to his new passenger as well. We were soon back on the water, heading north, though I did take a couple of detours into some small side canyons along the way.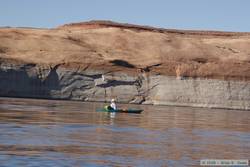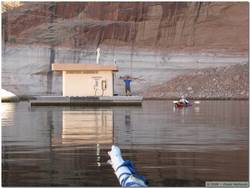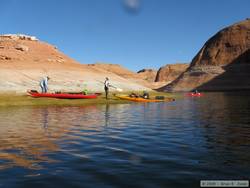 We made it to Forgotten Canyon before three o'clock, and after a brief stop at the floating restroom to see if it's possible to get in and out of a kayak there (it is, but Marisa was the only one besides me to try), we paddled a short distance away to camp. I felt fortunate that we found a place to camp so close to the mouth of the canyon., as that fit in well with my plans. Besides, after paddling 9 miles, I think most of the group was getting pretty tired.
By the end of the day Chuck and I marveled at Dennis. Here he was, a near 60 year old guy in a recreational boat that couldn't have been more than 9 feet long, with gear stacked up all over it, and he more than held his own against the rest of us in much sleeker kayaks. I know there were days that were long for everyone, and there were times at least when I know his shoulders wer hurting, but he kept right on paddling. Dennis is de man! I felt bad the whole trip though, because if I'd known he had such a small kayak, I would have borrowed a larger boat for him to use. As trip leader, I should have been better aware of everyone's gear.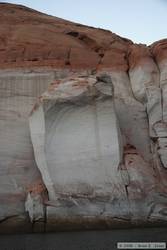 After I set my camp up, which was easy since I decided not to set my tent up, it was just a little after four o'clock, so I decided I wanted to try to paddle the 1.5 miles to Defiance House ruin for photographs in the good evening light. No one else felt up for joining me, so I went solo. As soon as I hit the water, I knew that the high canyon walls were going to cause a problem for me getting to the cliff dwelling before it was too dark to take pictures, so I started paddling like a mad man, maintaining a 5-plus mph pace. About halfway there, my right shoulder, which I had mysteriously injured weeks ago and which continued to cause me grief, decided it didn't like the pace I was setting and I knew that I wouldn't be able to hold 5 mph the rest of the way, shooting down my chance of making it to the ruins before sundown.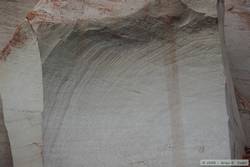 I then backed off, paddled a short ways up the north fork of Forgotten Canyon, and just enjoyed a wonderfully quiet evening. I also pulled out my tin whistle and played for a little while. When I got back to camp, I prepared a meal for the group, consisting of my acclaimed "baja burrito" (spinach, seasoned seitan, tomato, peppers, pepperjack cheese on red chile tortillas) and fried potato slices.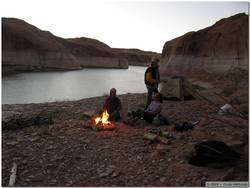 The meal was a hit, and while I was initially concerned about whether I had brought enough, it turned out that I had food to spare. After dinner we sat around the fire and celebrated Obama's victory in the presidential race and reveled in our being where we were.
It was a good first day on Powell.
---
Pre-trip and Day 1 | Day 2 | Day 3 | Day 4 | Day 5 and Post-trip
---
| | |
| --- | --- |
| | |
| | |