Added 1 June 2008
---
Saturday, 30 June 2007, Canyon Lake, Arizona
(Hover over images for captions. Click images for larger versions.)
I was up before six in order to get my kayak loaded up and make it to Rick by 7 o'clock. I "met" Rick when he left his card on the windshield of my truck one day, after he saw the kayak saddles on my truck rack. We chatted a little bit by e-mail for a while, with him keeping me posted on kayaking trips he was doing. Today, I was finally able to join him, and meet him in person for the first time.
I made it to Rick's a little early, and we loaded my kayak onto his trailer. Once we got my gear loaded, we picked up Harry and his kayak. Harry lived most of his life as many things, from wilderness guide, to river guide, to photographer, to who knows what else. Like Rick, he's an extremely nice guy.
Harry's Loon went beside my Tsunami, and we soon discovered that the two of them put too much weight behind the axle of the trailer, which started fish-tailing above 35 miles per hour. A quick stop at an empty parking lot to shift gear weight around solved that problem, and we were on the road.
Rick and Harry have known each other for a while and have somewhat of a history together which I don't share, but I was content to listen to them mostly, throwing in a few words when appropriate. Both have lived an interesting life and have entertaining stories to tell.
We arrived at the Dash-In market in Apache Junction a little after nine o'clock, slightly ahead of schedule, and waited for Michelle and her brother Michael. We got our Tonto Pass for parking at the lake, and not long after, Michelle and Michael showed up, also ahead of schedule. I was impressed at everyone's punctuality. These are people who really want to get out on the water! Michelle and Michael were also great folks, so I expected to have a great day on the water.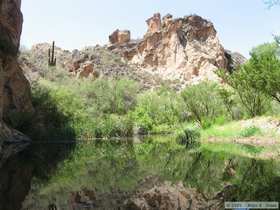 A short drive got us to the lake, and we got two of the few remaining parking spots at the picnic area. There were more people than I expected, but fewer boats and jet skis on the water than I expected. We got the boats unloaded and started gearing up. I was taken aback when I saw how much stuff everyone else was loading into, and onto, their kayaks. I'm used to being the most over-prepared person in most situations, but with this group I was the equivalent of a naked man crossing the Sahara on foot with no water. I thought that was pretty cool.
Our preparations for paddling were interrupted when a Forest Service ranger told us we couldn't park the trailer at that particular parking lot, even though it and the car fit in the parking space. We ended up slightly disassembling the trailer and throwing it on top of Rick's car, much to the amusement of the ranger and several onlookers.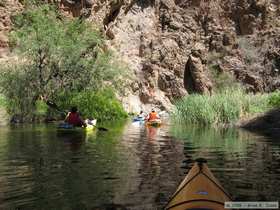 Soon afterwards, we were on the water, heading towards a cove on the western end of the lake where First Water Creek enters the lake. This is the one place on the lake that I'd been to before. There were a few power boats lazily floating in the main part of the cove, but none as we got further in. It was quite peaceful. Rick then decided to lead us over to the mouth of the former Salt River Canyon (which gives Canyon lake it's name) to check out a cave that it's possible to kayak into at the right water level.
In order to get there we had to cross the main body of the lake, which meant sharing space with speed boats. We made it across without incident and kayaked up the canyon a little ways to the cave, dealing with some moderately heavy boat wakes on the way.
The water level was too high to get in to the cave, so we paddled east along the north shore of the main body of the lake before crossing the lake near the marina to explore another, larger cove where Barge Creek enters the lake.
Past the marina, the cove was closed to all boats except, presumably, the human-powered variety. Whether due to prevailing winds, the marina, or the easy road access to the cove, I know not, but the cove was a harbor to tons of trash. We picked up large quantities, but our kayaks simply couldn't hold it all. Near the beginning of the cove, we stopped at a picnic area for lunch, which is when I found out what most of everyone's gear was. They had enough food for a multi-day trip and freely offered up to the rest of the group.
On the way out I once again ignored the idiot kids and paddled right on through. We unloaded the trash into a dumpster, then watched a small group of different drunk idiot kids swim across the cove to do some cliff diving. One kid free climbed a 40 foot cliff and jumped into water that his friends said was too shallow while his girlfriend was crying on the opposite shore, to which Rick added a statement to the effect of "Things like that make me realize how dumb women are" (for liking stupid men) and that guys like that would make him want to become a lesbian if he were a woman. After laughing at the comment, I just continued to wonder how the population of the earth keeps growing with so many dangerously stupid people in it.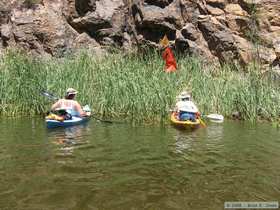 We stopped to watch the cliff-diving idiot, just to make sure we wouldn't have to rescue him. Once he jumped and survived, we paddled on, going further east into another cove even more beautiful than the others. The cove where Tortilla Creek enters the lake was also more secluded than the others. It alone was worth the trip. At the end of the cove, largely hidden by reeds, was a small cave that Michael and I went a short distance back in to, despite the wasps buzzing around inside it. It may have gone back further than we went, but I wasn't well attired for belly-crawl caving and didn't push the cave.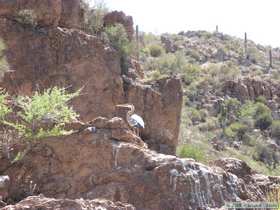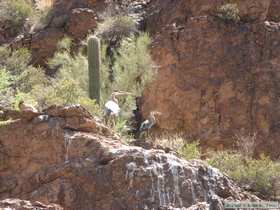 By this time it was late afternoon, so after leaving the cove we pushed the two miles back to the cars against a headwind. Near to our final destination, I discovered that the slight scoop of my ONNO paddle makes for an effective volume enhancer during a water fight. Getting wet felt pretty good in the afternoon sun. I was feeling a little too dry after the water fight though, so after beaching the kayak I took a little swim to cool off even more. We loaded the kayaks, said good-bye to Michelle and Michael, then headed home, with a quick stop to get some ice cream.

---
| | |
| --- | --- |
| | |
| | |