Mt. Ajo Backpacking Trip 2003
Added 15 January 2004
---
Some time around the turn of the millenium, the urge to return to backpacking took seed in my mind. The urge grew and grew until suddenly, I had to act. In March of 2003, I was pleasantly surprised when my work gave me a holiday for Caesar Chavez' birthday.
I took this as my own personal call to action. I called my friend Jeff, who also had dreams of returning to backpacking, and we made our plans. Our first trip would be to the top of Mount Ajo, in Organ Pipe National Monument, in the southwestern portion of Arizona. For most, it is a long, out-and-back day hike, but we decided to turn it into a loop and make it a backpacking trip. The original plan was to make the trip a 3-dayer, but it ended up loping a day off due to circumstances described below.
Jeff and I left Tucson at around 7 am on the morning of Friday the 21st and headed west towards Organ Pipe National Monument. The wildflowers along Highway 86 were magnificent! The whole desert was awash in color. The only thing more abundant than the flowers were the police officers! They were swarming. We also saw a red-tailed hawk nesting near the top of a huge saguaro cactus. Well, either that or it had just eaten something that was nesting near the top of the saguaro cactus.
We arrived at the Organ Pipe National Monument visitors center at around 10:15am and had a nice chat with one of the volunteers there. (Note: Anyone camping overnight in Organ Pipe National Monument must check in at the visitors center so they know where you are going to be.) I think her name was Nancy Seeker. She found some great info on the hike we were about to embark on, and made photocopies of the information for us. I was very impressed! We were told that it is usually a 10 hour hike out and back to the peak (it is usually done, if at all, as a day hike).
We got so busy talking that it was around 11:15 by the time we finally left the visitors center and crossed the highway to the unpaved but maintained Ajo Mountain Loop Road, so that put us in what we believed to be a less then ideal situation. Ten hours out and back would mean, we guessed, about 6 hours going up and 4 hours coming down. And those times would be without heavy packs! We're both fast walkers, but were fairly convinced that we would not be able to make the peak before dark that day.
Even so, the weekend was about serenity and we were so relaxed and looking forward to doing whatever the heck we wanted to do that we took our time and had a nice leisurely drive along the dirt road to the trailhead, with very little traffic on a Friday. About two-thirds of the way to the trailhead we came across a beautiful gila monster! Of course we had to stop and take pictures. At one point, he was charging right for me as I was crouched down taking pictures. As he kept coming towards me I was thinking to myself, "Anytime you want to stop or turn little guy! Anytime! Like NOW!" It was a game of "chicken" that he won. When he got to within a couple of feet of me, I got up from my photographers crouch and jumped out of the way.
| | |
| --- | --- |
| | |
| | |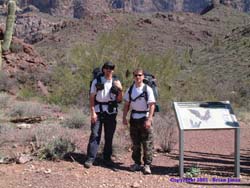 I would have loved to have moved back and watched him with binos all day long, but we had a peak to climb, so we moved on. It didn't take us long to get our act together once we got to the trailhead (elevation circa 2300 feet), and we shouldered our loads at about a quarter to noon. Another park volunteer was leading a tour as we left, so we had him take a picture of us at the trailhead. He had hiked to the peak the previous day and said it was gorgeous. He also made a comment that I can't remember about our late start.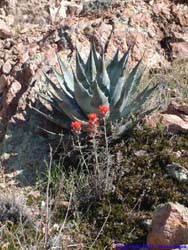 Even though it was a slightly longer route, we started out by hiking on the Estes Valley trail, figuring we would see more wildflowers down in the valley. We weren't disappointed. Even though we didn't hold out much hope in making it to the peak that night, we didn't see any point in missing the beauty of the place just to make good time, so we stopped fairly frequently to enjoy the wildflowers. Even so, we did actually make pretty good time, and the 55 pound pack on my back didn't seem nearly as burdensome as when I had hefted it back home. It's a wonder what a change in setting can do!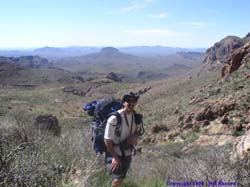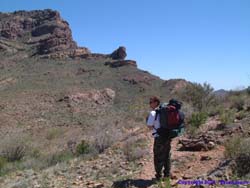 After about a mile and a half the trail started to climb. And climb it did! Estes Valley trail linked up with Bull Pasture Trail and we took that trail to Bull pasture, elevation circa 3400 feet. This marked the end of the maintained, established trail. Following the description in the papers that Nancy had given us at the visitor's center, we took a small trail down from Bull Pasture to a pretty spring, where we had a late, leisurely lunch.
From this point, the trail continued in a southward direction. This didn't seem right since we wanted to go east, so we started moving across country east from the spring. The terrain was rocky, but fairly open, so cross-country hiking wasn't too much of a challenge. Eventually, we happened upon an unmaintained trail, which we gladly followed, as the terrain had gotten much steeper at that point.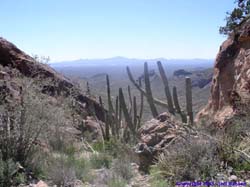 early in the climb, we encountered and chatted briefly with a couple of guys who were hiking down from the top, who said that the trail we were on went all the way to the top. We also found out that if we had stayed on the trail that went south from the spring, we could have saved ourselves the cross-country portion trek. So for anyone wishing to do this trip, please stay on the trail. The desert we hiked across was largely rock and thus we did little or no real damage, many people doing this could potentially have adverse effects. If we had known the trail heading south from the spring was the trail to the top, we certainly would have taken it.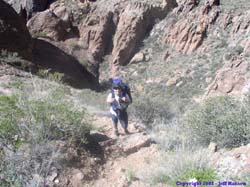 The trail continued up a bruising climb, but except for picture stops and brief stops to merely admire the beauty around us, we continued grinding our way up. The photo at left gives a little indication of just how steep the trail was. It was taken by Jeff, who was about 30 horizontal feet further up the trail than me . . . and just about 30 vertical feet as well! It felt like we were climbing a very long ladder.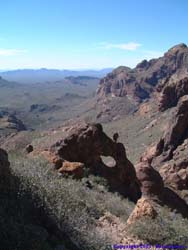 By the time we got to the ridge line, our legs were in fairly bad shape. My quads threatened a revolt every now and again, and I could tell that I was on the down-side of my power curve. At about this time, I started watching my GPS unit more, wanting to know how much further we had to hike and how many more vertical feet we had to climb to get to the peak. It was around this time that we realized that, barring anything unforeseen, we would make it to the top well before dark.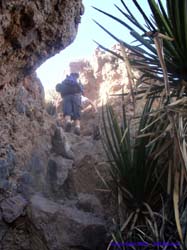 The last 200-300 vertical feet were the worst. Much of that final distance was hand and foot climbing and our legs had turned to mush by the time we reached the top at 4812 feet. We were well and truly spent. But we made it from the truck to the peak in only 4 1/2 hours! And that includes the time we spent at lunch! We were very happy with how quickly we had made it to the top without even rushing.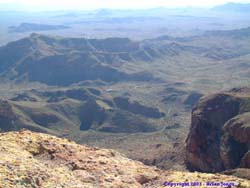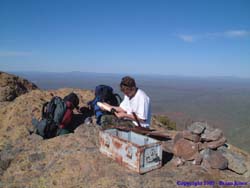 The view from the top was awesome, and we enjoyed a well deserved break while we wrote little notes in the register at the peak. Then we set out in search of a place near the top to set up camp for the night. There really isn't a place at the very top to camp, so we ended up hiking back down about 200 (vertical) feet to a place that held more promise. Even down off of the peak it took us about 45 minutes of wandering around before we found a place that was even remotely flat and smooth (and we weren't even being all that picky). The best ground was in a saddle, but we figured the wind would be hideous. Camping near the top is definitely scarce! We ended up very near the edge of a high (about 400 foot) cliff overlooking the Tohono O'Odham Reservation on the East side of the Ajo Mountains to camp. It was awesome! It was so quiet and serene. . . AND ROCKY!!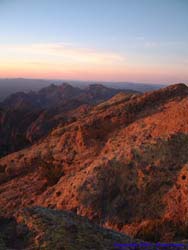 Even at this "best" spot we still had to clear away quite a few rocks in order to set the tent up. Once we got camp set up pretty well, we headed back up to the peak to watch the sunset. We were so beat we could barely make it back to the top, even without our packs on! It was windy and quite chilly, but we braved it out, and were treated to a very nice sunset. As soon as the sun disappeared, we headed back down to camp, where I found a great rock lounge chair to sit in and watch the landscape below fade to black.

As the night took over from the day, porch lights came on in the scattered Tohono O'Odham villages below, looking every bit like camp fires with their orange glow. It felt like I had traveled back in time.
Then the bats and stars came out in unison. I haven't seen that many stars in a long time. And then there was the near absolute silence. It was amazingly peaceful.
The only thing that disturbed the peace were my occasional grunts of pain as a muscle (or ten) cramped up. After some time of sitting in total darkness on the edge of the mountain, alternately enjoying the experience or writing a bit of poetry, I joined Jeff in the tent, where he was enjoying a good book. I continued working on the poem I had started, and before long, we were both ready to go to sleep. I woke up a few times during the night, but slept very soundly despite fears of what shape I would wake up in come morning. (The dominant theory going through my mind was that I would wake in a shape roughly equivalent to a pretzel.)
To my extreme surprise, I woke up Saturday morning feeling amazingly good. We were both a tiny bit stiff, but for the most part felt energetic and in good form. And it was gorgeous day!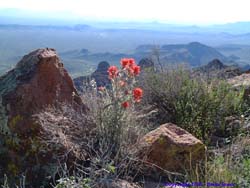 Our original plan for Saturday had been to stay on the ridgeline past Arch Canyon over to Alamo Canyon and drop back down to the valley floor via Alamo. When we hiked north up the ridgeline on Saturday morning (with surprisingly fresh, sturdy legs underneath me), we confirmed our suspicion that crossing over to Alamo Canyon was going to be extremely difficult due to some cliff faces and extremely steep terrain, so we opted to drop down the mountain via Arch Canyon instead. From the moment we left the camp site, until we eventually reached the bottom of the mountain, we were traveling off-trail into territory known to us only by the maps and aerial photographs I brought with me. We would definitely need and use them over the course of the day.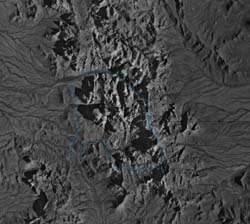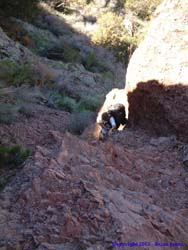 We knew from the maps that the hike wasn't going to be easy, but we had no idea it was going to be BRUTAL! We started our descent right below a large arch right at the very top of the very appropriately named Arch Canyon. The first few hundred meters of our journey into Arch Canyon were extremely steep and ledgy. We had to do some short free climbs down some small ledges and cliffs. Not a particularly fun time with a heavy pack on. That first section proved to be a cakewalk compared to what was ahead of us though.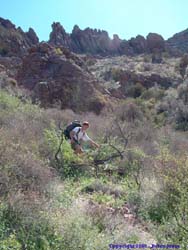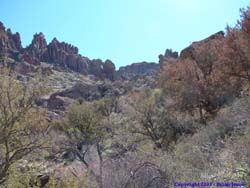 Most of the rest of our day was spent pushing through major thickets of catclaw, black locust, live oak, and other nasty shrubs over very steep, loose terrain. The terrain was so nasty that there weren't even any bleedin' game trails! The region's animals are definitely smarter than we were.
The talus slopes were so unstable that even large rocks couldn't be trusted not to move underfoot. The brush was so thick that it became difficult to see each other if we were more than 10 meters apart. There were times when the only way to get through the thick brush was to simply put your head down and ram through it head first, even though that meant getting scratched up and getting all kinds of nasty spiked things down your back. We often had to remove our packs to remove sticks, stickers and stickery leaves from our shirts and from in between our back and our packs. The pictures at right are actually some of the flatter, more "open" areas in the canyon.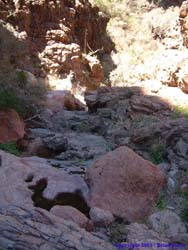 As we got lower down the mountain, the canyon narrowed and we had to navigate down or around "waterfalls". There were about a half a dozen times we encountered waterfalls that required us to climb the canyon walls to go around them or simply down-climb them. At one point, with Jeff in the lead, he started to move across a ledge that dropped down the side of a 10 meter waterfall. (If you open the larger picture and look carefully, you can see Jeff climbing down a ledge on the left side of the waterfall.) He got out there and realized that to continue would require a jump to another ledge. Instead of backing up, he took his pack off and tossed it to the other ledge, from which it fell down into the water below. Fortunately the water wasn't very deep. I decided to climb higher and avoid those ledges altogether.

Past the waterfalls, we ended up with yet another type of obstacle. Thickets with huge boulder fields in them. Great, so then we had to climb over boulders while still tearing ourselves away from all of the plants that were trying to devour us. The hike was beginning to seem like a never ending process!

As a side note, I was rather surprised at how much water there was in Arch Canyon. It was never a mighty flowing river, or even a stream, but there were quite a few seeps and small springs.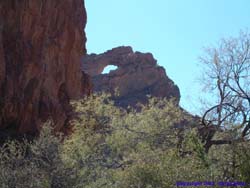 We were cautiously overjoyed when we first spied the arch at the mouth of Arch Canyon, as it meant we were getting fairly close to the Ajo Mountain Loop Road, which would lead us back to the truck.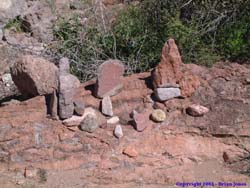 We took it as a good omen when we found this little shrine someone had made. We each added our own rock to the shrine, as testament that we had survived the Arch Canyon Gauntlet. In retrospect, the shrine was probably a warning sign for people going up the canyon to GO NO FURTHER!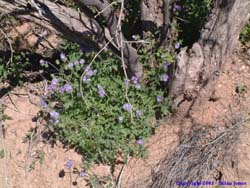 Once we got parallel to the arch, the terrain flatened out a great deal, and the wash opened up to the point where it was fairly easy to walk in, despite the rocky terrain. Though truth to tell, we were so exhausted by this point that walking at all was a tiny bit difficult. We still had enough wits about us to stop and smell the flowers though.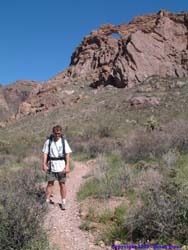 Mercifully, we eventually found the trail that goes from the road to the main arch at the mouth of the canyon, and hiked down the delightfully unhindered route to the road. We then had to hike the road to get to the truck. Despite our exhaustion, we were so happy to be on relatively even, open ground that we were practically at a jog.
Despite the massive difficulties we had in navigating down Arch Canyon, I was and am completely glad we were there. It was a beautiful area, and we got to see things that very few people ever have. Even so, I do have to admit we were overjoyed when we got near the mouth of Arch Canyon and finally found the short, maintained trail to the large arch at the mouth of the canyon.
Now, all this said, our original plan had been to camp in Arch Canyon somewhere instead of hiking all the way down to the bottom in one day, but there wasn't a single area that was flat enough or smooth enough to lay a sleeping bag down in, let alone pitch a tent in! By the time we got to an area where there were places to camp, we were within a half mile of Ajo Mountain Loop Road, and we couldn't camp there because of park rules. So we just kept on hiking on until we got back to Jeff's truck.
It was best that we did anyway, as we had consumed two days of water in one day hiking down Arch Canyon, twice the amount we had consumed going up Mount Ajo on Friday. That's how brutal the hike down was. It took us over 6 hours to make it down the mountain that it took us 4 1/2 hours to climb up, and most of that 6 hours was just the time it took us to hike the 2-3 miles of Arch Canyon. We would have been pretty dry if we'd waited until Sunday to hike out.
On our way back home, we stopped in at the Visitors Center to let them know we were leaving a day early. As soon as we walked in the door we were greeted by the guy who took our picture at the trailhead. He was happy to see us and told us to wait a second while he got his wife, who was Nancy, the lady who helped us the day before! The husband (who's name I can't remember) said Nancy was worrying like a mother about us that night. It was very endearing. They are retirees who spend their summers volunteering for the Park Service. Sounds awesome to me! At any rate, they were an extremely nice couple and we chatted for about 45 minutes before hitting the road again.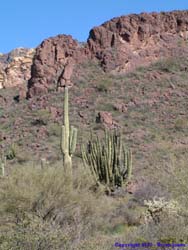 Despite heading home a day early, both Jeff and I felt fully satisfied in what we had accomplished. And we were completely satiated on the beauty of Organ Pipe National Monument.

---
---
---
| | |
| --- | --- |
| | |
| | |