Kofa Mountains Backpacking Trip, February 2006: Days 2 and 3
Added 2 April 2006
---
Day 1 | Days 2 and 3
---

Kofa NWR lesson #1: Yuma weather cannot be completely trusted for Kofa NWR. Case in point, FACT ONE: Yuma forecast was for lows in the upper 40's. FACT TWO: I froze in my 30 degree sleeping bag.
I don't know when exactly I woke up cold, but it was early. At first I just thought I needed to change my layering, but that didn't work. So I tossed and turned, hoping to eventually fall back asleep. When that didn't happen, I started cursing my brand new sleeping bag, feeling horribly disappointed that it was doing such a poor job at keeping me warm.
After many hours of this, I started thinking of the complaint letter I would write, and remembered that my GPS unit had a weather feature so I could tell the temperature and use facts to improve the validity of my complaint. Imagine my surprise then, when my GPS said the temperature was only 31 degrees inside my tent!
This realization didn't make me any warmer, but at least it assuaged my dissatisfaction, and made me realize that I was under prepared for the weather. Not dangerously under prepared, but unprepared nonetheless. So I had little to do but suffer through the night waiting for the morning sun. To make matters worse, something I had eaten hadn't agreed with me, and my stomach felt bad most of the night.
Sometime before dawn, I couldn't stand it any longer and I got up to 'commune with nature'. And oh what a communion we had!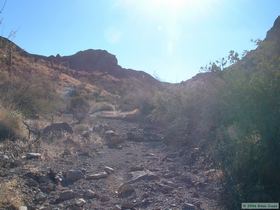 But at least it made me realize that I would be more comfortable moving around outside than trying to sleep in my tent, so I decided not to go back to bed. Steve was up when I got back to camp, having slept soundly (and warmly) for about 11 hours. That must have been nice! I checked the temperature again right before dawn, and it was 28 degrees about 20 degrees colder than the forecast for Yuma.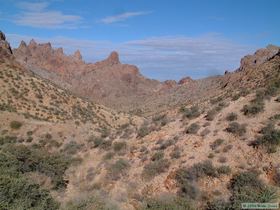 After the sun came up, the temperature rose quickly, so that by the time we started hiking at 9:00 a.m., I was wearing a T-shirt. Our route took us all the way up Tunnel Springs Canyon, which got progressively harder to navigate up as the wash got narrower and the Catclaw Acacia got more plentiful. Near the top of the watershed though, we found an excellent game trail which took us easily to the top of the saddle and then most of the way down to De la Osa Well, our first stop of the day. The game trail was in better condition than any number of human maintained trails that I've hiked on! Steve and I joked about how good those Bighorn trail crews were.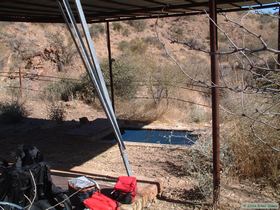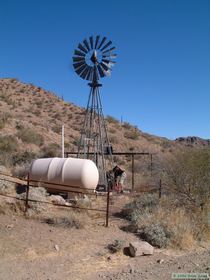 When we got to De La Osa Well, I had enough water to get me through the rest of the trip, but Steve needed a little more to be safe, so we stopped so he could filter some water out of the wildlife drink tank. Meanwhile, I started looking at the maps to chart a route from there over to Kofa Queen Canyon, our planned destination for the night.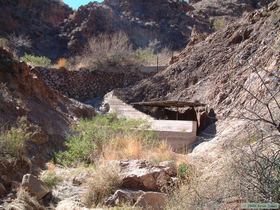 It was then that I realized that I hadn't put enough planning into that short segment of the trip. All routes looked circuitous and rough. I knew we would be able to get from point A to point B, but I worried about the cost. Since all we could really do was hike and hunt for a way through, that's what we did.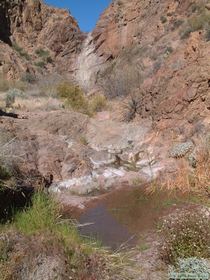 We hiked up canyon a short distance past a natural tank that the BLM had covered and improved slightly to provide a better water source for wildlife. Continuing past the tank a short distance, we found other totally unimproved pools in the wash bed that had appreciable amounts of water! Given the tiny amount of rain that this area gets in general, and has gotten recently in particular, we were both amazed to find so much water.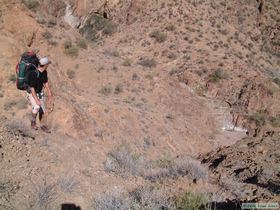 But where our amazement began, our route up the wash ended. Just up the wash was an 80 foot dry waterfall (background of picture at left). Looking around, there was no easy way out of the canyon we were in. We eyed some of the most likely candidates, picked one, and climbed. Fortunately, we were climbing on bedrock instead of soil, but still, in some places we were in mildly precarious conditions where a fall would not likely be a minor experience. In the far right of the picture at right, you can see the small pool of water shown in the picture at left in.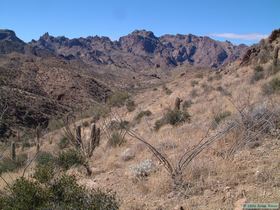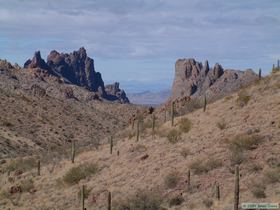 We made it out of the canyon without incident, but our difficulties weren't over. We had other obstacles to tackle, and one by one, we did. Up and down loose steep slopes, around sheer drops, and most notably, down a 15 foot dryfall that required hand over foot down-climbing. Yet each obstacle, each step, revealed and deepend our appreciation of the amazing scenery that surrounded us.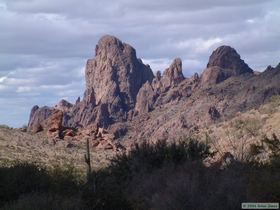 We eventually made it to Tower Canyon, where we had a nice lunch and discussed our options. The original plan was to go down Kofa Queen Canyon, one more canyon to the south of Tower Canyon. Tower Canyon looked absolutely gorgeous though. In the end, we opted to stick to the original plan, which would put us closer to the truck for the hike out on day three. So after lunch we hopped over one more ridge to Kofa Queen Canyon. Kofa Queen Canyon contains an old mining road that is cherry-stemmed into the wilderness area. The road is right down in the wash, which is where we would have been hiking anyway. A short distance down the canyon, we got to the confluence where Ten Ewe Canyon enters Kofa Queen Canyon.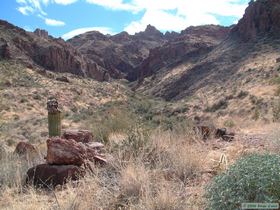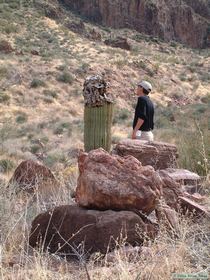 Here we dropped our packs and did a short hike up to the confluence of Ten Ewe and Indian Canyons. Both looked very enticing, but neither one of us had the energy to try to tackle either one. Instead, feeling like old men at that point, we did what stereotypical old men do: sit around and reminisce about the good ol' days (like Friday) when we were still young.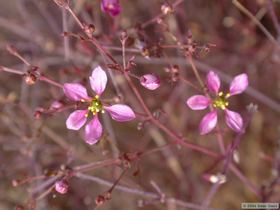 After sitting on some rocks jawing for awhile, we headed back to our packs, with a beautiful Phainopepla leading us down the canyon with its simple, sweet song. I had originally planned on camping for the night at the confluence, but Steve wanted to get a little closer to the truck before calling it a day, so we hefted or packs once more to put a couple more miles in.

We were halted early by a camp site that was so neat that we couldn't pass it up. A massive boulder had been carved y the elements to resemble a human skull. The mouth of the skull was large enough to fit both of our tents, and the ground inside was free of rocks and almost perfectly flat. The skull would provide shelter from the wind and a bit of warmth, so it was an easy decision to stay. We had put in eight miles for the day, leaving us only 4-5 miles for Monday, so we felt pretty comfortable about being able to get Steve to the airport on time.
While I got organized, Steve started collecting some firewood, which I then helped out with. With that task done, Steve read while I took my camera and tripod and started looking for that next Arizona Highways magazine cover photo (ha!). We had found for ourselves yet another amazing place to stay, and I was entranced by the figuratively warm winter light on the ryolitic bedrock of the Kofa Mountains.
The warmth was definitely only in my soul, however, for the February wind was biting as I variously laid or crouched in uncomfortable and/or precarious positions waiting for the most magical rays to light my photographs. Even so, I moved more often than a pro likely would. Having only a short time to spend, I wanted to capture as much of the feel of the place as possible. Below are my feeble attempts at photographic greatness. Muench, Ladd, Sieve and Maack have nothing to fear.

Looking up Kofa Queen Canyon.






Looking up Kofa Queen Canyon.






I'm not sure if they are authentic or not,
but I found these pictographs near the
window at the base of the spire near camp.

Looking through the window at
the base of the spire near camp.


Looking through the window at
the base of the spire near camp.


Looking through the window at
the base of the spire near camp.

A coyote found this interesting
depression in the spire window
to be a good place to defecate.


Warm light on a
weathered rock face.


Warm light on a weathered rock face.

Many different erosional features make
the Kofas a wealth of texture and color.


A barrel cactus basking
in the evening sun.


This spire stands guard
over a young barrel cactus.


Grassy gold graces the Kofas where
miners once mined for the mineral kind.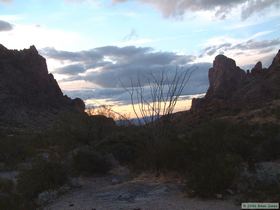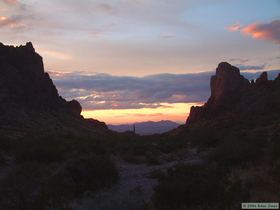 Before the sun dipped below the horizon, my batteries were nearly dead. Since I wanted to capture the sunset that evening, I quit earlier than I would have liked. I returned to camp to find Steve getting the fire going while eating dinner. I started my dinner as well, interrupting it occasionally to take a picture of the sunset. The sunset was a perfect match for the Kofas, quiet and unassuming yet glorious in the details and seemingly boundless in time.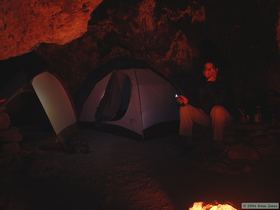 When the sunset finally faded, a myriad of stars shone down upon the canyon. At one point I looked up to see Orion perfectly framed by the steep canyon walls. Kofa Queen's regality doesn't fade one bit in the relative darkness of the desert night.
DAY 3
We were up early Monday morning to make sure we could get Steve to the airport on time for his flight, and we were hiking by around seven o'clock. We moved swiftly down canyon and across the western flank of the Kofas back to my truck, hiking over five miles by 8:45 a.m. As I approached my truck, a couple of people hiking down the road veered off to inspect my truck.
They left before I got there, but returned when they saw me show up. They were a couple from Northern California on a three week road trip in their biodiesel Volkswagen Jetta. They had seen my truck parked there for several days and wanted to see if they could verify their belief that we were backpacking (and not lost in the desert). We had a nice chat before parting ways, during which I discovered they had clearance envy of my truck, and I had fuel economy envy.
The rest of the drive home was rather uneventful, and we even made it back to Tucson in time for Steve to take a shower before going to the airport.

---
Day 1 | Days 2 and 3
---
| | |
| --- | --- |
| | |
| | |