Added 7 May 2010
---
Day 1 | Day 2 | Day 3
---
Saturday, February 14, 2010, Harcuvar Mountains Wilderness, Arizona
I didn't get up until 8:15 this morning, as I was nice and comfortable. I got woken up quite a bit during the night because the wind shifted soon after I went to bed and came up from the south, so we were no longer protected from it. Still, I felt very rested. We started hiking by 9:45 and soon encountered a peak that we either had to traverse across the base of then ascend on a gentle slope, or simply attack it and go straight up a broken down portion of the cliff that otherwise blocked ascent from the north.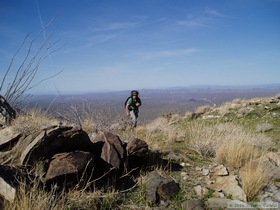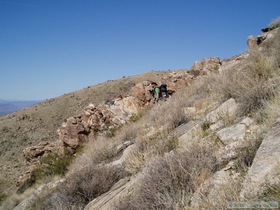 We opted for the straight assault up the north flank. The brush and boulder choked slope was a tough obstacle and we had only gone 1.3 miles by 11:30, when we stopped for lunch. We ate lunch at peak, and while there I was finally able to identify a couple of species of birds that had eluded me up to that point due to their shy nature.
Before starting to hike again, I brought up the potential need to think about bail out options. Our progress was much slower than expected, and there was a very real likelihood that we wouldn't be able to make our planned camp for the night. We then looked at the map again and realized that we'd have a tough saddle to cross right at the end of the day. Though Jerry didn't express it, I suspect we were both thinking of pulling the loop up short and utilizing one of the early out options I had mapped out while planning the trip for just such an occasion. We then hiked west along the spine of the mountain range.
While hiking along this stretch of the ridge we saw our first mammalian wildlife, consisting of a couple of rock squirrels and a rabbit. Like the birds and lizards, they were extremely skittish and didn't let us get a good look at them. We'd been seeing deer tracks almost the entire trip, but we started seeing many more as we moved west. We wondered if we would actually get to see any deer though. They seemed to hide very well, despite the great visibility we had.
We hiked a fairly easy 2 miles or so along the ridge before taking another little break. I had to admit that I was pretty much moving on pure momentum, just determined to put one foot in front of the other. I didn't feel particularly energetic or strong. Jerry seemed to be in a similar state, so we decided to initiate our exit strategy, which meant that even my least ambitious route was too ambitious. After looking at the map and the terrain below us, we decided to drop off from where we were. It didn't look easy, but the other options looked more dicey.
The descent was steep, often hindered by large rock outcrops and boulder piles, and the further we descended the more our options narrowed. We eventually found ourselves in the boulder choked wash that we had been trying to avoid. I was really happy though, when we found water in the wash where the bedrock was less fractured, thus limiting its ability to seek shelter underground.
The wash then became an extremely steep, slick chute that would be impossible to descend safely. We'd have to leave the wash and start a long traverse. But our feet and legs needed a break, so we both pulled our boots and socks off, grabbed a snack, and enjoyed a time just soaking in the sun and enjoying the beautiful spot we'd found. It was a good rest for our battered feet. I could have stayed there for a long time just enjoying the place, but we did need to find someplace to sleep that night, so we eventually moved on.
On the previous day, one of us found an unusual little piece of plastic and picked it up to haul out. It was very nearly the only trash or sign of humans we saw on the entire trip. EXCEPT, that on the way down the canyon today I found another little piece of plastic that was obviously of the same origin as the piece we found the previous day. Just two little pieces of plastic, no larger than the tips of our pinky fingers, but we were kind of blown away by them. What were the odds, in such a pristine place, that we would find two related pieces of trash miles apart while wandering a completely randomly through a landscape with no trails at all? And the plastic wasn't something that would blow in the wind, either. I still can't figure it out.
The terrain got more difficult for a while, then eased up a bit as we started looking for a place to camp. We added a chipmunk to our wildlife list, then, finally, saw five deer. We stopped and let them move up a wash before we continued down the mountain. We eventually found a really nice flat spot overlooking the canyon to stay for the night. In 7 hours we'd traveled only 4.5 miles, though admittedly, we took quite a few breaks. We'd set ourselves up for a fairly easy final day.
Despite the lack of clouds, there was a beautiful sunset that turned a dark crimson color and lasted for much longer than either of us expected.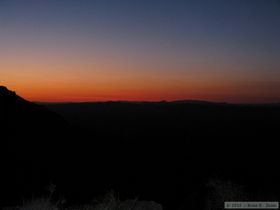 As darkness came and I was getting ready to lay down to watch the stars come out, I noticed a flash out of the corner of my eye. Looking off to the northwest, I saw it again. Fireworks. It seemed so out of place that I don't think Jerry believed me when I first told him I saw fireworks. They were way off in the distance, so the largest display was no larger than a pinky fingernail, but it was interesting to see nonetheless. I figured the fireworks must be coming from Lake Havasu, some 60-75 miles away. What amazed both of us was that the fireworks continued for about an hour. Someone had a lot of money to spend! When I looked at a map later, indeed, Lake Havasu was the only town in that direction, and it was 75 miles away from where we were that night.
It was warmer than the previous night, and I actually struggled a bit to keep from getting too hot in my sleeping bag. I got up in the middle of the night once in part to cool myself down.
---
Day 1 | Day 2 | Day 3
---
| | |
| --- | --- |
| | |
| | |