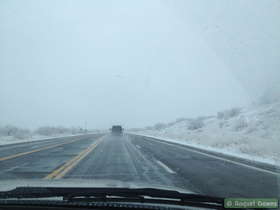 I woke to some fairly nasty weather (for southern Arizona), knowing that I would be out in it all day. I drove to Jerry and Andrea's early this morning where we met Shaun and Raquel to hike the first half of AZT Passage 14. As we approached Oracle it started to snow, quite heavily at times.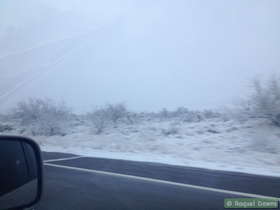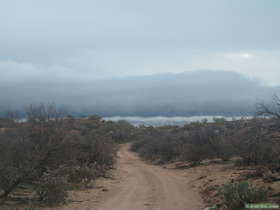 We had planned to do Passage 14 as two day trips, using Gap Gage Road to access the middle of the passage for the vehcile shuttle. The road is passable by high clearance vehicle. Being at a lower elevation, there was no snow on Gap Gage Road, but there certainly was snow on Tiger Mine Road leading to the newly constructed trailhead for Passage 14.
Knowing that part of this passage was constructed fairly recently and might not be well traveled, we wondered if we might have a hard time staying on trail in the snow, but it ended up not being an issue.
It was around nine o'clock by the time we got the shuttle set up and started hiking. The clouds had largely cleared off so it was bright, but also windy as heck, with 2-3 inches of snow on the ground. We were in for a fairly unique perspective on Passage 14.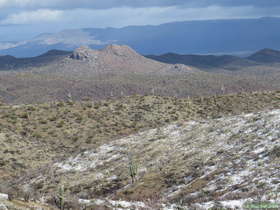 The first half of Passage 14 is rolling but generally descends over a dozen or so miles to Camp Grant Wash. The rolling nature made staying comfortable a bit of a challenge. It was easy to get hot and sweaty on the climbs, but we shed layers at our own peril, because as soon as the trail leveled out the biting wind quickly made us want to put back on whatever we took off.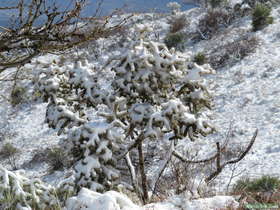 I think we all eventually settled in for a single warm under layer and a good windproof shell that we could ventilate a bit.
The snow slowed us down a little, as much because we were admiring it as because it made the trail a bit slippery. There's something magical about a snow covered desert landscape. I would have liked to have stopped a lot more to take pictures and just enjoy the scenery, but we had to cover a lot of ground so I forced myself to keep moving most of the time.
As we dropped down in elevation the snow became thinner and eventually mostly disappeared. When we stopped for lunch, however, a little more weather rolled over us and we got snowed on. With no shelter to speak of anywhere nearby, we just hunkered down under our hoods and ate.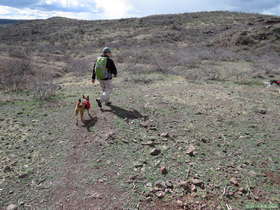 The sun came out again shortly after we started hiking again. Knowing we were a little behind schedule, Jerry and I tried to push the pace a bit. C'mon, less gawking, people! Nevermind that I had been doing more gawking than anyone. I was seeing a surprising number and variety of birds, especially considering the weather. I tried to take a bunch of mini-stops to try to identify them if someone wasn't right on my heals, but in the end, the identity of many of the birds I saw was the result of conjecture on my part.
We made it back to the shuttle vehicle by late afternoon as the sun approached the horizon. We paused for our usual post passage drinks and snacks, but the increasingly chill wind eventually blew us into the truck and on our way home.