Added 11 December 2016
---
Day 1 | Day 2
---
Saturday, 16 May 2015, Arizona Trail Passages 11 and 12 (partial): Santa Catalina Mountains - Gordon Hirabayashi TH to Marshall Gulch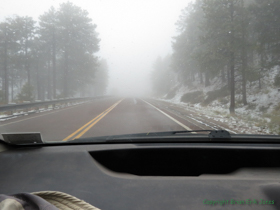 I was out the door pretty early this morning to head up Mount Lemmon to set up a shuttle for the latest installment of the Arizona Trail. Jerry, Andrea (Cheetah) and I would be doing Passage 11 and the first half of Passage 12. We did this seemingly strange arrangement because Passage 11 ends in the middle of nowhere and the the most logical place to access Passage 12 is in the middle of it, at Summerhaven. Why the passages are arranged the way they are, only the shadow knows. I drove up alone and met Jerry and Cheetah at Marshall Gulch trailhead. On the way up, despite being mid-May, it was actually snowing, though it wasn't cold enough to stick. I was there a little early, so I braved the cold and did a little birding while I waited.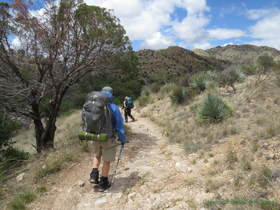 When the Curless' arrived, I put all my stuff in their truck and we drove back down the mountain to the Gordon Hirabayashi trailhead.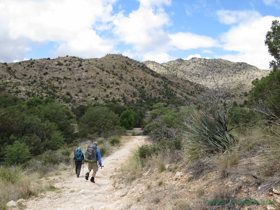 The three of us then headed out to climb back up the mountain. Since the shuttle took a long time to set up, we didn't start hiking until late morning. The passage goes through a Bighorn Sheep recovery area, so Jerry and Cheetah had to leave their dogs at home on this one. Passage 11 starts out fairly mildly, with some ups and downs. It eventually descends into Sycamore Canyon, which had some really nice riparian habitat. We stopped there for lunch so got to enjoy the area but I would have loved to have stopped longer to do some birding.
We had to keep moving though, and soon hit the trail again. The trail then ascended to a saddle before dropping into the upper Sabino Creek watershed. From the saddle we could see up the west fork of Sabino Creek.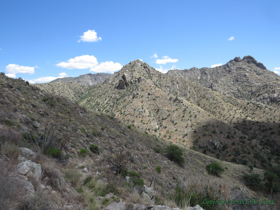 At a drainage down below we (ok, well, mainly me, really) stopped paying proper attention to where we were going, and we ended up starting up the Palisade Trail.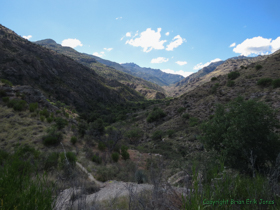 We probably went 3/4 of a mile and climbed about a thousand feet before we got suspicious enough to check the map. It was a moment worthy of a stern head shake and a disappointing glance, if not a smack on the forehead.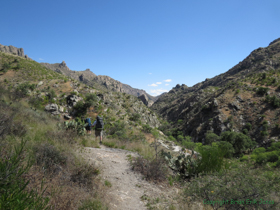 Wasted time and wasted energy, but some great views! Once back on track, we crossed over upper Sabino Creek and hiked up the west fork of Sabino Creek to Hutch's Pool. Hutch's Pool is a pretty popular spot and it was there that we saw the most people, by far, other than the end at Marshall Gulch Trailhead.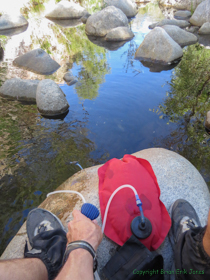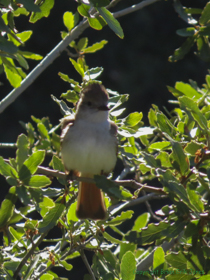 It seemed that most of the folks there were backpacking/camping rather than day hiking. There was some interest in camping there for the night, but the good spots were already taken, and it seemed to me that some of the folks there were going to be annoying to my curmudgeonly self, so we rested there for a while but decided to move further on up the trail to find a place to camp.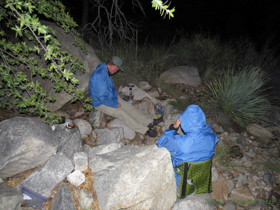 We filtered some water at Hutch's Pool then headed onward and upward. As the mountain eclipsed the sun and the evening set in Cheetah was feeling pretty spent (thanks to the extra miles and elevation I tacked on earlier) and was ready to find camp, but the terrain was pretty steep and it took a while for us to find something where we could find flat enough ground to camp at. It was a borderline site, but we made it work well enough for our needs. Looking ahead there was some nice looking riparian vegetation that gave me a sneaking suspicion that a primo location lay a short distance ahead, but I didn't push for it. I found a flat spot amongst the bedrock that was large enough forme to throw my sleeping bag out on and then we used the ample boulders in camp for our kitchen.


We hiked about 8.5 miles today (10 miles with my error-induced detour).
---
Day 1 | Day 2
---
| | |
| --- | --- |
| | |
| | |