Added 18 December 2011
---
Saturday, 29 October 2011
---
Arizona Trail Passage 7: Las Cienegas - Lakes Road to Gabe Zimmerman Trailhead
I had to wake up ridiculously early this morning in order to be at Jerry and Andrea's at 5:30 to tackle another segment of the Arizona Trail. We did Passage 7, which is just south of the first passage we did.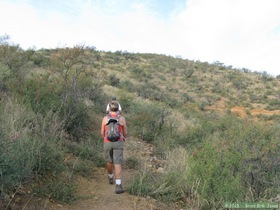 Because we couldn't drive all the way to the trailhead, we ended up hiking about 14 miles today. Jerry, lead by their dog Bessie, kept us going at a quick pace. We started hiking at around 7:30 and were finished by noon.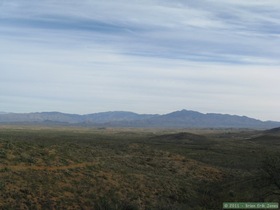 It's easy terrain to hike through, rolling hills with a smooth trail. Passage 7 has great views of the Rincon Mountains, but there isn't much of note along this segment. It's just a vry nice hike through very typical, beautiful desert scrub. Just about all we saw in the way of wildlife were birds and a jackrabbit.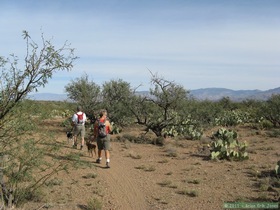 There were tons of sparrows flitting about, some of which were white-crowned sparrows. I know there were other species in the mix, but I didn't want to stop for as long as it would have taken me to identify the other species. I'm not adept at sparrow identification so it can take me a while to be confident I've made the correct call. We did spook up a great blue heron at the stock pond Twin Tanks at the beginning of the passage, and I was able to positively identify a Brewer's sparrow at the end of the hike near the parking lot for the trailhead at the end of the passage.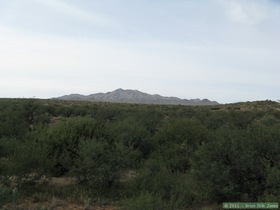 Passage 7 crosses several roads, Sahuarita Road, Highway 83, and Interstate 10. The trail goes over the first and under the later two. At Highway 83, the underpass is through a set of box culverts which Jerry had me photograph because he doesn't like the typical ADOT wing wall design and he wanted photos of an example of such so that he could come up with something better. (At this point I made fun of him for being a typical geeky engineer, and for always thinking of work.)
The route under I-10, however, is more like a long tunnel, with a skylight in the middle, and it actually gets pretty dark in the middle of the two sections. We couldn't see very well and would sometimes got surprised when we hit a patch of sand that had accumulated in the tunnel. It was interesting to walk through, and much safer (though I suppose less interesting) than trying to get across I-10 at road level. An old video game called Frogger comes to mind.
The trail finishes off by running along the ridge overlooking Davidson Canyon. At the trailhead, Jerry and I got in my car and went back to the beginning of the hike to retrieve his truck, then we came back for Andrea and the dogs. After chatting a while, they returned home and I hiked down to the creek and had lunch. Since it was still early and we hadn't had lunch, I decided to stick around and head down to Cienega Creek for lunch and hopefully do a little birding, or at least some general relaxing. There wasn't much flow in the creek and there wasn't a lot of bird life either, so except for the occasional train rumbling past, it was extremely quiet. After an hour or so I hiked back to my car and headed home.
Passage 7 was a great segment to do as a day hike, and would be a great segment to do on a mountain bike.
---
| | |
| --- | --- |
| | |
| | |