Added 5 December 2016
---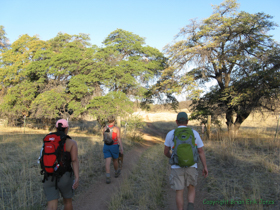 Saturday, 21 April 2012, Arizona Trail Passage 6: Las Colinas - Oak Tree Canyon to Lakes Road, Arizona
I had to get up way too early today. I met Jerry, Cheetah, Shaun and Raquel at the Curless' place at five o'clock this morning to hike Passage 6 of the Arizona Trail. We moved the time up because the weather forecast for today was that it was going to be quite warm.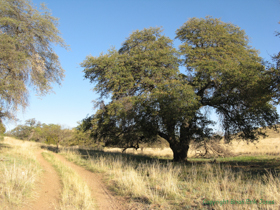 We set up the shuttle and were hiking by 6:30 a.m. We had a half mile hike up a road to get to the trailhead and AZT proper. It was a beautiful morning and there were quite a few birds around. After the last passage, I decided to spend some time focusing on birds this time out so when the trail got birdy, I fell to the back of the pack. I spent the early part of the hike yo-yoing along. I'd see a bird and stop, then jog to catch up with the group and repeat. The birds stayed quite active even into the afternoon, which rather surprised me considering how warm it was.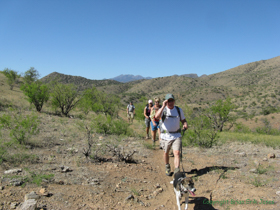 It got warm quickly in the morning, which didn't bode well for the rest of the trip, but strangely it felt cooler later in the day, presumably because a breeze picked up. The dogs were struggling in the heat a bit though, and keeping them well hydrated slowed us down a bit.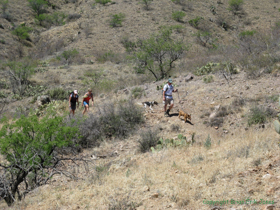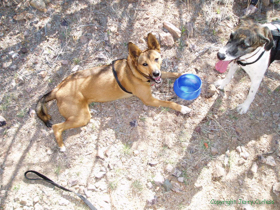 Around mid-way, Jerry had me take the lead to give the dogs a rabbit to chase. At times I got a bit too far ahead of the group so I would slow down and do some birding to let them catch up.
Part of the trail went through the densest collection of ocotillo that I have ever seen. Few, if any, were leafed out, but they all had their brilliant red flowers out on display. It was a beautiful stretch of trail to walk through. Passage 6 as a whole was very nice, as a matter of fact. The segment doesn't offer any features that are spectacular, but mile after mile it has a subtle beauty that is both interesting and inviting.
After we finished the trail segment, we had to hike about a mile down the road to get to Jerry's truck, which was parked near the highway because my Prius couldn't get any further than that for the shuttle. In all, we hiked about 14 miles today. The temperature got up into the upper 90s. We got back to Jerry's truck at around 1:30 or so, and had our traditional post-hike libations and relaxation session until around 3:00. In the shade and out of reach of the searing properties of the sun it wasn't unbearably hot for hanging out. By the time I got home I didn't have time to do much more than shower, eat, and prepare for another early start tomorrow to do my invasive plant removal volunteer day at Saguaro National Park. A whole weekend of hiking . . . nice!
---
| | |
| --- | --- |
| | |
| | |