Added 4 December 2016
---
Saturday, 17 March 2012, Arizona Trail Passage 5: Santa Rita Mountains - Gardner Canyon Road to Oak Tree Canyon, Arizona
I met Jerry, Andrea, Raquel and Shaun at six o'clock this morning to do Passage 5 of the Arizona Trail. I reached a milestone this morning when Bessie (one of Jerry and Andrea's dogs) actually let me pet her at their house. Normally she'll let me pet her when were out on the trail, but remains very elusive and shy and won't let me touch her when she's at home. I guess I'm finally part of the family now.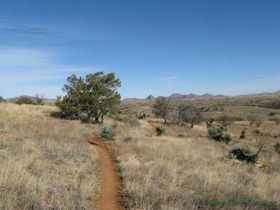 We caravanned down to Passage 5, set up the shuttle and were on the trail just before eight o'clock. I found myself at one end of Bessie's leash at the start of the hike so I was out front for the first part of the day. Bessie is definitely the pace setter of the group. There were a fair number of birds out this morning, but I didn't stop to identify them. I did keep wondering what I was seeing and hearing though and the not knowing was driving me a bit nuts.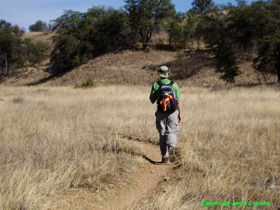 Jerry took Bessie after awhile and I dropped to the back of the pack so I could do some bird watching, though I ended up doing very little of that because Shaun and I struck up a conversation. The terrain was fairly moderate and the trail was in good condition overall and we hiked at a moderate pace. Not that I was in any particular hurry. It's a very pretty passage and I thoroughly enjoyed it.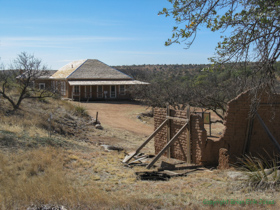 A little more than three miles in we came to Kentucky Camp, which is a neat little place to take a break from the trail. There are a number of historic buildings and artifacts on the property to check out. You can even rent one of the cabins there. It would be a pretty cool place to spend the night, I imagine. Kentucky camp was once part of a mining operation under the Santa Rita Water and Mining Company. There was a pretty extensive and elaborate engineering works to get water from the mountains down to Kentucky Camp to support the mining operation. Ultimately though, the operation wasn't very successful.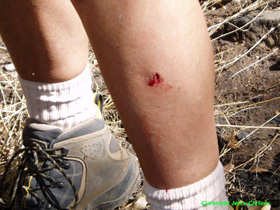 After Kentucky Camp, I hiked at the back of the pack where I was more free to stop and look at the birds, but the birds were staying pretty well hidden, so I didn't get many good looks. After giving up on birding, I moved to the front of the pack and talked with Jerry for much of the rest of the hike. When we stopped for lunch, Cheetah was trying to roll a log over to sit on and it got out of control on her and stabbed her in the shin. She had a rather large 3-4 inch long chunk of wood sticking out of her leg. In true Cheetah fashion, she sucked it up, took a big swig of whiskey, bit down on a rag and pulled the piece of wood out and bandaged he leg up. What a trooper! And she actually did it without the whiskey and the rag. The wound actually looked far less dramatic than I expected given the size of the wood chunk.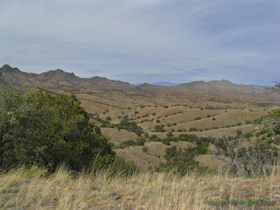 The rest of the hike was less eventful, or at least less bloody, though certainly not unmemorable. Bessie started slowing down a little bit after lunch so I took the lead to give her something to chase after. That seemed to perk her up a bit. She doesn't like not leading the pack.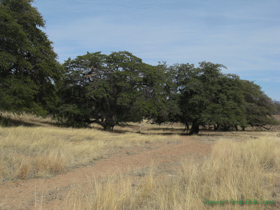 We got a little off track at one point when we reached a confusing junction. A set of AZT signs pointed north and had the word "LINK" printed on them, but there was also a sign for FR 4279, which is the road we knew took us back east to where we left my car. We took the FR4279 fork and after it started heading north again, we realized that something wasn't right. After consulting my GPS it seemed as though the road would intersect back up with the trail (presumably where we should have left the AZT in the first place, so we just kept going. It all worked out in the end.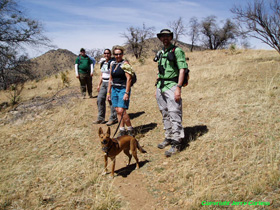 And while I don't know what the AZT segment we bypassed looked like, I was really glad that we took the detour, because it took us down an amazing little valley with massive oak trees. It was extremely picturesque and a very pleasant stroll. After climbing up some low hills and crossing some rollers, we dropped back down again and started the descent to my car. It was another beautiful little valley with more cool old oak trees. I really want to come back and spend some more time out there.
We reached my car at around 2:45 and after leaving some supplies for the rest of the crew, Jerry and I drove back to the trailhead to get his truck. When we got back to the group, we kind of hid off the side of the highway a bit and popped the tops on some libations.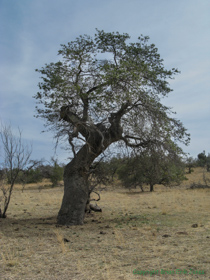 As we were leaving Cheetah invited me over to their place for a "traditional Irish meal" (it was Saint Patty's Day, after all), but I declined, knowing Shan would appreciate having me home this evening. It was only after I called her on the way home that I discovered that she had a surprise for me, though I didn't know the extent of it until I opened up the garage door upon arriving home.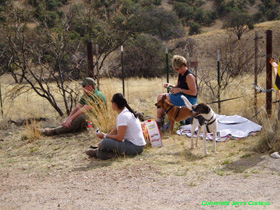 Sticking at least four feet out the rear passenger window, all bedecked in flagging, was a 7 foot tall Sugar Bush tree in a 15 gallon pot. And guess who's expected to plant it? I took it out of the car and sized it up. Very pretty. Very nice. Very big. It needs very well drained soil, she says, relaying that Jim at Desert Survivors told her that I would need to make the hole for it much bigger than the pot and back fill the whole with lava rock and well drained soil. Oh joy.
I started thinking about the big storm that was supposed to roll in overnight and realized that the best time to plant this monster is, um, right now. So I found myself racing nightfall to plant a tree after hiking 14.5 miles earlier in the day. By the time I got the 3 foot deep, 3 foot diameter hole dug, I had lost my race with the sun and it was growing dark quickly. I gathered a big load of small rock in the last of the light, and finished planting the tree in the dark, with Shan holding a work light for me to see by. It was around eight o'clock by the time I finally finished and got all my tools put away. I happily took a shower then relaxed for a bit at the end of a long and activity filled day.
---
| | |
| --- | --- |
| | |
| | |